Apple to replace cracked screens on select aluminum Apple Watch Series 2 and Series 3 mode...
Apple on Friday launched a repair program to address a "very rare" screen cracking issue reported by owners of older aluminum Apple Watch models, with the company set to replace faulty displays free of charge.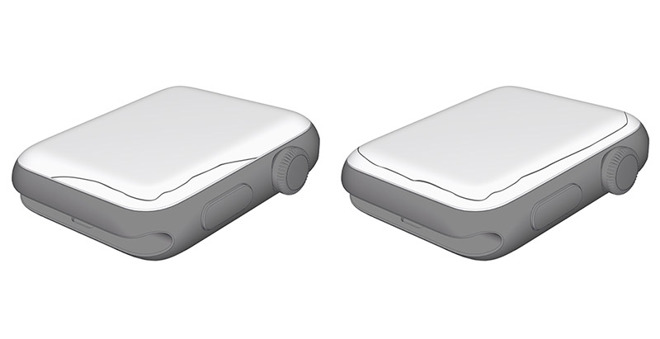 Cracks might form and propagate around the device display.
Officially filed as an "Exchange and Repair Extension Program," the
replacement initiative
covers screens of aluminum
Apple Watch
Series 2 and
Series 3
devices that might, "under very rare circumstances," crack.
According to Apple, impacted units exhibit a crack that forms along the rounded edge of the screen, as shown in the above graphic. The crack might start on one side of the device before propagating to other parts of the screen.
The company did not specify an underlying cause to the problem, but customers have in the past reported damage similar to that detailed in the repair program document. In some cases, user devices exhibited cracks just weeks after purchase, and reportedly without substantial trauma.
Whether the fault lies in the screens or the design of Apple's wearable remains unknown.
Also unknown is whether Apple plans to reimburse affected customers for the cost of prior screen replacements. The support document does not mention such a provision and Apple is unlikely to offer the option as it would be difficult to verify claims that a watch was impaired by the now known issue.
Apple Watch variants eligible for screen replacement service include 38mm and 42mm aluminum Apple Watch Series 2, Apple Watch Nike+ Series 2 , Apple Watch Series 3 with GPS, Apple Watch Series 3 with GPS + Cellular, Apple Watch Nike+ Series 3 with GPS and Apple Watch Nike+ Series 3 GPS + Cellular models. All colors options are included in the program.
The repair program webpage includes a link to a
support document
explaining how users can identify their Apple Watch by model number, which can be found in the Apple Watch app for iOS or on the watch casing.
Owners with eligible Apple Watch Series 2 and Series 3 models can take their device to an Apple Authorized Service Provider or brick-and-mortar Apple Store for assessment. Alternatively, customers can arrange to mail in their watch by contacting Apple Support. All repairs will be conducted at an Apple Repair Center and returned in approximately five days, Apple says.
Today's repair program is the first to address problems with Series 2 and Series 3 devices. Apple in 2017 issued internal repair period extensions for first-generation Apple Watch models suffering from
separated back covers
and
swollen batteries
.