How to connect AirPods to the Galaxy Note 10+
It doesn't seem like it should work, but it does. Here's how to connect your AirPods to your brand new Galaxy Note 10.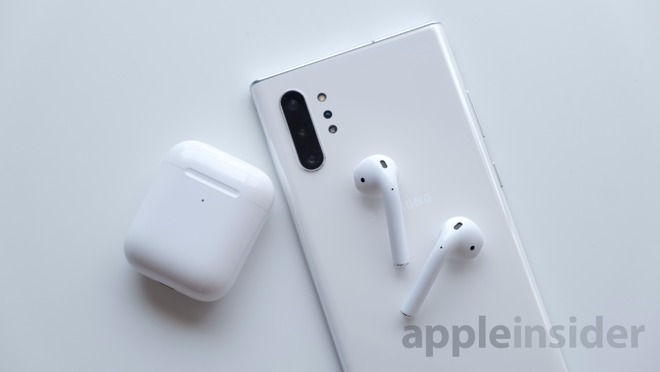 White on white: Galaxy Note 10+ and AirPods 2
AirPods
have become the king of true wireless earbuds, taking over the iOS world. Fortunately, you don't have to have an iPhone or iPad to use the
AirPods
.
While you lose out on a couple features, here's how to pair your AirPods with your brand new
Samsung Galaxy Note 10+
.
How to connect AirPods to the Galaxy Note 10
Place the individual AirPods into the charging case.

While the case is open, press and hold the small pairing button located on the back, until you see the light turn white.

Open the Bluetooth settings menu on your Galaxy Note 10+ by swiping down on the notification tray

Press and hold down the Bluetooth icon, and this will take you to the phone's Bluetooth settings
Once you're on that menu, you should see your AirPods among the list of available devices and here is where you can confirm the pairing.
And that's it! Super easy and straightforward. You can now listen to your music, movies, podcasts or whatever else through your AirPods just like any other Bluetooth earbuds.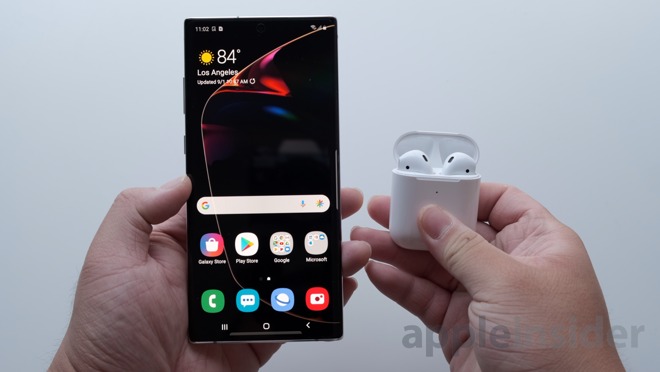 How to pair your Apple AirPods with Samsung's Galaxy Note 10+
The trade-offs
Android devices lack the integration with AirPods that iPhones have, so there are a few things that don't work as they do on iOS. As outlined above, the simple and elegant pairing process is a no-go. You are stuck pairing the old fashioned way, versus the simplicity of opening up your AirPods case, and hitting connect on the card that pops up on your iPhone.
The controls on the sides of the AirPods are also different. A double-tap on either earbud will act as a play/pause button. On iOS, this can be configured to suit your preferences.
You also don't get to take advantage of the iCloud sharing that seamlessly syncs the AirPods to all your devices, as it does on Mac, iPhone, iPad, Apple TV, and Apple Watch.
Taking out one of the earbuds to pause your music also doesn't work with the Samsung Galaxy Note 10+ -- or Android in general -- which is our favorite feature from Apple's AirPods.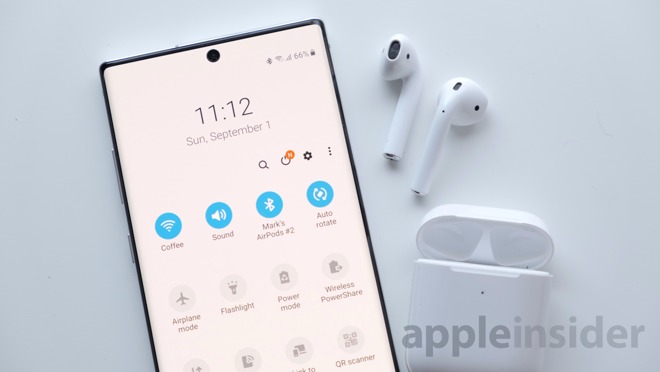 Connected: AirPods 2 connected to Samsung's Galaxy Note 10+
Otherwise, battery life is still great, and range is fantastic.
Where to buy
Apple AirPods are currently on sale with deals on both
2019 AirPods with Charging Case
and
2019 AirPods with Wireless Charging Case
.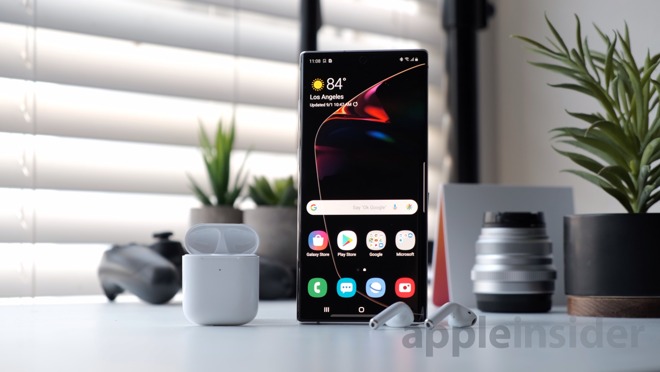 Samsung Galaxy Note 10+ next to Apple's AirPods 2
Those looking to pick up a Samsung Galaxy Note 10+ to pair with the AirPods can do so
at Amazon
with instant rebates available from third-party sellers.
For
deals
on other Apple products, be sure to check out our
Apple Price Guide
.