Apple's first Latin American flagship to open in Mexico City on Sept. 27
Apple is putting the finishing touches on its first Latin American flagship store, with the Mexico City outlet slated to open its doors to the public in late September.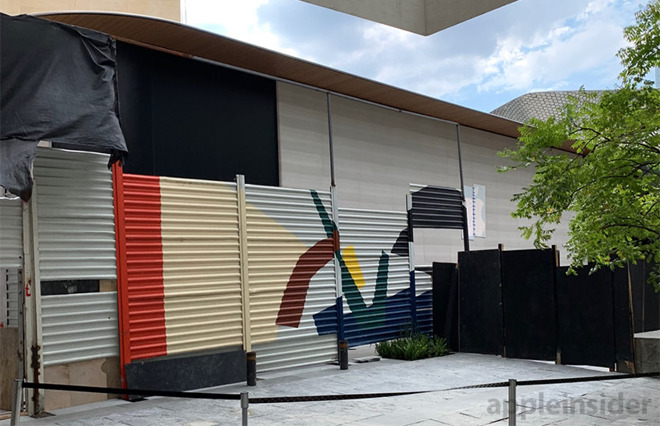 Apple Antara Hall prior to application of protective vinyl.
Situated steps away from Antara Fashion Hall proper in the posh Polanco district of Ciudad de Mexico (CDMX), Apple's first "high profile flagship" to land in Latin America will commence operations on Sept. 27, according to a person familiar with company plans. Behind the U.S., Mexico will be the first country in the Western Hemisphere to host a flagship store of any kind. Apple breaks down major retail projects into three tiers: flagship, high profile flagship and global flagship.
Erected as a single-story structure, the Antara outlet features a next-generation design similar in style to Apple's recently-opened
Xinyi A13 store
in Taipei.
Apple gave passersby a sneak peek when it took down protective construction barriers to apply a vinyl covering that will hide the facade from view until the store's unveiling. Walls of glass and stone support a wood-inlayed canopy, which protects ample sales floor space, accessory display furniture, a Genius Grove, room for Today at Apple sessions and more. The store also includes a boardroom for enterprise clients, a segment expected to be a major driver of revenue for Apple's Latin American business.
Apple opened its
first retail store
in Mexico's Centro Santa Fe mall in 2016, then signed the lease for its soon-to-open Antara Hall location six months later. The company initially aimed
for an early 2019
opening date, but that timeline was pushed back as plans evolved from taking over a now-demolished section of the complex to constructing a free-standing building at the mall's entrance.
The Mexico City store will open ahead of concurrently planned flagships in Brazil and Canada due to shifting market dynamics, the person said.
Apple's retail arm has a busy month ahead with the company's annual iPhone and Apple Watch launch schedule, the grand reopening of its
Fifth Avenue store in New York City
and, now, the grand opening of its location at Antara Hall.