Compared: 2019 iPad 7th generation vs iPad Pro vs iPad Air & mini
With this week's launch of the new 2019 iPad, Apple has now updated all three of its non-Pro models of the iPad -- and made choosing between the iPad 7th generation vs iPad Pro vs iPad Air and iPad mini more difficult. But AppleInsider can help you out with your questions.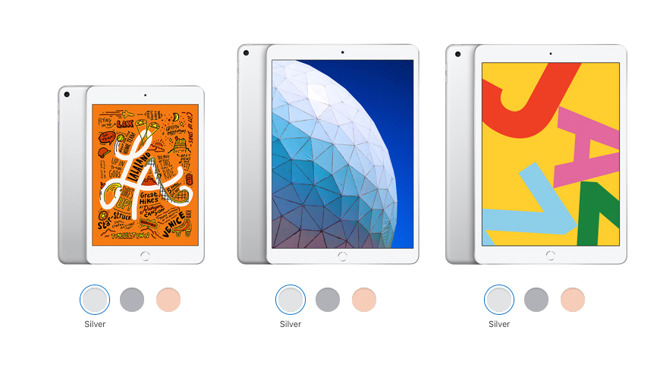 Apple offers a variety of options with its 2019 iPad 7th generation vs iPad Pro vs iPad Air vs iPad mini
You already know if you're in the market for an
iPad Pro
. There's the larger screen -- 11 inches or 12.9 inches -- plus the speed, and perhaps the storage capacity. We might all want them, but if these features mean enough to you that they're worth the extra cost, you know about it.
It's when you're looking at all the other iPads that it's harder to choose what is best for you. The differences are much more subtle, and ultimately the trade-off between them is much finer.
Charting the differences
If you had to say what the one biggest difference between the fifth generation
iPad mini
, the third generation
iPad Air
, and the seventh generation
iPad
, you'd say it's the price.
So much of everything else is so similar that either you have to think very carefully before you buy -- you just point randomly and know that you'll like which you end up with.
iPad mini (fifth generation)
iPad Air (third generation)
iPad (seventh generation)
iPad Pro 11-inch
Price
$399
$499
$329
$799
Screen size (ins)
7.9
10.5
10.2
11
Resolution
2048 x 1536 at 326dpi
2224 x 1668 at 264dpi
2160 x 1620 at 264dpi
2388 x 1668 at 264dpi
Brightness (nits)
500
500
500
600
Display type:
Retina, True Tone, fully laminated
Retina, True Tone, fully laminated
Retina
Liquid Retina display, ProMotion technology, True Tone
Processor
A12 Bionic with Neural Engine and embedded M12 coprocessor
A12 Bionic with Neural Engine and embedded M12 coprocessor
A10 Fusion with embedded M10 coprocessor
A12 X Bionic with Neural Engine, embedded M12 coprocessor
Apple Pencil
First generation
First generation
First generation
Second generation
Smart Connector
No
Yes
Yes
Yes
Dimensions (ins)
8.0 x 5.3 x 0.24
9.8 x 6.8 x 0.24
9.8 x 6.8 x 0.29
9.74 x 7.02 x 0.23
Weight (lbs)
0.68
1.02
1.07
1.03
Rear Camera (megapixels)
8
8
8
12
Video recording
1080p
1080p
1080p
4K
Biometric
Touch ID
Touch ID
Touch ID
Face ID
Speakers
2
2
2
4
One exception
Other than price, there is one feature that by itself may determine which is the right iPad for you, and that's the size. Specifically, it's the size of the iPad mini.
The 2019 fifth generation iPad mini has that 7.9-inch screen which might sound like an inadequate middle ground between a too-big iPhone and a too-small iPad. In practice, the size of the
iPad mini 5
makes it irresistibly handy.
That iPad mini is lighter than any other iPad, it is considerably smaller than the rest, and it gives you a display that has the highest density of pixels. Its 2,048x1,536 resolution means it has 326dpi compared to the 264dpi of the rest of the range.
Its display is a Retina,
True Tone
and fully-laminated one, too. Being fully laminated means that the device can be thinner, because the screen is thinner than a non-laminated one. The iPad Air third generation is the same, but the new seventh generation iPad is not.
That one has a Retina display, which means it is lacking True Tone, but also there is an air gap between the glass and the rest of the display technology. That doesn't sound as good, but it should provide an advantage -- if you crack the glass, it is much easier to replace it than replacing the entire unit on a laminated model.
Full-size iPads
What you get with display on the new seventh generation iPad, and the current iPad Air, though, is size. The
10.2-inch iPad
is arguably easier to read than the denser iPad mini display, but it's also better than the old iPad's 9.7 inches.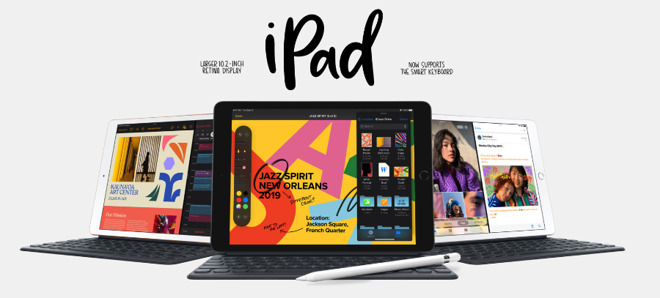 Deciding whether to buy the latest iPad 7th generation vs iPad Pro vs Air or even mini can be a difficult decision
You can get slightly more screen display by buying the iPad Air, but it's hair-splitting. The iPad Air screen is 10.5 inches instead of 10.2 inches, for instance, and it retains the same 264dpi resolution.
The casing of the latest iPad has the same overall width and height of the iPad Air, but it's a fraction thicker -- at 0.29 inches compared to 0.24 inches -- and weighs more at 1.07 pounds instead of 1.02 pounds.
Visible differences
You're not going to see much in the way of physical differences between the two full-size iPads, the new seventh generation iPad and the current iPad Air, not without a magnifying glass. However, you will see a difference when you use them both.
Apple's new iPad has an
A10 Fusion
chip with an embedded M10 coprocessor, while both the current iPad Air and the iPad mini have an
A12 Bionic
processor, with Neural Engine and embedded M12 coprocessor.
Written down, you can see which is going to be the best, but the numbers don't really convey how significant the differences are.
The new seventh generation iPad is the slowest of the range.
Not pro
However, even though you will see and feel the difference in performance between these machines, you're not likely to notice it unless you have the two side by side. The iPad's A10 Fusion processor is not exactly a slouch.
You can use an
Apple Pencil
with it just as much as you can with the iPad Air and the iPad mini. Though note that in all these cases, it's the first-generation Apple Pencil that you can use.
Then, too, you'll not only be able to watch videos on any of these iPads and not notice a difference, you'll be able to shoot them, too. They have the same front and rear cameras for taking photographs and for recording video.
Choosing
It's true that Apple has made it less obvious which iPad to buy, but it has also smoothed out some differences to make sure that you like whichever one you get.
Plus it's ended up giving you just two yardsticks by which to measure these iPads. There's the price, in which case the new seventh generation iPad wins because it is
$70 cheaper
than the iPad mini. And it's $170 cheaper than the iPad Air.
Budget is the only reason to buy a seventh generation iPad, though. The iPad Air third generation is much better value for your money.
If you can spend more, though, you might be straying into the market for the 11-inch
iPad Pro
. That beats all the rest for having the biggest screen size, the fastest processor -- the A12 X Bionic -- and the fact that it has to use the improved, second generation Apple Pencil.
It's also got a better Liquid Retina display that includes ProMotion, the ability for the iPad to save power and provide performance by invisibly speeding up or down different parts of the screen. Then the iPad Pro 11-inch model has a better rear camera -- 12 megapixels instead of 8 -- and overall a better front camera too.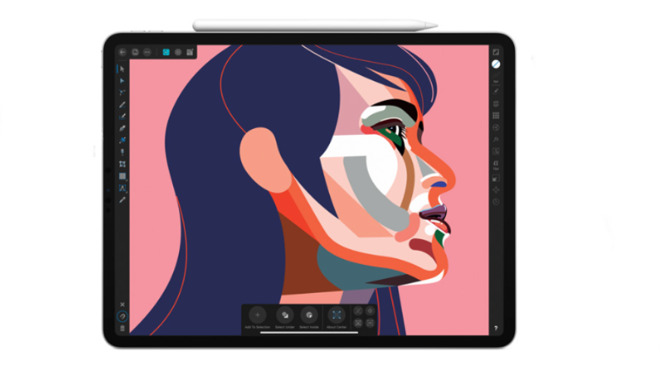 The iPad Pro is more expensive, but offers a lot to professional users compared to the 7th generation iPad
The current iPad mini and iPad Air have the same 7-megapixel count on their front cameras, but they are in FaceTime HD quality where the iPad Pro 11-inch has TrueDepth.
It's just that the
iPad Pro 11-inch
is $799, although it can often be found
on sale at Amazon
. That's $300 more (retail) than the iPad Air. It's $480 more expensive than the new iPad.
If these features mean the iPad Pro is worth your extra cash, you know it and should go for it. For the rest of us, the iPad Air is the best combination of size, power and price.
Where to buy
Apple's
latest iPads
are currently available for purchase from multiple Apple Authorized Resellers. In the case of
Adorama
, the prices displayed are the final prices for shoppers in 46 states.
B&H
is also throwing in free expedited shipping within the contiguous U.S. on most iPad orders, including the 7th generation iPad.
iPad Price Guides