Apple's future healthcare market moves will rely heavily on AI analysis
Apple's moves in the healthcare market could involve the tracking of user data for further analysis by artificial intelligence and billing model based on cost-savings, with analysts pointing out areas of the consumer health industry Apple could easily advance by building upon its already-released technology and services.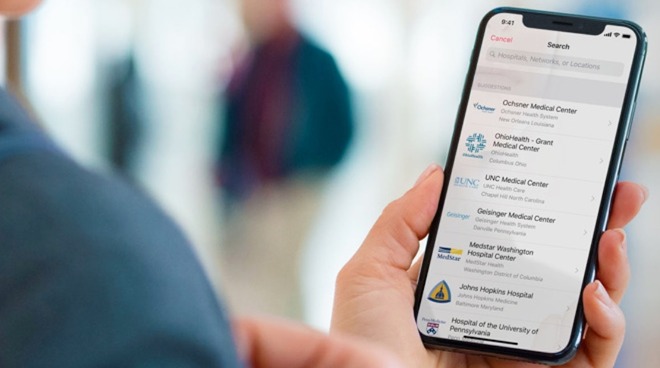 Healthcare is a major industry that has
previously been tipped
as prime for "digital disruption," with the vast size and value of the US healthcare market alone at $3.5 trillion likely to be a target for companies looking to secure a piece of the pie. As a company that is making moves in the field on the consumer side, Apple is thought to be one of the potential companies capable of pulling off big and profitable changes to the industry.
In a note to investors received by
AppleInsider
about Morgan Stanley's recent Global Healthcare Conference, the firm highlights a number of areas where healthcare can be improved. For Apple specifically, the
iPhone
maker is likely to be a "key beneficiary" of trends in improving technology adoption, consumer-centric healthcare, and AI and analytics, due to its positioning.
Profit Models
Citing the stabilization of national health expenditures as a percentage of the GDP as a sign progress is being made in using technology to improve healthcare, Morgan Stanley believes efforts from "full stack technology solutions" are demonstrating "meaningful success and step-function improvements in patient satisfaction,"while natural language processing startups are aiding in easing administrative costs.
"However, the rise of tech-focused healthcare offerings doesn't mean complete disruption," writes the analysts. "In fact, many technology companies have learned that it's best to work within the existing system given the complexity, rather than attempt to displace it. Apple is no exception as it has partnered with leading payors, providers, and research institutions."
In one example, DexCom's work with UnitedHealthcare in potentially reducing the cost of care for Type-2 diabetes patients via continuous glucose monitoring are so far showing it signs of promise. More specifically, Morgan Stanley highlights the remarks from DexCom's management where the company could realize a "10-15% take rate on a payor's per-patient cost savings" by using the techniques.
Morgan Stanley reckons the value-based model could be a monetization method for Apple's own efforts. By demonstrating a "tangible reduction in patient costs through the use of its health offerings," such as
Apple Watch
, the
Health
app,
Health Records
,
Research
, and other elements, Apple could charge a take-rate to payors on the cost savings.
It is further suggested the learnings "could ultimately be applied to UnitedHealthcare's own partnership with Apple, potentially accelerating the timeline of Apple health monetization."
AI and Analysis
The addition of the ECG functionality to the Apple Watch is also raised by notes on iRhythm's partnership with Verily on the value of the asymptomatic AFib market. The providing of data and hardware gives the opportunity for better patient identification with symptoms prior to major issues, which could save money by prompting cheaper preventative measures.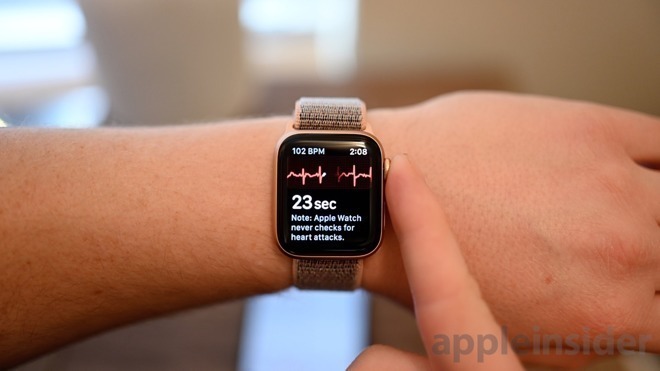 The Apple Watch Series 4 and later includes ECG functionality for detecting AFib.
Apple's scale gives it a competitive advantage, Morgan Stanley writes, and with the longer a company searches for AFib patients, the more data is collected, which can in turn aid in refining detection algorithms. This increases the capabilities of detection, potentially saving even more costs and lives.
"Cognitive EMR" (Electronic Medical Records) is also raised as a possible area for Apple's Health Records growth, stemming from Cerner's existing work in the field. In Cerner's case, the company proposes using AI to analyze past cases to determine the efficacy of treatments and to minimize costs, as well as the use of AI with EMR data to cut down on clinical trial recruitment times for pharmaceutical and medical device companies.
"Apple is rapidly expanding the amount of data consumers can aggregate into the Health app," the note advises. "This creates a greenfield opportunity for Apple to deploy its advanced silicon and AI capabilities across these data sets," similar to Cerner's work.
Drug distribution service provider Cardinal Health is also working on AI and analytics, including automating finance and accounting functions, customer service, and real-time market price monitoring and analysis, with the latter helping aid inventory management.
Record Keeping and Platforms
Apple is poised to be "the platform on which many consumer-centric healthcare applications and services will be built on," suggests the analysts in discussing CVS' technology infrastructure. For CVS, this includes meeting consumers where they are, consisting of the home, the community, and via devices, with the latter dominated by the healthcare-friendly iPhone.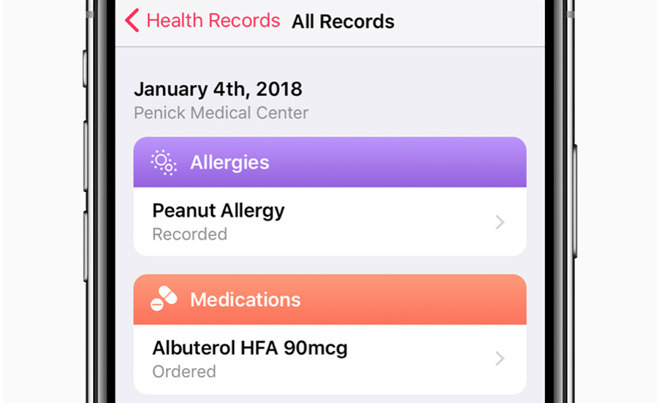 An example page from Apple's Health Records
As an example of the platform's usefulness, CVS and Aetna's Attain app is cited as a way to combine health history with Apple Watch data to "improve health outcomes" and to provide other basic services, such as primary care appointment scheduling and refilling prescriptions.
Management of Change Healthcare brought up the benefits of scale and a preference for firms to buy solutions based on a single platform, as well as an acceleration of using cloud-based solutions. The influence of tech companies has also rubbed off on healthcare firms, with more "intensifying their efforts" to increase their life-time value to patients by improving customer satisfaction, something already present in the use of
Apple Health Records
.
Lastly, there are the final vestiges of digitization that need to be dealt with. According to lab testing firm Quest Diagnostics, the lab industry is still far behind the rest of healthcare, with the company receiving 25% of orders on paper, down from roughly 45% five years ago.
Quest is now working closer with health tech providers to try and digitize everything patients and physicians see, and has already been working on providing its lab results through Apple Health Records since November 2018 as part of the push.