Apple Arcade for Apple TV goes live in tvOS 13 beta GM
Ahead of an official launch slated for the end of September, Apple's new Apple Arcade gaming service went live on Monday for Apple TV units running the company's tvOS 13 beta golden master build.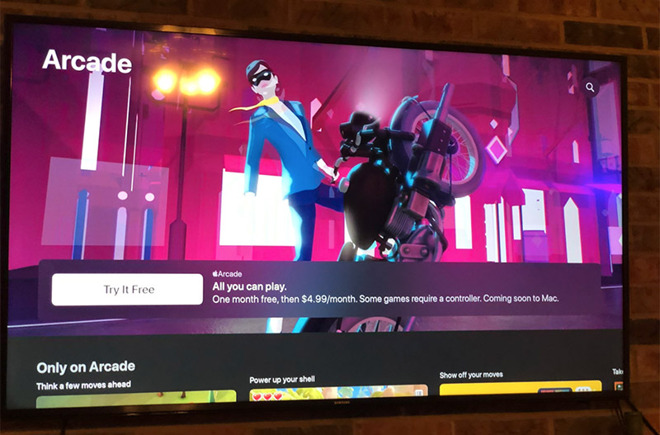 Source: Tyler Loch via Twitter
Apple Arcade
is rolling out to developers and beta testers, who reported the development through various
social media outlets
including Twitter. The gaming product does not appear to be available in all locations at the time of this writing, though Apple is believed to be granting access to all tvOS 13 beta users.
As seen in the screenshot above, Apple Arcade for Apple TV is a completely native app experience with platform-specific media, previews and user interface elements. The current iteration displays a large "Try It Free" button that opens the door to all-you-can-eat access to Apple's selection of gaming content.
Similar to Arcade for iOS, which
launched last week
in the iOS 13 App Store, Apple highlights a handful of standout titles in the subscription service with breakout categories like "Only on Arcade." For now,
tvOS
app selections mirror those on iOS and include "The Enchanted World" and "Big Time Sports."
As Arcade's catalog expands over the coming months, so too should the new tvOS section and its curated game selections.
Apple plans to launch Arcade on tvOS and iPadOS on Sept. 30, with a debut on Mac to follow. The subscription service is currently restricted to devices running iOS 13.
Apple Arcade promises subscribers wide access to more than 100 games from over 35 gaming studios for a monthly fee of $4.99. That price covers all compatible platforms -- iOS, iPadOS, tvOS and Mac -- as well as support for up to six users through Family Sharing.