Adobe's new Fresco iPad app is designed for all skill levels
Adobe has launched Adobe Fresco, a painting and drawing app for the iPad that the company designed after asking what the general populace wanted in an art app.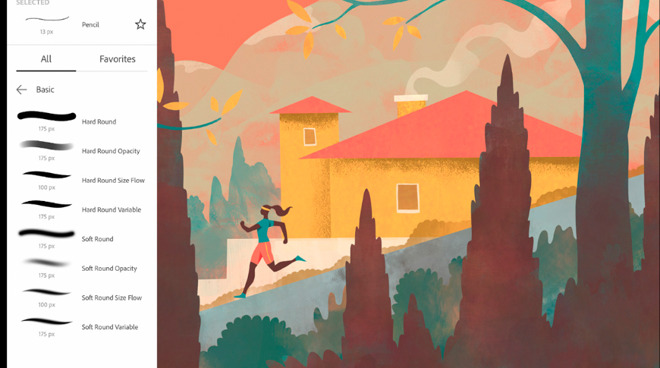 Adobe, the software developer of choice for most creative professionals, is branching out. Instead of marketing exclusively to creative professionals, a large portion of Adobe's energy into marketing Fresco has been directed toward hobbyists.
During development, Adobe surveyed over 2500 adults and found out that 68% of them wished that they were more creative. In their survey, they found that lack of time and inspiration were the most limiting factors impacting their ability to be creative. Additionally, they found that about 40% of U.S. adults prefer creating on their mobile device, such as an
iPad,
rather than their laptop or desktop.
Armed with that knowledge, Adobe came up with Adobe Fresco. Fresco features a far less intimidating layout compared to programs like Adobe Illustrator and Adobe Photoshop. A simple toolbar on the side and plenty of room in the center gives users the ability to see what they're working on with less distractions.
Adobe Fresco includes thousands of brushes designed to emulate traditional and digital media alike. Adobe Sensei, Adobe's machine learning and artificial intelligence software, has been employed to help make Fresco's traditional media brushes behave the way real-world media does. Adobe Fresco also features vector brushes, giving users the ability to design infinitely scalable images, useful for designers who may need to print artwork in a wide range of sizes.
Anyone who works within the Adobe ecosystem will also be able to easily transfer Fresco files to and from Photoshop for maximum portability. Adobe Fresco can also access any brushes, colors, and content libraries stores within a user's
Creative Cloud
profile.
Fresco seems to be primarily aimed at competing with the highly-lauded and well-established art app
Procreate
, while hoping to cash in on the Adobe brand prestige and name.
Adobe Fresco is available for the Pad Pro, iPad Air 3, iPad mini 5, or a fifth or sixth-generation iPad running iOS 12.4 and later. Users who are subscribed to select Adobe Creative Cloud can get Adobe Fresco for free, or can be
purchased as a $9.99 per month standalone app.
AppleInsider
will be examining it in the coming weeks.