iPhone 11, iPhone 11 Pro will alert users if non-genuine display is installed
Apple has released a support document explaining the importance of using genuine displays during repairs on the iPhone 11, iPhone 11 Pro, and iPhone 11 Pro Max -- and has noted that iOS 13.1 will pop up a warning if a non-Apple one is detected.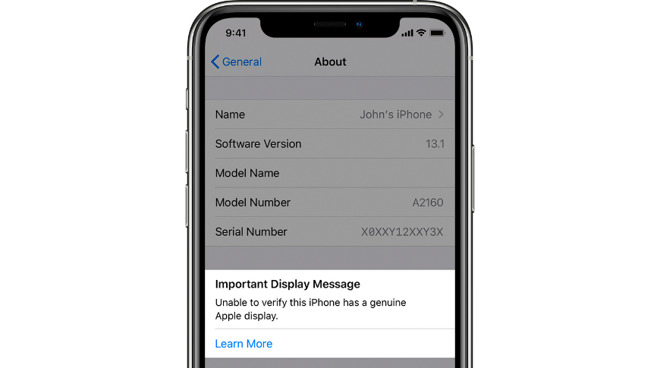 The
new support document
discusses how
iPhone
displays are designed, tested, and manufactured by Apple to meet their quality and performance standards. They go on to state that genuine devices are critical for the best performance when it comes to Multi-Touch, color accuracy, and features like True Tone, Night Shift, and Haptic Touch.
The warning extends to
who
is repairing your phone as well, not just the screen itself.
"Only
technicians who have completed Apple service training
and who use Apple genuine parts and tools should replace iPhone displays," reads the document.
It warns that parts not installed by Apple or one of their certified technicians could result in improper function or
safety hazards.
Additionally, Apple warns that non-genuine displays may have compatibility issues, including problems with multi-touch, screen brightness and color issues, or could experience increased battery drain.
Devices that receive non-genuine display replacements will feature notifications and a message within Settings > General > About that alerts the user that their display cannot be verified. However, Apple states that the notifications will not affect a users ability to use their iPhone or display.
The warning was first
spotted by
Mac Rumors
.
At least for now, the warning only will pop up for the
iPhone 11
,
iPhone 11 Pro,
and
iPhone 11 Pro Max
. It isn't clear at present if it can be retrofitted to earlier models in software or not.