Apple releases iOS and iPadOS 13.1.1 updates with third-party keyboard fix
Posted:
in iOS
edited September 2019
Shortly after the release of iOS 13.1 and iPadOS 13, Apple has issued a 'bug fix and improvement' update for both operating systems bringing them both to version 13.1.1.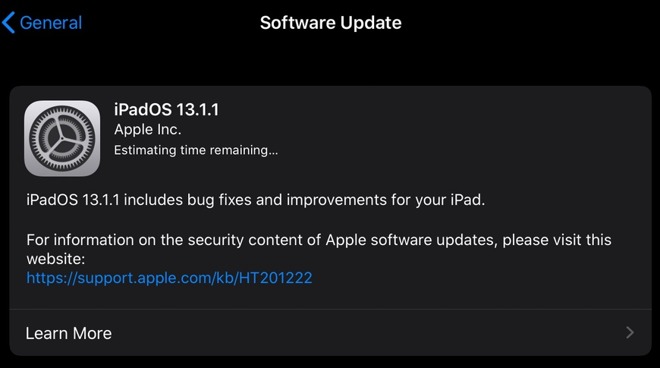 Apple shipped
iPadOS
on Tuesday alongside an update for iOS that brought it up to
iOS 13.1
, but the latest update just days after the major versions were released brings the operating systems up to iOS 13.1.1 and iPadOS 13.1.1 respectively.
According to the update, the patch "includes bug fixes and improvements" for the user's iPhone or iPad, along with a link to Apple's
security content
site.
Among the updates are a fix for issues that could prevent the device restoring from a backup, and a patch on a problem that could cause the battery to drain too quickly. It also resolves a problem in Safari where search suggestions may re-enable after being turned off, and a problem that could cause Reminders to synchronize too slowly.
The update also fixes a security issue for third-party keyboard apps. The bug in question was
previously confirmed
as being fixed in an upcoming update by Apple, with the issue relating to software keyboards being granted "full access" without being approved by the user beforehand.
Users can update to the latest iOS and iPadOS release by entering the Settings app, selecting General, Software Update, and selecting to install the update. If users have automatic updates available, this will streamline the process for them.