Twitter returns to Mac thanks to Apple's Catalyst
Some 20 months after it decided to discontinue its Mac client, ubiquitous social media platform Twitter on Thursday made good on promises to release a new app built on Apple's Catalyst framework.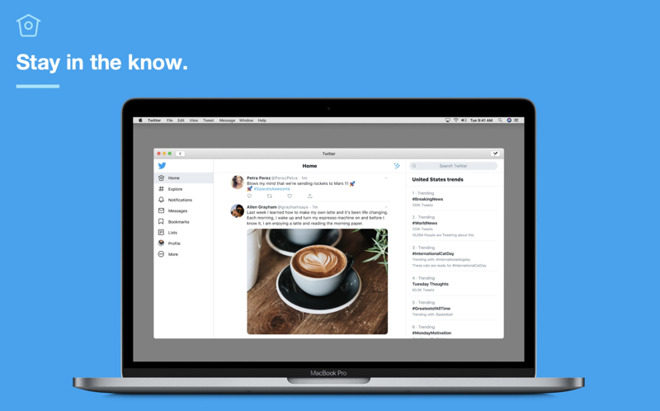 Available now in the Mac App Store,
Twitter for Mac
leverages
Mac Catalyst
to translate Twitter's
iPad
client into a fully native Mac app, complete with user interface flourishes typical of Apple's desktop software.
Not a complete reimagining of Twitter's iPad app, the new Mac version is more than a simple software port and sports a design in line with native macOS apps. There are a few oddities, like an iOS-style toolbar, but those are easily overlooked for access to Twitter's live content streams.
After years of service on Mac, Twitter
pulled its macOS app
in early 2018 as it worked to create a "great Twitter experience that's consistent across platforms." Later that year, Twitter disabled third-party app access to timeline streaming over Wi-Fi, a feature that allowed users to view a continuous stream of new tweets without refreshing.
Users were expectedly disappointed, as the app removal left many Mac users with little recourse but to migrate to the microblogging platform's sub-par TweetDeck product.
In June, however, Twitter announced its flagship client
would return
to the Mac App Store with
macOS
Catalina. Released
on Monday
, Catalina includes Catalyst, a suite of Xcode tools that enables developers to more easily port iPad apps to Mac.
"Apple's exciting new technology empowers Twitter to easily bring our entire 1.5 million line code base from iOS to the Mac, allowing ongoing full feature parity with our iPad app, and enhanced with the macOS experience that will make Twitter feel right at home on your Mac," Twitter said in a tweet in June.
With
Catalyst
, Twitter is able to build in desktop-class features like support for multiple windows, window resizing, drag-and-drop, keyboard shortcuts, notifications and more. Many of the capabilities included in Twitter for Mac are unavailable to users of Twitter's mobile app.
Catalyst will also enable Twitter to roll out updates for Mac alongside its mobile counterparts. While the firm regularly updates its mobile software, its previous Mac client often went months without a refresh.
Twitter for Mac is a
free download
from the Mac App Store.