Inside Apple's fantastically fast new Mac Pro
This summer, Apple finally revealed the design and specifications of its new Mac Pro. It's Apple's first significantly updated tower model in a decade, and the first designed from scratch since the imposing aluminum PowerMac G5 originally arrived back in 2003. Here's a look at what the new Mac Pro will deliver for pro users and the strategy behind its radically new redesign.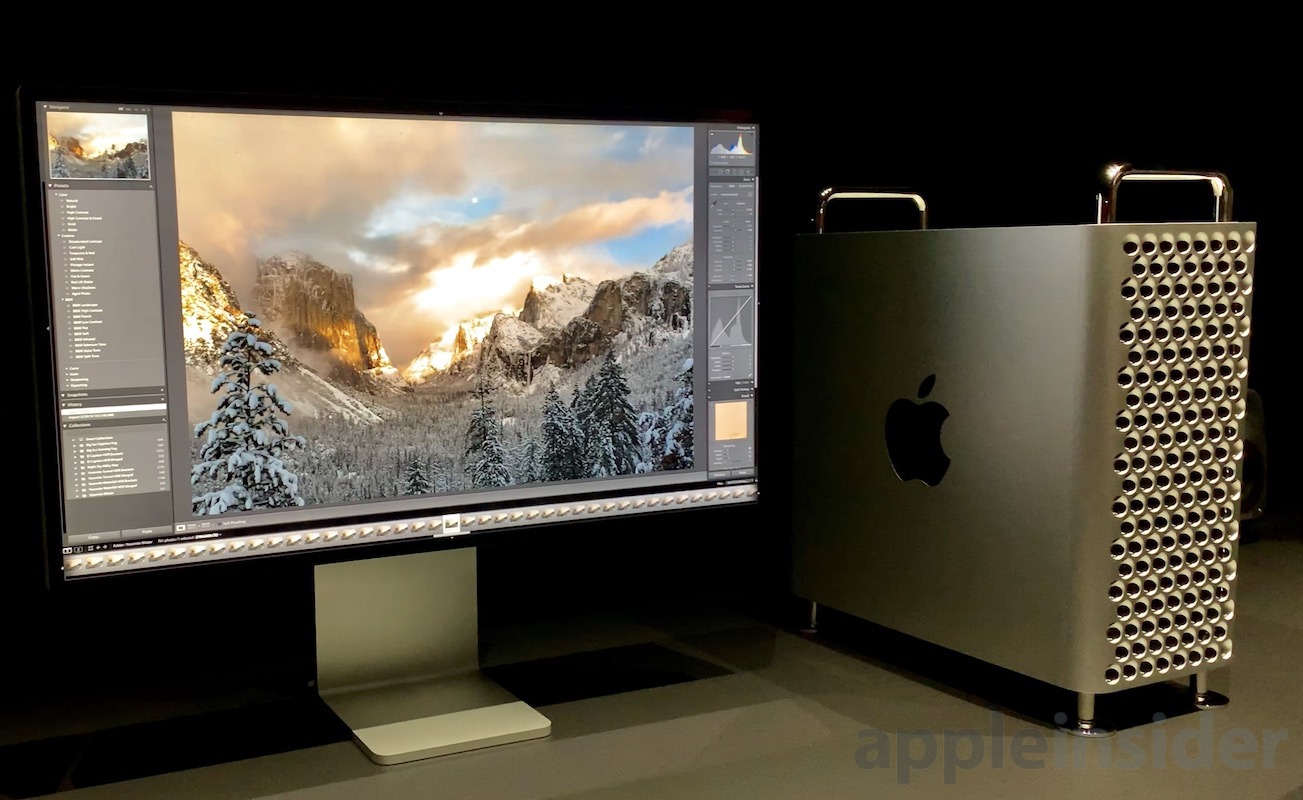 Apple details the new Mac Pro at WWDC19
As first revealed this summer at WWDC19, Apple's new
Mac Pro
no longer aspires to be, effectively, a "souped-up Mac mini" like the 2013 Mac Pro it replaces. Instead, it dramatically goes in the other direction, offering more CPU, GPU, RAM and PCIe slot expansion than ever inside of a more conventional-- but modernized-- tower form factor, along with an option for a rack-mounted version that allows it to be installed in a secure, climate-controlled server room.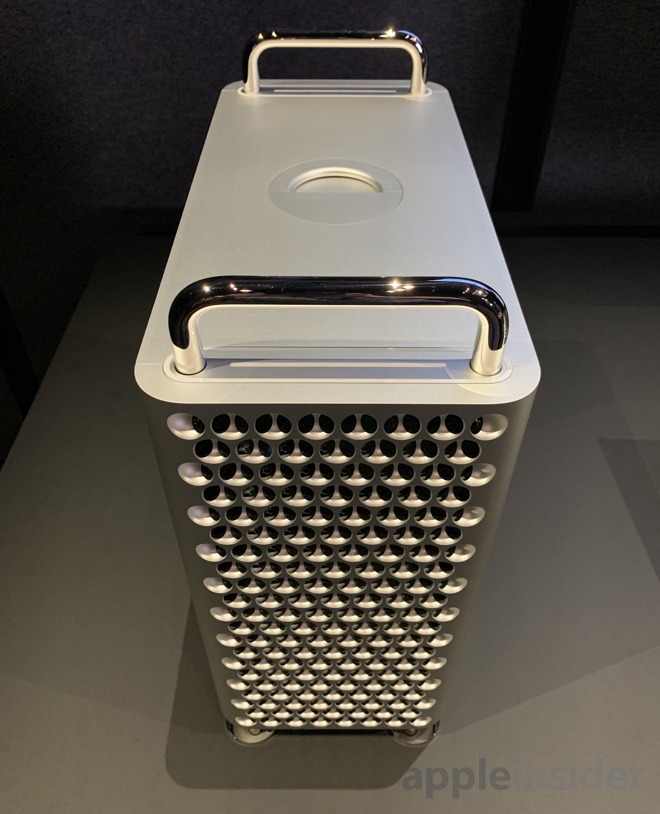 The new design is easier to carry and to rackmount
A stainless steel "space frame" consists of two tubes on either side of the machine that spans from foot to handle to foot. The two tubes are bridged by a rigid top and bottom panel that everything else in the machine bolts to, making it modular on a level beyond any previous Mac tower.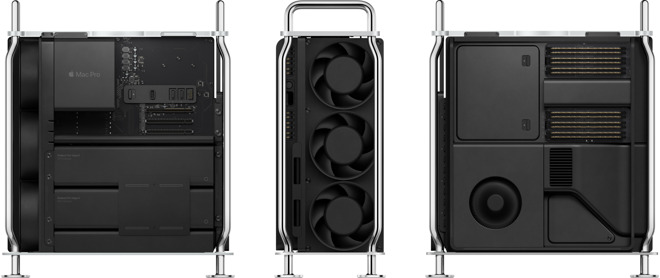 Components inside bolt onto the top and bottom plate attached to its tubular space frame
Apple cleverly demonstrated its Mac Pro architecture at WWDC19 using an interactive virtual model that depicted the details of its interior when viewed through the Augmented Reality lens of an iPad. That's the same technology it uses to provide virtual tours inside its
Apple Park Visitor Center
.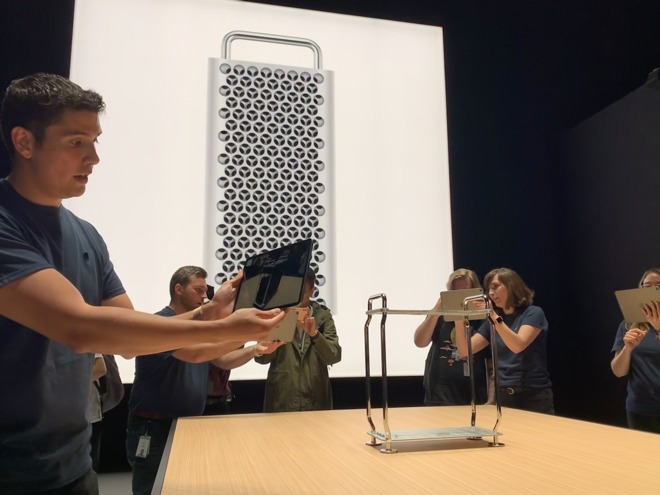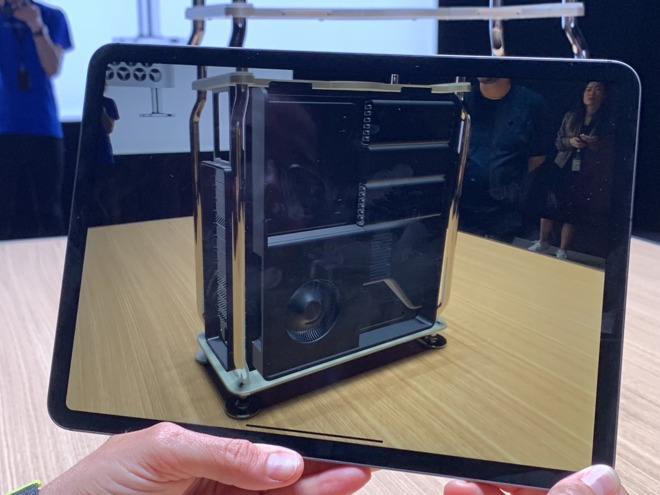 The machine's aluminum housing unlocks with a turn of the handle on top, then lifts off to provide unobstructed access to the front and back. Both ends of the housing are created from milled aluminum panels.
A grid of round holes are drilled into the end panels from both sides, intersecting at an offset (below) that creates a lattice that is "more air than metal." This pattern of spherical intersections is intended to create a series of carburetor throats that create turbulent air patterns even at low fan speeds, efficiently absorbing heat before being tumbled out the back end.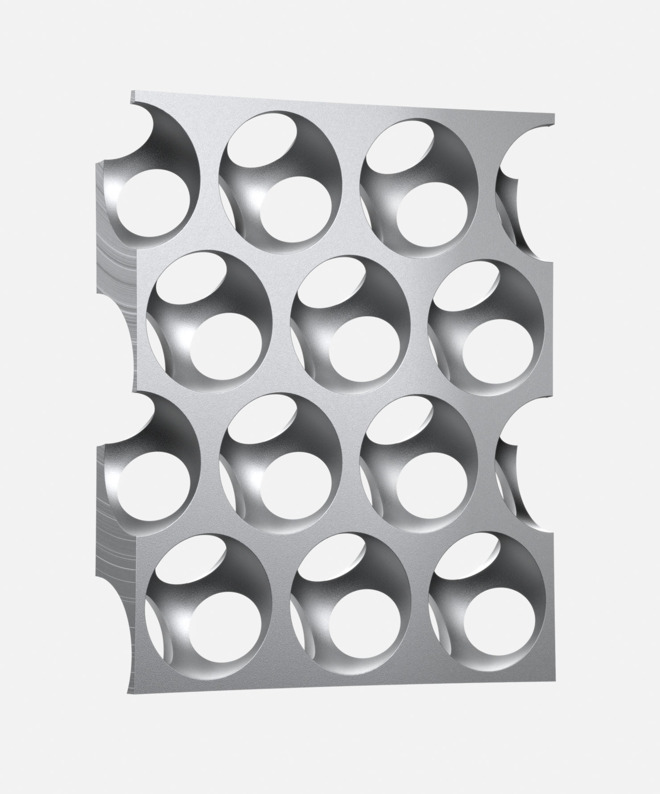 The front and back panels are more air than metal
At first glance, I thought the new design might be difficult to keep clean, but compared to a typical screen with tiny holes, it's no doubt easier to dust off, and the increased airflow might even help prevent dust from collecting inside. We'll see with time.
Those holes and those channels are there because there will be a lot of heat to remove. The new Mac Pro supplies a slotted Intel Xeon W CPU with options for lots of cores. Users will be able to opt for models with 8, 12, 16, 24 or 28 cores, each paired with generous 25MB to 67MB of cache, depending on processor model. The CPU also gets its own 300W thermal architecture designed to enable it to run fully unconstrained all the time.
That requires a beefy thermal sink (below) designed to dissipate heat buildup, cooled down by three impeller fans on the back that inhale cool air inside through the holes in its face, and a blower inside that pushes hot air out the holes in the back. All of this is designed to remain as quiet as possible.
On display at WWDC19, it was whisper-quiet even when hard at work.
Aluminum tubes wick heat buildup away from the CPU and out into radiant fins that dissapate it into the air
The new Mac Pro also provides 12 RAM slots in a six-channel memory architecture accommodating DDR4 ECC modules. The fastest processor options support up to an incredible 1.5TB of installed RAM. The previous Mac Pro model could only support a total of 64GB of RAM from Apple, or 128GB using third-party modules.
The new machine can now work with 12 times as much, for users who need access to vast amounts of RAM -- and can afford to spend many thousands of dollars on a dozen state-of-the-art 2933MHz RAM modules. Note that the
iMac Pro
is "limited" to installing 256GB of RAM. The new Mac Pro can load up six times as much, but maxing out its RAM capacity will also cost more than $10,000 at present RAM pricing.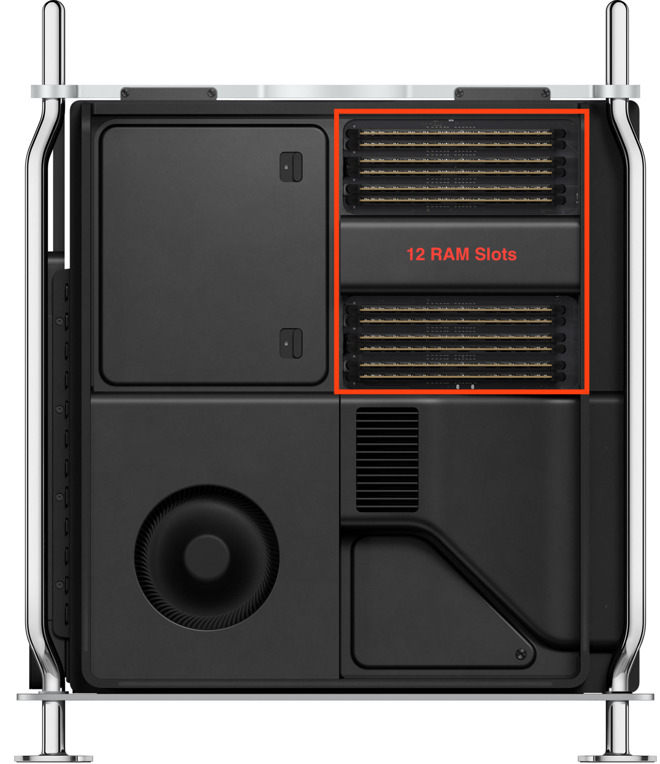 Like the 2013 Mac Pro, the 2019 Mac Pro features an all-flash, SSD storage architecture. It provides twice the SSD module bays of the earlier model, each of which supports 2TB modules, allowing for a total of 4TB of onboard storage encrypted by the Apple T2 chip.
Apple is using a
custom SSD module
which it states provides "up to 2.6GB/s sequential read and 2.7GB/s sequential write performance," similar to the NVMe flash performance of a new MacBook Pro's SSD.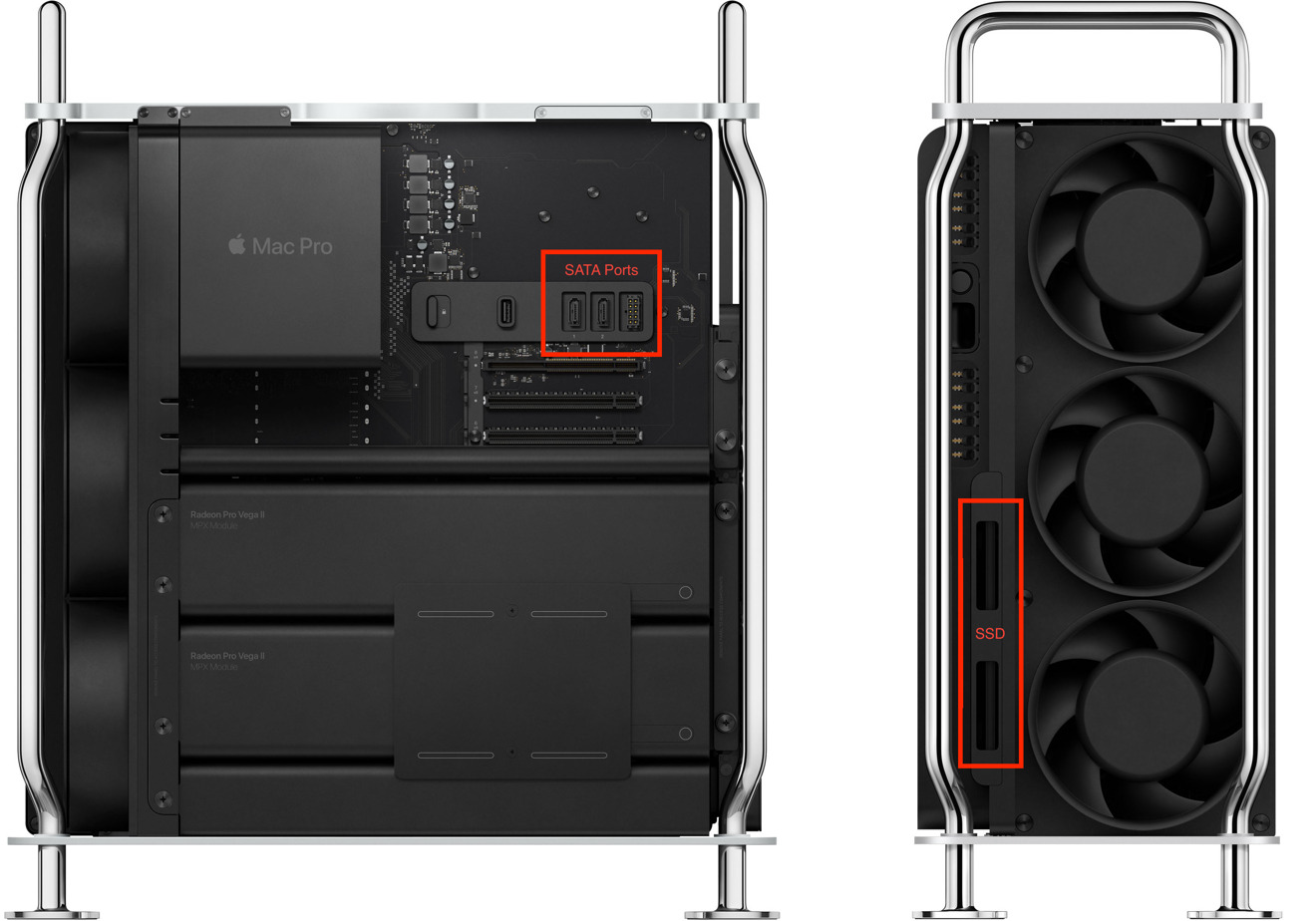 In addition to the SSD storage accessed via slots in its face next to the fans, Mac Pro also provides two internal SATA connectors capable of supporting conventional-- and much cheaper-- spinning hard drives. Third-party storage partner Pegasus showed off its
internal storage enclosure
for the Mac Pro designed to accommodate two 3.5-inch SATA drives (below). It bolts into the Mac Pro frame, hanging two drives within the open area behind the CPU and its large heat sink, directly above the SATA connectors and their power connector.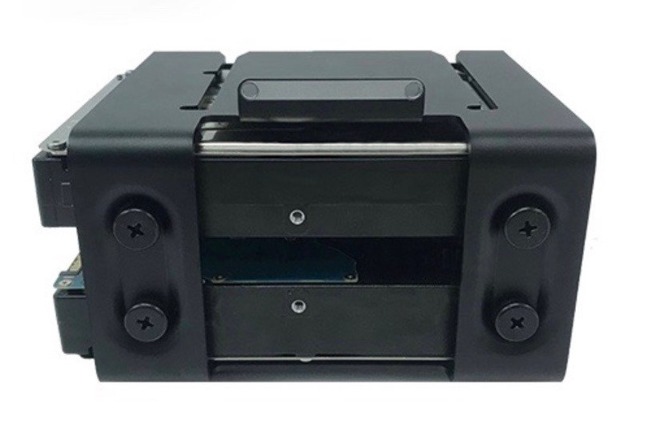 Pegasus will offer and aftermarket dual SATA drive housing
The new Mac Pro also carries forward Apple's Thunderbolt cable-based expansion, now using the same 40Gb/s Thunderbolt 3 that debuted on 2016 MacBook Pros with Intel Skylake processors. TB3 uses USB-C type connectors, and also supports 10Gb/s USB 3.1 Gen 2 connectivity for peripherals that don't require TB3 data speeds, and carries DisplayPort signals.
The new Mac Pro has two built-in TB3 ports located on the top, and two more on its Apple I/O card, accessible from the rear of the unit. That card also supplies two legacy 5Gb/s USB-A ports, either for convenience or to accommodate the USB dongles commonly required by third party pro software titles.
This seems obvious, but we get this question a lot -- unlike the MacBook Pro, its Thunderbolt 3 USB-C can't be used to power the machine. The Mac Pro requires vastly more power, which is supplied by a regular AC cord that plugs into its massive 1.4 kilowatt power supply on the computer side, drawing 1280 watts of maximum continuous power, if needed.
Mac Pro expansion via PCIe slots and MPX modules
Rather than exclusively using Thunderbolt 3 for expansion, the new Mac Pro integrates its connectivity with standard PCIe expansion slots and Apple's new Mac Pro Expansion -- MPX -- connector that supplies additional power for particularly thirsty expansion cards such as GPUs.
In total, the new Mac Pro offers twice as many slots as the Mac Pro towers did, and its slots are more powerful and versatile. Each slot delivers PCI Express gen 3, with a total of 64 PCI Express lanes serving as a massive data pipe between expansion cards and the CPU.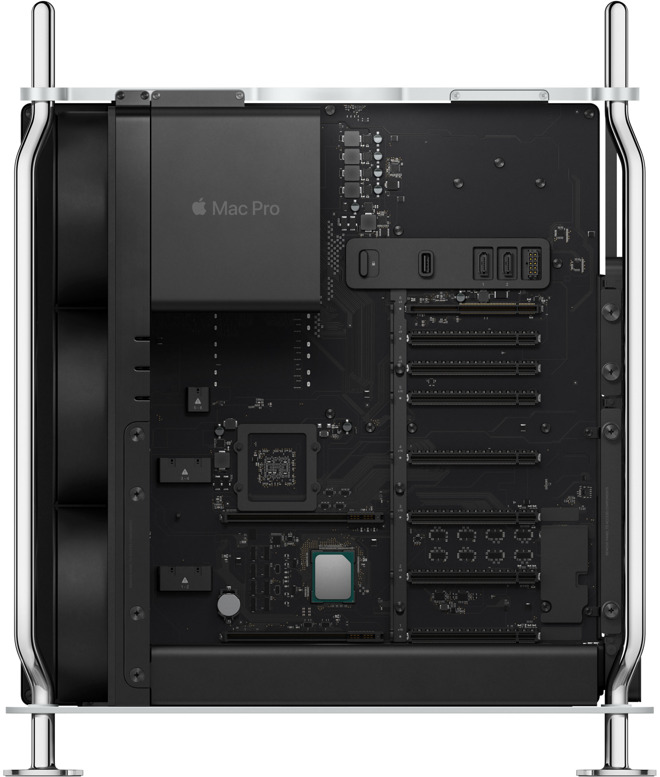 It ships with the above mentioned Apple I/O card installed in its one half-length x4 PCIe slot; three empty single-wide, conventional slots-- a x16 slot and two x8 slots-- each of which provides up to 75W of auxiliary power for expansion cards; and four double-wide slots.
The four double-wide slots at the bottom can be used as two MPX bays, each supporting Apple's proprietary MPX module design with x16 PCIe of graphics bandwidth and an additional x8 PCIe of bandwidth for Thunderbolt 3, along with DisplayPort video routing, and up to 500W of MPX module power.
Alternatively, the two MPX bays can be used to host up to four standard PCIe slots: one full-length, double-wide x16 card and one full-length, double-wide x8 card in MPX bay 1, and two full-length, double-wide x16 cards in MPX bay 2, with two 8-pin connectors supplying up to 300W of auxiliary power.
AMD Radeon Pro Vega II Duo
After years of being derided for not supporting the latest high-end PC video cards, Apple is now describing the AMD's Radeon Pro Vega II Duo as "the world's most powerful graphics card," pairing two GPUs together on one card, connected using Infinity Fabric Link. Incredibly, the new Mac Pro can accommodate two of AMD's Radeon Pro Vega II Duo MPX Modules at once.

MPX module laying flat, viewed from edge as it appears when installed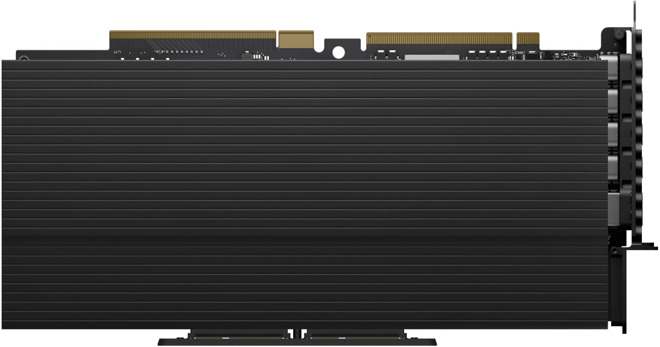 AMD Radeon Pro Vega II Duo, viewed from top with heat sink attached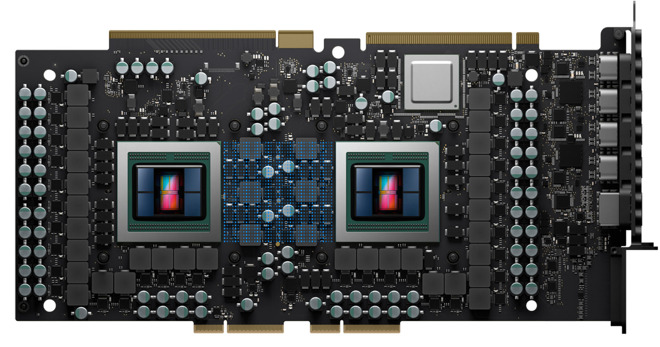 Heat sink removed, showing dual GPUs connected via Infinity Fabric Link. Card connects to PCIe and Apple's auxillary MPX slot
Fully maxed out with two of the Duo GPU MPX Modules, each with 64GB of video RAM, a Mac Pro can deliver 56 teraflops of graphics performance. That will also provide a dozen TB3 ports supporting up to twelve 4K displays-- or up to six of Apple's new 6K Pro Display XDR reference monitors.
Taking the heat
While the design of previous 2013 Mac Pro wasn't physically large enough to accommodate the heat dissipation of increasingly hotter chips and the expansion of additional, specialized processors, the new Mac Pro is intended to scale up in both power demand and dissipation of heat. MPX Modules are designed to integrate into the Mac Pro's thermal design, so they don't have to supply their own fans and cooling system. That results in a quieter, more efficient system, whether used on a desk or in a server rack.
For users who need more internal storage than graphics power, an MPX bay can also be dedicated to hosting a RAID module like the Pegasus R4i (below), which can accommodate four swappable modules holding a full-size SATA hard drive. It provides up to 32TB of raw storage that can be configured as RAID 5 for disk striping with parity.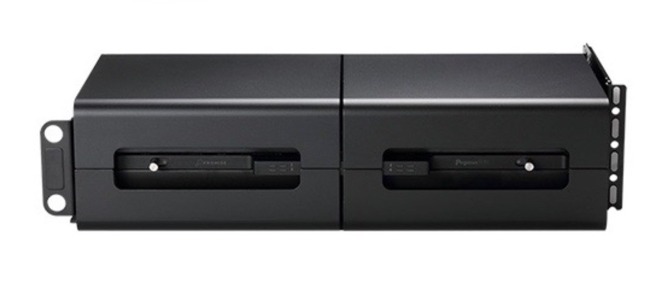 Pro users working with Final Cut Pro X-- and other apps using Apple's ProRes and ProRes RAW codecs-- can also take advantage of an optional, custom-designed FPGA card Apple developed for the new Mac Pro.
Called
Afterburner
, it's a single-wide, full length PCIe 16x card outfitted with an Apple-designed FPGA (a programmable ASIC) which is optimized to hardware-accelerate video encoding at 6.3 billion pixels per second. Apple says it is capable of handling up to three streams of 8K ProRes RAW at 30fps, or up to 16 streams of 4K ProRes 422 video at 30fps.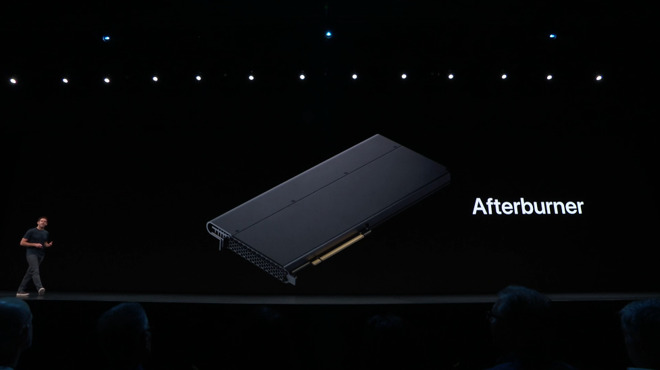 Pro Tools users can similarly take advantage of up to six Avid HDX cards installed in the new Mac Pro, each providing a DSP chip capable of working with 256 audio tracks. That's twice as many HDX cards as any other Pro Tools system can support.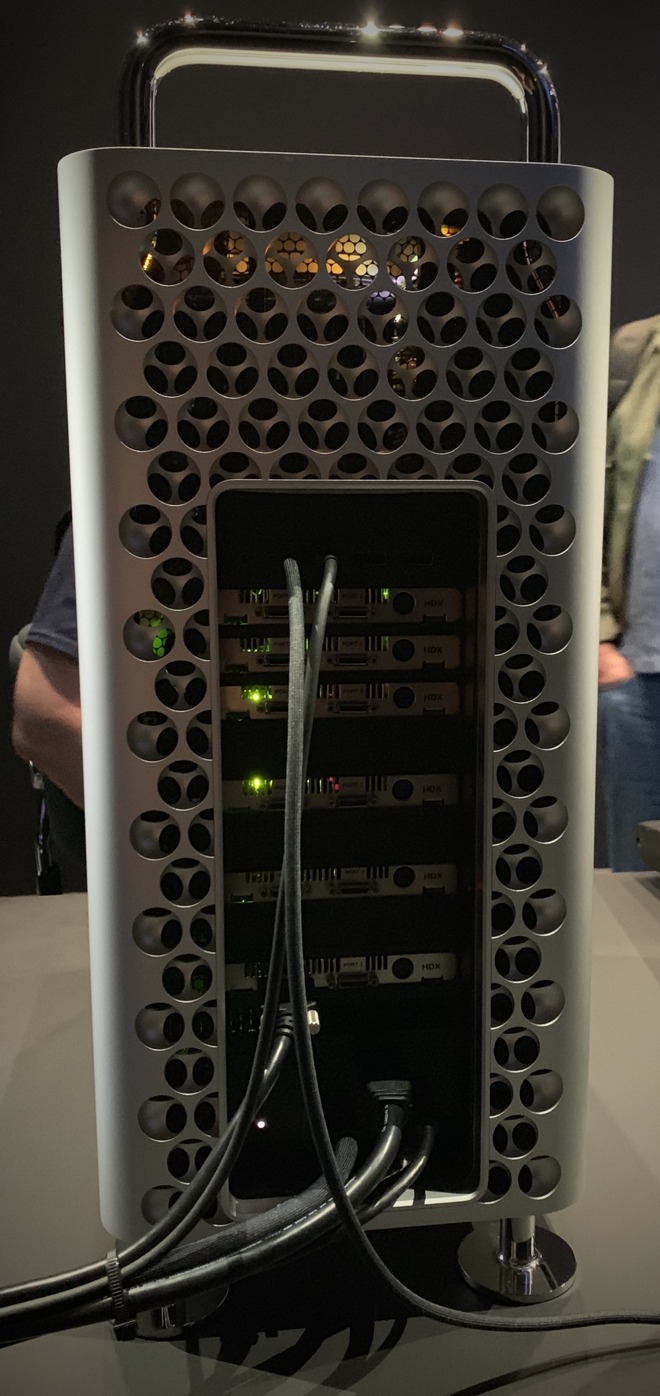 Apple demonstrated a Mac Pro stuffed with 6 Avic HDX cards, handing over 1,400 audio tracks and costing over $22,000 alone
The new Mac Pro isn't just a beast of a machine, it's a hardware platform capable of hosting all kinds of specialized processor cards and storage expansion units. That makes it a very versatile professional tool capable of handling workloads that previously would have required multiple systems working in tandem. From working with multiple streams of video in real-time, to orchestrating scores of virtual instruments, to modeling with vast data sets, a single new Mac Pro has the architectural depth to handle tasks that a single machine simply could not have bit off in the past.
Why did it take until now?
The new Mac Pro occupies a new ultra-premium product niche. It's not a "really nice" desktop machine; it is quite clearly aimed at professionals with extreme workloads: 8K video, cinematic music production, pro photography, and complex code development. Users will need a liberal budget. The base model starts at $6,000 and rapidly climbs upward as you add GB of RAM, TBs of SDD, and start plugging in GPUs and HDX cards--Avid will charge you $3,700 for each one.
Apple has been catering to the premium pro market for decades, from desktop publishing to QuickTime media to the recent era of Pro Apps. So why has there been a conspicuous and widening gap at the high end for so long?
In part, it's because the unit size of the pro market is relatively small and not growing dramatically. For the last 20 years, sales of conventional desktop tower machines have been sliding, first losing ground to increasingly powerful notebooks, then suffering further erosion on the low end from mobile devices. Most of the lower-end PC market is now better served by iPhones and iPads. Apple has also quite effectively addressed the pro video editing market with MacBook Pros, which it readily notes is the most popular form factor for Final Cut X editors.
A long time in coming
Mac users with high-performance needs have been waiting to see where Apple would take the Mac Pro ever since the company announced that it was working on an entirely new "Pro" Mac back in 2017. Yet Pros had already grown used to-- and tired of-- waiting for Apple to deliver a high-end Mac well before that.
In 2012--after pro Mac users
begged for an update
on the future of the Mac Pro -- Apple delivered one last, minor refresh of its Mac Pro tower (the Intel version of its PowerMac G5). It offered only slightly faster new CPU options while still lacking support for the emerging USB 3, SATA III, and even the Apple-driven Thunderbolt -- which had already made its debut on MacBook Pros.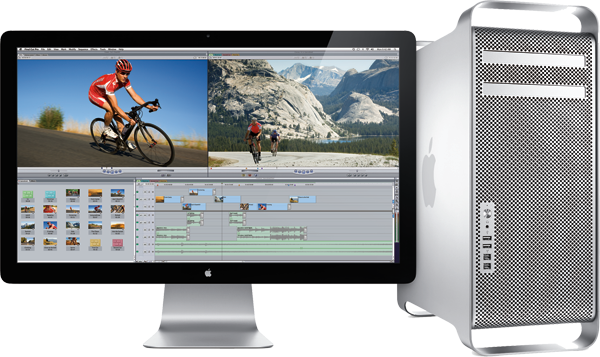 The 2012 Mac Pro was "the fastest ever" but was still falling short of expectations
Apple had just discontinued its rack-mounted Xserve and Xserve RAID storage offerings, leaving the Mac Pro as its final remaining machine with standard PCIe expansion slots. It was widely thought that Apple might just throw in the towel on the Mac Pro as well and tell its pro users to get an iMac or MacBook Pro.
The aging design of the 2012 Mac Pro was also apparent. It sported two CD-ROM bays and Firewire 800 ports in the same year that Apple introduced its new Retina MacBook Pro that ditched any optical drive and introduced Thunderbolt 2.
The desktop Mac had once been Apple's bread and butter, but with the stagnation of conventional desktop PC growth, the shift in demand toward the mobility of MacBook Pros, and the massive sales expansion of iPhone and iPad, it appeared Apple was losing any interest in maintaining a real business in selling high-end Mac towers for the relatively small, desktop pro market.
However, immediately after that underwhelming 2012 refresh, Apple's chief executive Tim Cook insisted in a
letter to a pro customer
that "our Pro customers like you are really important to us," adding "don't worry as we're working on something really great for later next year." Cook also threw in that the company's MacBook Pro "is a great solution for many pros."
Mac Pro, 2013
Sure enough, an all-new Mac Pro did arrive in 2013, albeit in a compact, cylindrical form that sought to deliver twice the performance of the company's old Mac Pro tower in a smaller, more portable unit taking up just one-eighth the size. It seemed custom-tailored for Apple's desktop pro users who wanted more power than could be packed into a MacBook Pro.
The 2013 Mac Pro was indeed fast: it offered a
socketed
4, 6, 8 or 12 core Intel Xeon CPU, dual AMD FirePro D GPUs, fast PCIe flash storage, and up to 128GB of RAM. Some critics, however, complained that it wasn't fast enough, nor priced competitively for the power it delivered.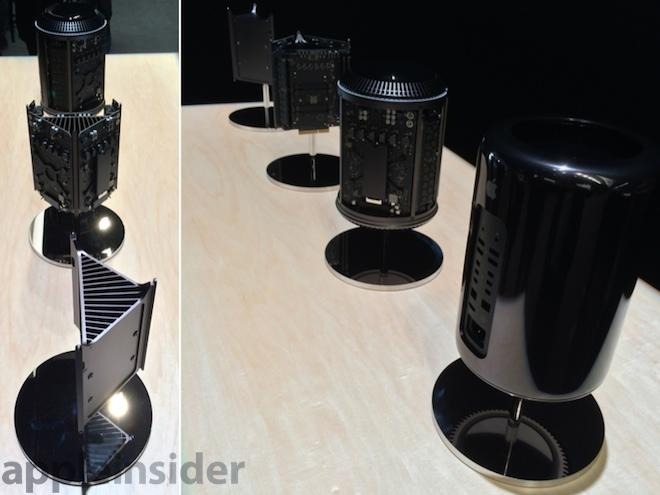 Its minimal case efficiently and elegantly served as a large triangular heat sink (above) for its trio of processors, all wrapped in a sleek black casing. It also showcased Thunderbolt 2-- which had just debuted on Apple's MacBook Pros-- as its fast connectivity for everything from external storage to multiple displays. Thunderbolt is effectively a PCIe slot in the form of cable, with DisplayPort video piggybacking on the side. Apple also added USB 3.0 and an HDMI port.
While it lacked any slots, Apple called it the "most expandable Mac yet." The company was hoping to meet the needs of Mac Pro users with the same TB2 strategy it was pursuing on MacBook Pros, effectively scaling its old tower design down into a small turbine intended to cool down beefy processors that were too big and hot for a notebook.
In delivering a compact unit with six Thunderbolt 2 ports, it appeared as if the need for big, boxy tower PCs with old fashioned slots and howling fans were all a thing of the past. Back in 1998, Steve Jobs had been successful in coaxing millions of PC users to leave behind their tower and get the new iMac, which offered no slots but introduced USB as a flexible way to connect to peripherals without needing to plug in and configure cards for modems, network cards, and various types of serial adapters.
However, the dramatic 2013 redesign of the Mac Pro and the bold "courage" of providing Thunderbolt 2 as its only real expansion path weren't enough for many high-end pro users who had very specialized needs-- ranging from custom PCIe expansion cards to a form factor that could be rack mounted. Apple still hadn't delivered its strategy for supporting external PCI expansion via Thunderbolt, including
external GPUs
. Early support for eGPUs didn't even ship in macOS until High Sierra appeared in 2017.
Apple's 2013 Mac Pro brought it up to speed with modern connectivity
The 2013 Mac Pro's soldiered-in GPU design also made it impossible for third parties to offer drop-in upgrades. Apple later admitted that the thermal constraints of the compact Mac Pro also hampered its own ability to refresh the model with faster processors, leaving the model to stagnate in public view. Apple thought it was revolutionizing the desktop tower into a form factor that would be more popular, but its target market largely appeared to think Apple was dumbing down their professional machine into an "iDevice."
Two years and zero refreshes later, many pro users were again complaining that Apple hadn't really made a reliable commitment to serve their needs, and had dropped the ball even in keeping its new design up to date with modern processors and the even faster new Thunderbolt 3 connectivity using USB C ports that was appearing on MacBook Pros and iMacs. Once again, Apple announced that it was working on an even better, entirely new replacement, although admitting that it wouldn't ship within 2017.
In the interim, Apple delivered
iMac Pro
, calling it, of course, "the most powerful Mac ever made." That was an easy claim to make, considering that the Mac Pro hadn't changed in four years.
The new iMac Pro sported a removable 8, 10, 14, or 18 core Intel Xeon CPU, an AMD Radeon Pro Vega GPU, 4 channel TB3, and its own custom T2 security chip providing hardware-accelerated encryption and media encoding. That set the stage for optimistically thinking that the upcoming new Mac Pro could be the beast that pro customers had been clamoring for.
If there's a market for high-end Mac hardware, why hasn't Apple chased it down it with the gusto on display in its new Mac Pro? Apple's interest in launching into the very high-end of pro systems is not entirely a mystery, as the
next segment
will examine.