Review: Mophie's suede 3-in-1 Qi wireless charging stand powers all your Apple gear
Posted:
in iPhone
edited January 2021
Mophie elevates its wireless charger with a new suede top material for a more premium experience on its 3-in-1 Qi charging dock for iPhone, Apple Watch, and AirPods.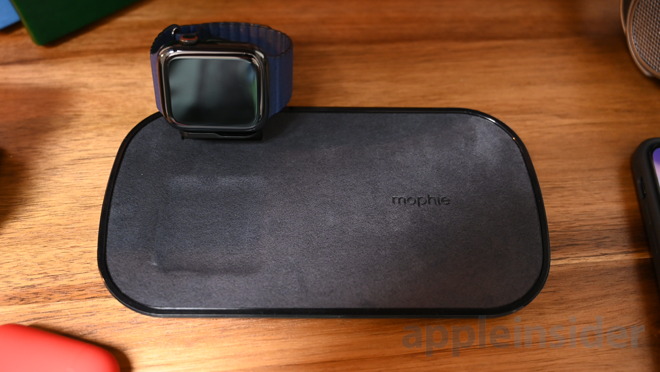 Mophie 3-in-1 wireless charger in suede. That dent or hollow you see on the left is where an AirPods case is meant to sit
It was merely a few weeks ago when
we reviewed
the new Mophie wireless charger lineup which encompasses a single charger, a dual charger, and a three-in-one dock.
In the review, we took
Mophie
to task for the glossy, somewhat cheap feeling exterior that had diverged from the fantastic quality we'd seen from the accessory maker in the past.
Not to say the products were bad in any way -- they are better than a lot of other chargers out there. But compared to Mophie's own, they didn't quite live up.
So it's no surprise when we found out Mophie was launching a more premium version of its three-in-one wireless charging dock.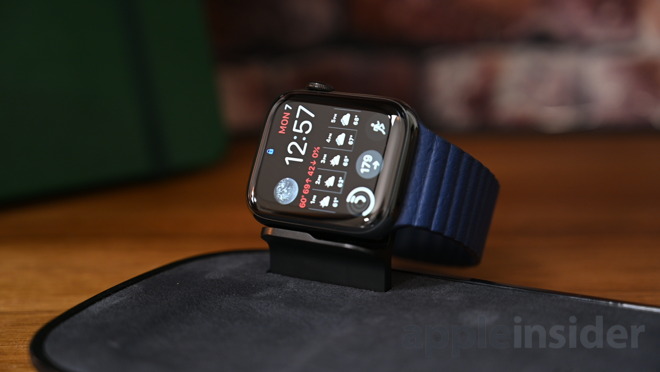 Mophie 3-in-1 has an MFi-certified Apple Watch charging puck
The basics are the same -- it has a
Qi
pad on the right for a phone, a divot to the left for a pair of
AirPods
, and an MFi certified
Apple Watch
charging puck stationed behind the AirPods perch.
That all remains identical with what we reviewed before, however the top surface has changed. Instead of the glossy plastic that showed every spec of dust, it is covered in a soft suede.
This wholeheartedly improves the look and feel of the charger, immediately elevating it to a more premium experience.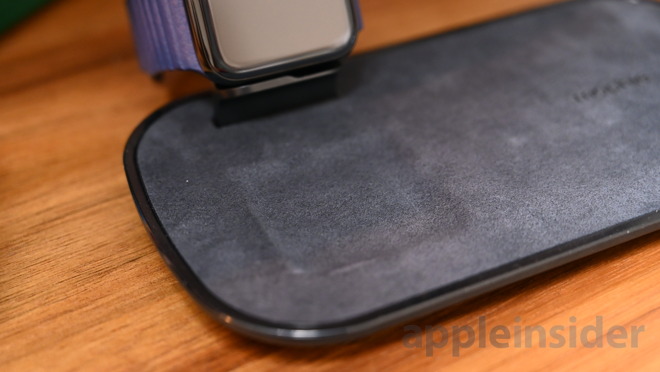 Mophie 3-in-1 AirPods divot
As far as other important details, the Qi charger will work with cases up to 3mm thick (par for the course), and can charge at up to 7.5W -- the most Apple allows for an
iPhone
.
It is disappointing you can't use another phone or something else on the left side of the charger, limited to only charging AirPods, but it is nice to see something designed specifically for them. Plus, with the Apple Watch charger in the way there isn't much room for anything else.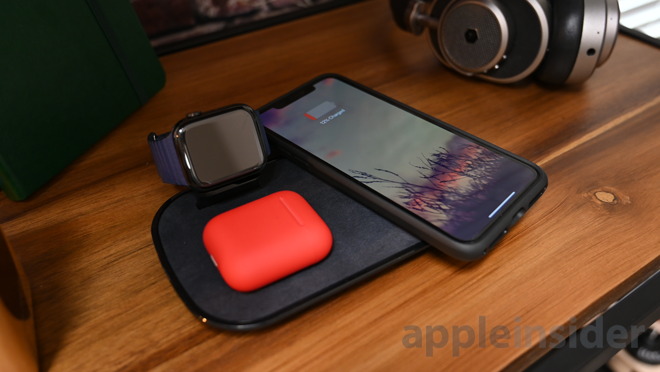 Mophie 3-in-1 wireless charger for iPhone, Apple Watch, and AirPods
The Mophie three-in-one wireless charging pad for iPhone, Apple Watch, and AirPods is available now
from Mophie for $140
, the same as the black plastic version.
Pros
Premium, stylish design


Charges all your daily Apple gear


Fast charging


Works with cases


Compact size


Apple MFi certified
Cons
Pricey


Only one phone at a time


No USB-C output


Large, proprietary power adapter
Score: 4 out of 5