The Apple TV app is compatible with these Roku set top boxes
The promised Apple TV app compatibility for Roku devices has arrived -- assuming you own a relatively new box.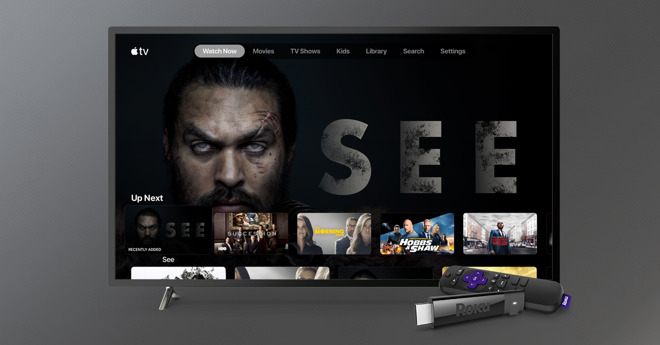 Starting on Tuesday,
Roku
users can add the Apple TV app via the Roku Channel Store to discover and watch movies, TV shows,
iTunes
video library content, and can subscribe to Apple TV channels directly on Roku devices. Roku has also confirmed that
Apple TV+
will be available on the Roku platform.
In addition to the U.S., the Apple TV app is available to Roku users in Argentina, Canada, Chile, Colombia, Costa Rica, El Salvador, France, Guatemala, Honduras, Mexico, Nicaragua, Panama, Peru, Republic of Ireland and the United Kingdom.
"With the Apple TV app coming to Roku, our customers will enjoy an even broader range of exciting entertainment, including the highly anticipated Apple TV+ service," Roku's Senior Vice President and General Manager of Platform Business Scott Rosenberg said. "Roku is a valuable partner for content providers looking to reach a large and engaged audience, and we're looking forward to bringing this new option to Roku users."
Here's how to add the Apple TV channel to your
Roku device
.
Press the Home button on the Roku remote.

Scroll up or down and select Streaming Channels to open the Channel Store.

Select Search Channels.

Begin entering Apple TV. If you don't get the result, your device may not support the channel.

When you see the channel, use the directional pad on your Roku remote to highlight Apple TV.

Press the OK button OK button on Roku remote to view details.

Select Add Channel.
Compatible devices are:
Roku TV 7000X, C000X, 8000X

Roku Smart Soundbar 9101X

onn Roku Smart Soundbar 9100X

Roku Express 3900X, 3930X

Roku Express+ 3910X, 3931X

Roku HD 3932X

Roku Streaming Stick 3800X

Roku Streaming Stick+ 3810X, 3811X

Roku Premiere 3920X, 4620X

Roku Premiere+ 3921X, 4630X

Roku Ultra 4640X, 4660X, 4661X, 4670X

Roku Ultra LT 4662X

Roku 2 4205X, 4210X

Roku 3 4200X, 4230X