Hands on: Linksys Aware is a useful software feature for the Velop router
The Linksys Velop line has been a go-to mesh router recommendation, but recently it has become even more useful with the addition of Linksys Aware, an add-on security service that allows your routers to monitor for motion in your home.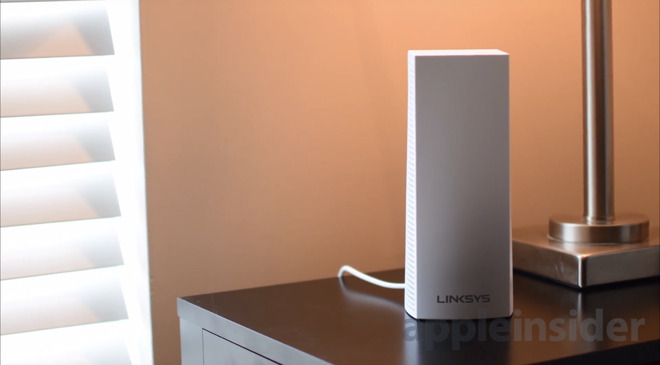 Linksys Velop tri-band router
The new service is an optional add-on for new and existing owners of Velop routers that allows them to be notified of motion within their homes.
Linksys
Aware arrives as a software update for compatible Linksys Velop systems, which is initially limited to the taller tri-band AC2200 models. Eventually, it will roll out to other models as well.
The system works by taking advantage of the fact that the mesh nodes blanket your home in Wi-Fi coverage. Each of the nodes are able to minutely measure the signal strength in between those nodes, with disruption to the signal from a person or pet being counted as motion. As a consequence, it requires the presence of at least two nodes to function, as they have to receive the signal transmitted from others in the network.
We tested Linksys Aware on our Linksys Velop setup which consists of three nodes in our home, after ensuring they were updated to the latest firmware.
Setup
Setup is performed through the Linksys app -- the same one used for all other network administration tasks. After the updates are installed, an alert shows at the top of the app letting you know you can sign up for it, and there is also an option in the slide-out menu to the left.
Once set up, the app walks you through the basics of what it is, how it works, and lets you customize your settings.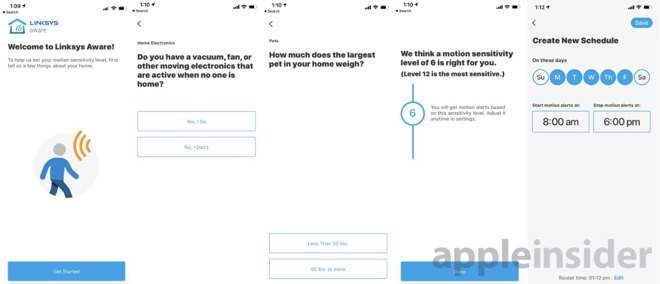 Linksys Aware setup screens
First, you let the app know if you have a regularly moving object in your home, such as a fan or a robotic vacuum. It then asks you if you have pets, and if so, their rough sizes. Linksys will then recommend a sensitivity setting based on your choices.
In our home with two 50-pound dogs, Linksys recommended a sensitivity level of six.
Using Linksys Aware
Linksys Aware is mostly a set-and-forget service. Once configured, it works in the background and sends you alerts whenever motion is detected.
By default, that would be any time, but it can be customized on a schedule. For example, if you head out to work each day, you could set the schedule to only notify you during the time the house should be empty. Multiple schedules can be set up at once so you can be very granular with when it kicks in.
Motion alerts also can be set to only go off at certain intervals, say every 10 minutes, so you don't get bombarded repeatedly if a pet is too excited throughout a day.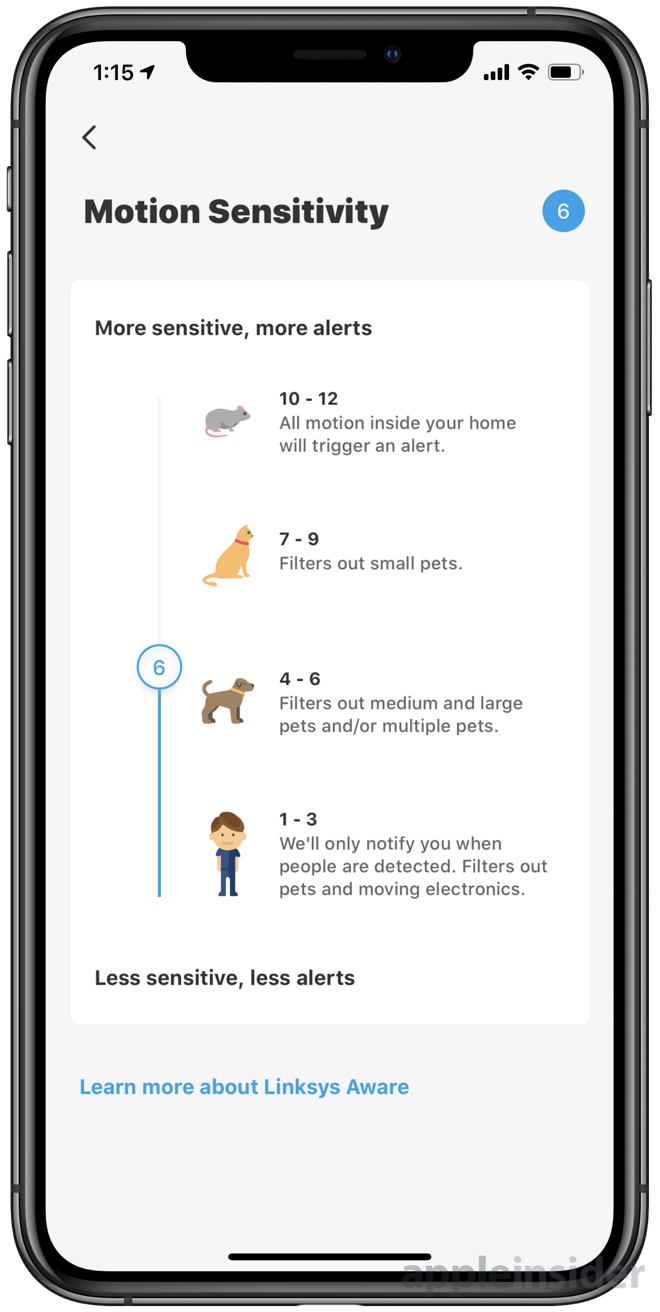 Linksys Aware sensitivity levels
We configured our schedule and the sensitive and were very impressed with how quickly and accurately Linksys notified us that there was significant motion. To test, we'd set up Linksys Aware to be active, then would enter our home through both the front and back doors and wait to see how long -- or if -- a motion alert would be triggered.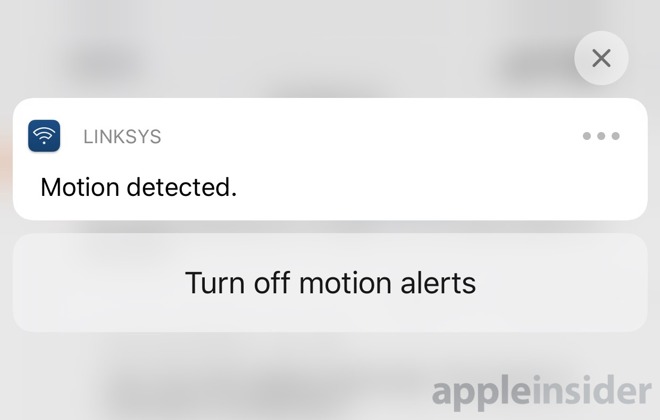 Linksys Aware motion alert
It didn't work that well on the outskirts of the property, but as we came into the home our routers immediately picked it up and a notification arrived arond 30 seconds after we came into the house.
When we left the house, with the sensitivity set at a six (ten is the most sensitive) the dogs only set off the alert when someone came to the door, prompting them to repeatedly jump and bark at the person knocking.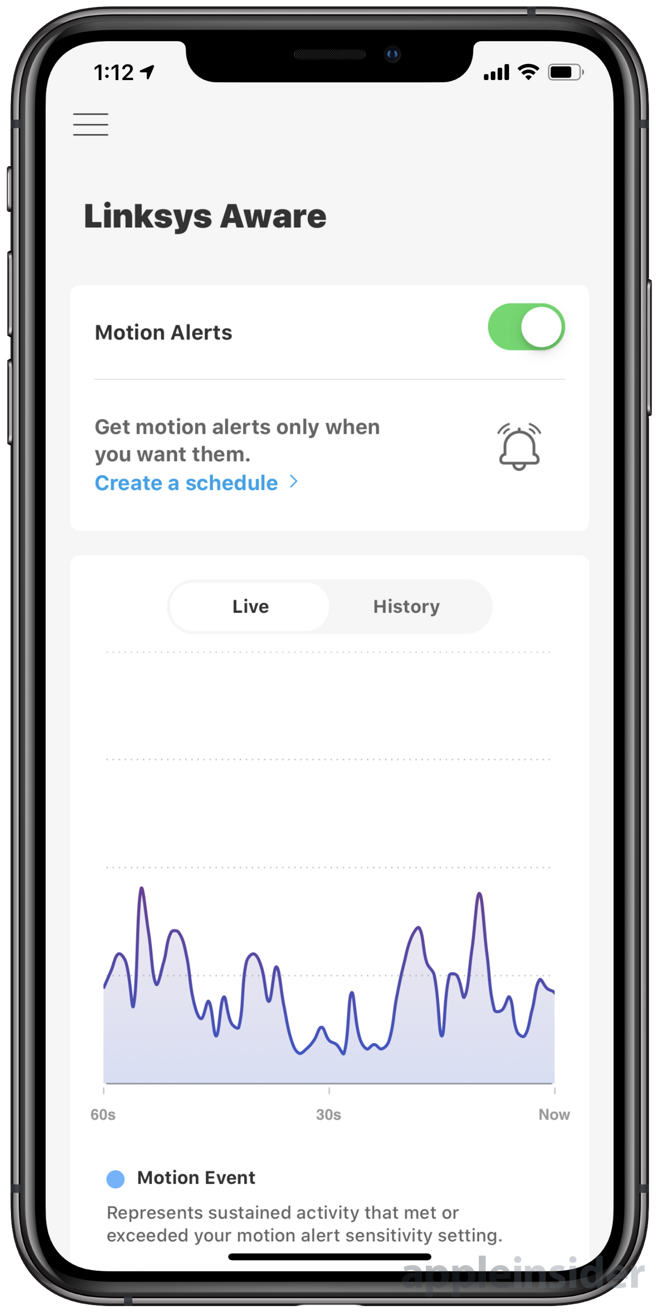 Real-time motion graphs
All of this is viewable in a real-time graph, or as a history for the week, day, and hour. This allows you to go back and see precisely when and how much motion was detected.
One downside to the system is that it doesn't give you specifics on the motion, due to the inherent nature of it using Wi-Fi signals. For example, it can't tell you what room or floor the motion was detected on.
If you want to get that granular, you'll have to invest in a dedicated setup.
Should you try Linksys Aware?
We absolutely love this feature. We are all about our existing hardware gaining additional functionality through software updates such as this -- even if it is an added cost. This partners well with Linksys Shield, which is another software feature that allows parental controls and website blocking for children.
The existence of both of these services shows Linksys is investing in making its existing hardware more powerful and full-featured, and won't quickly go obsolete. In fact, Linksys is also
going to be updating the Velop line
with support for Apple's
HomeKit
in the near future.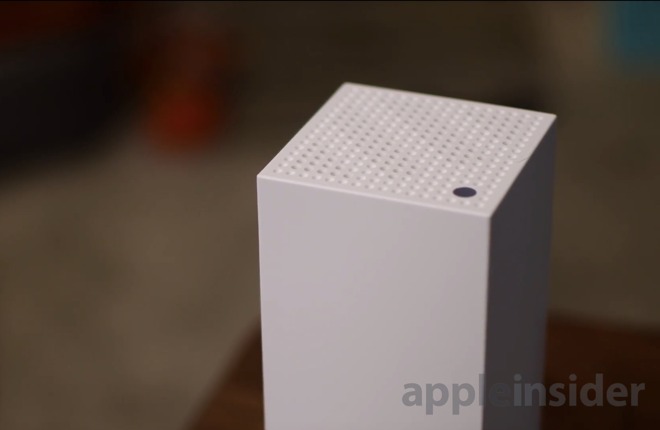 The top of a Linksys Velop router
It is similar to the approach Eero has taken with its additional monthly plan that adds features to its routers, though Linksys Aware is unique and unlike what we've seen from any other router manufacturer.
The alternative to a feature like this is a security camera, but that could also be looked at as an additional complementary measure to this, not a replacement. Cameras obviously allow you to see
what
is causing the motion versus just alerting you to it, but it is hard to cover a whole home with cameras versus simply enabling a feature on your routers that are already providing Wi-Fi signal throughout your home.
We could see the possibility of putting a camera on the front door, but using Linksys Aware to monitor the rest of your home.
Linksys Aware is available now for the tri-band Linksys Velop routers running the latest firmware. Users can get a free 90 day trial or they can pay $2.99 month-to-month or $24.99 yearly. We'll be looking closer at what the subscription fees give -- or don't give -- in the coming weeks.
If you don't have the Linksys Velop tri-band routers you can pick up a two pack or three pack on
Amazon starting at $259