Apple Heart Study demonstrates promise of consumer wearables in medicine, with a few cavea...
Results of Apple's Heart Study, performed in partnership with Stanford University, were published in the New England Journal of Medicine on Wednesday, showing Apple Watch can be a valuable tool in the identification of atrial fibrillation.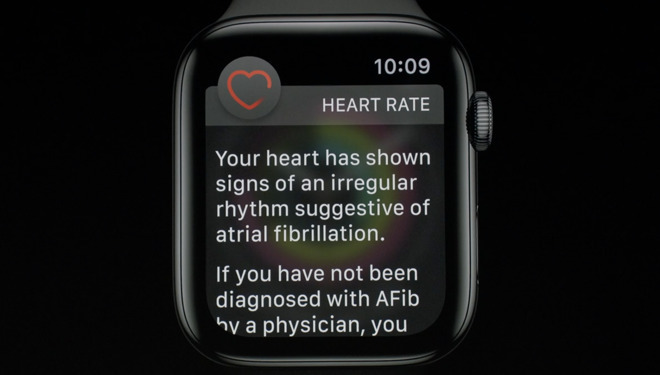 Today's publication represents the culmination of
Stanford's research
on the Apple-sponsored study, which sought to determine the effectiveness of consumer devices like
Apple Watch
in the discovery and diagnosis of life-threatening heart conditions. A portion of the findings were presented at an American College of Cardiology conference
in March
.
According to the study, 0.5% of the more than 419,093 Apple Heart Study participants received an irregular heart rhythm notification from their Apple Watch during the eight-month trial. Notifications were generated based on readings taken from the Apple Watch heart rate monitor and subsequently processed using a proprietary algorithm.
Approximately a quarter of that group participated in the study's extended protocol, which involved wearing a heart-monitoring patch for further evaluation, according to a report from
CNBC
that
detailed other key findings
.
Drilling down into the data, researchers discovered 84% of participants who elected to wear and return the electrocardiogram patch were confirmed to suffer from atrial fibrillation. The numbers suggest consumer devices like Apple Watch are indeed helpful in identifying potentially deadly conditions through regular monitoring of a user's pulse.
It was perhaps telling that only a quarter of study members returned the accessory patches provided them by Apple and Stanford, fewer than expected. The metric indicates that getting users to follow active tracking methodology, or systems that require additional user intervention, is more of a challenge when compared to passive alternatives like Apple Watch.
Interestingly, Apple Watch was able to pick up early stage atrial fibrillation which occurred infrequently, meaning it did not register on the electrocardiogram patch. Researchers said the findings do not indicate false positives, the report said.
Finally, researchers repeatedly noted that the study was not intended to prove that Apple Watch could be an effective screening tool for large populations.
While the findings were promising, and its scope impressive, the Apple Heart Study has not convinced cardiologists that Apple Watch and other consumer devices are the answer to monitoring atrial fibrillation, according to the report. Some doctors are concerned that the medical community is not yet able to effectively treat patients identified through conventional means, let alone those who are alerted to the condition by Apple Watch.
Apple opened the study
in late 2017
, with the program later called the
largest arrhythmia of all time
by the
American Heart Journal
. Research concluded last year, with data from the initiative later used to
gain FDA approval
of the electrocardiogram introduced with Apple Watch Series 4.
With the heart study complete, Apple is looking to leverage its sensor-laden Apple Watch platform to
conduct new research
in the area of health and medicine. The company will later this year launch a hearing study in partnership with the World Health Organization and the University of Michigan, a women's health study in partnership with NIH and Harvard and a heart and movement study with the American Heart Association and Brigham and Women's Hospital. All three studies will be available in the Research app, which is expected to debut this fall.