Conde Nast still waiting for Apple News+ success
The CEO of influential magazine publisher Conde Nast says he hopes Apple News+ will be a success, but so far "the jury is out," and his company hasn't seen the expected impact.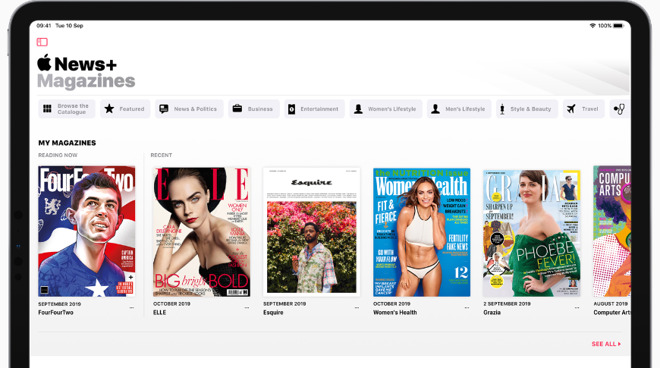 Magazines in Apple News+ on an iPad (Source: Apple)
Roger Lynch, CEO of publisher Conde Nast, says its magazines -- including Vanity Fair and Conde Nast Traveler -- have yet to see the success on
Apple News+
that was expected. The company, whose titles regularly reach 84 million readers across print and digital services, had an initial burst of new subscribers but that interest failed to continue.
According
to
Variety
, Lynch was talking at the
Recode
Code Media conference about issues including both publishing and streaming.
"I hope Apple News+ is wildly successful," he said. "[However] I think the jury is out."
Conde Nast was one of the original publishers on Apple News+ when it launched in the US and Canada in March 2019. Lynch says that,
as reported on AppleInsider
within the first 48 hours of that launch, Apple News+ signed up 200,000 subscribers, but has struggled to grow further.
Apple News+ subscriptions begin with a free month's trial, but Lynch said he was specifically talking about paying ones, so people who continued after that initial period. Users pay a single subscription and publishers earn part of their revenue through a share of that fee -- the rest through advertising and selling direct subscriptions -- though Lynch declined to say how much the company had earned.
He did speak to an issue that has previously concerned other publishers, that of the comparatively low price Apple News+ subscription undercutting other firms. Lynch was asked about how it affects publishers trying to build their own services, and whether it meant users could circumvent paywalls.
"We haven't seen that effect," he said.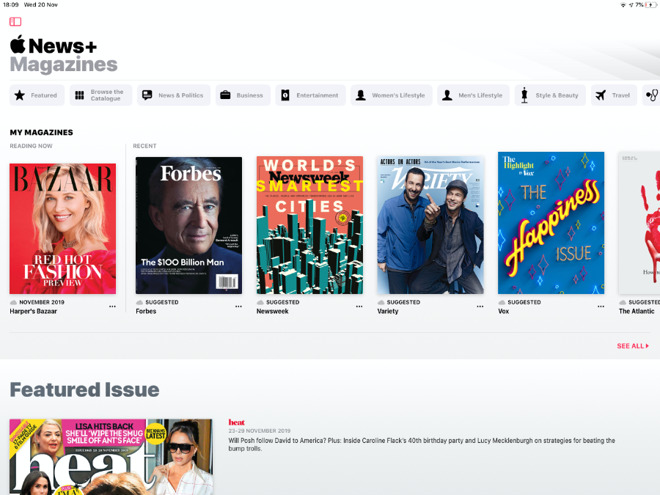 Magazines on Apple News+
Lynch joined Conde Nast in April, so after the firm negotiated terms with Apple for the service, but says the publisher could ultimately quit Apple News+ if necessary. "Over time, we have options," he said.
While Apple News+ has been
available in the US and Canada
for most of the year, it only began in the UK and Australia countries in September. Publishers in Europe have reported that the service is
paying off for them
, if not dramatically.
"We're seeing quite good traffic from Apple News," said one
unnamed publishing executive
, "but the revenue is not show-stopping."
Nonetheless, rival organisations are seeing the potential value of a news service and CNN is reported to be planning its own
competitor to Apple news+
, as is
Mozilla
.