Putting the 16-inch MacBook Pro's thermal management to the test
Apple updated the thermal management of the 16-inch MacBook Pro. We put it to the test to see just how much it has improved over its predecessors.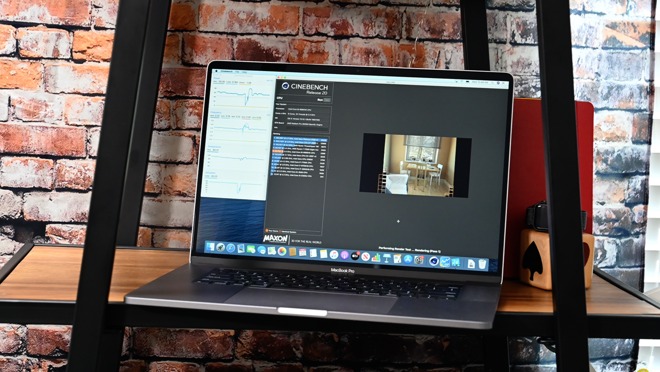 Cinebench R20 on the 16-inch MacBook Pro
After
Apple's
thermal throttling issue a bit ago, the topic has been on would-be purchaser's minds so we found it fit to put the machine to the test and see if Apple has squashed those thermal fears.
Before discussing the thermal tests, it's worth discussing benchmarks We already benchmarked the base unit in our initial
16-inch MacBook Pro review
so the same has to be done for a
16-inch MacBook Pro
configuration maxed out with a 2.4GHz 8-core i9 CPU with 5500M Graphics and 8GB of GDDR6 RAM.
Performance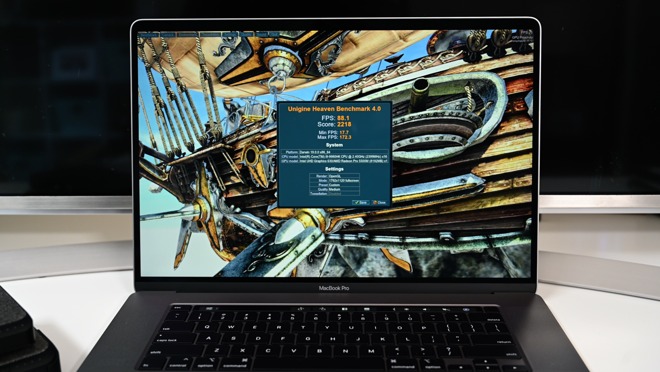 Unigine Heaven benchmark results on the 16-inch MacBook Pro
With our Radeon Pro 5500M graphics, we powered up the Unigine Heaven benchmark once more. This time around, we scored an 88.1 average FPS with a total score of 2218. It hit a maximum of 172.3 frames per second.
That outpaces the standard 5300M graphics with 4GB of VRAM which earned an average of 86.6 frames per second and a 2182 score. It maxed out at an impressive 162.1 frames per second.
For massive projects that include piles of instruments in Logic, many effects in
Final Cut
, or countless layers in Photoshop that 8GB of GDDR6 VRAM will come in handy even further for smooth work.
In Geekbench 5, The CPU test pulled 1,160 single-core and 7,243 multi-core scores. Our base unit only got an 1,128 and a 5,642. Huge multi-core gains here.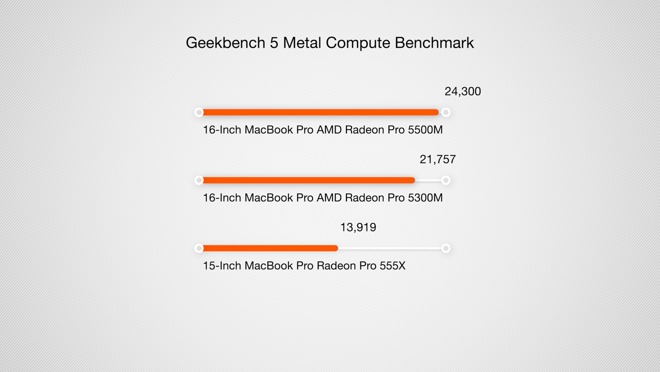 Geekbench 5 Compute Metal benchmark results
Using the Compute Geekbench 5 test with Metal, the AMD graphics earned a 24,300. Up from the 21,757 on the base and more than 1,000 higher than the previous generation base score of 13,919.
What is thermal design point?
Before we get to testing, it is important to understand what it is we are testing and looking for. Here is what we said last time we performed these tests
earlier this year
:
The Thermal Design Point (TDP) is defined by Intel as the "average power the processor dissipates when operating at base frequency with all cores active under a high-complexity workload." That is a long way of saying it advises how hot a processor can get when running at its rated speed. It is also a measure of what, at a bare minimum, any given manufacturer has to, at a minimum, implement for a cooling system.

When a processor is cool, it is capable of exceeding its standard clock speed to the Turbo Boost speeds Apple and Intel advertise. This, of course, generates more heat above and beyond the TDP, and causes it to slow down back to an equilibrium state where it is generating as much heat as the chassis can dissipate.

If the heat is too great, the chip will drop below the normal operating speed -- the speed Apple advertises for the machines -- in order to prevent damage and cool down further. This is what you should think of when they think of thermal throttling and not the dip below the so-called "turbo" speeds, which every computer with a turbo speed has always had to do.

So, today's test is to see what that equilibrium speed under load is, and if the machine dips under the rated speed.
Procedure
For our test, we powered up Cinebench R20 and ran this comprehensive benchmark ten times, back to back. As soon as one test would end we would begin it again forcing the processor to constantly be under heavy load and pushing its thermal performance.
Simultaneously, we utilized Intel Power Gadget to monitor the clock speed and the frequency of the chipset.
In theory we should see the processor quickly jump up to a turbo-boosted speed before subsiding back down to an equilibrium speed, balancing speed and the thermal condition. If there are thermal throttling issues within the 16-inch MacBook Pro then we would see the temperature remain high and the speed dip below the advertised 2.4GHz frequency.
Results
In Cinebench R20, scores jumped from 2623 on the entry-level 2.6GHz 6-core 9th-generation Intel Core i7 processor to 3445 on our 2.4GHz 8-core 9th-generation Intel Core i9 machine.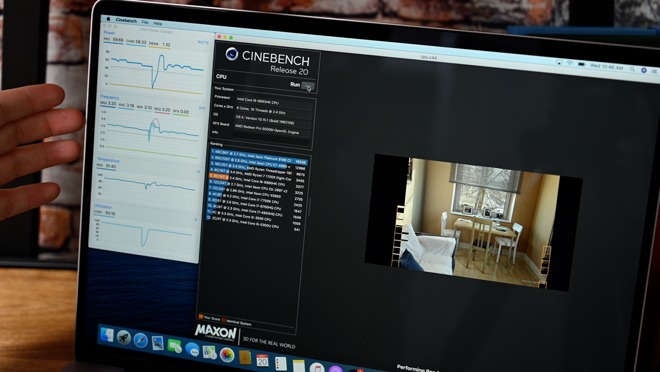 Thermal testing with Cinebench R20 and Intel Power Gadget
While running Cinebench, our fans initially started to kick in as the temperature hit 90-degrees, though we didn't full notice them until the temp hit 96-degrees, which is right around where the processor hovered while under strenuous load.
During the testing, we continued to put pressure on the processor to watch the CPU frequency and even as we ran the test back to back to back, our CPU continued to run at 3.19GHz which is above Apple's promised 2.4GHz speed.
We ran this same test on the same CPU earlier this year with the previous
MacBook Pro
design.
During that test
, the 2.4GHz processor clocked in regularly at 2.9GHz. With the new machine averaging 3.19, it seems Apple's new thermal design has really paid off.
Deals on the 16-inch MacBook Pro
Many 16-inch MacBook Pro configurations are already on sale, with 2.4GHz Core i9 models equipped with 5500M 8GB graphics
up to $438 off
.
Here's a roundup of the best
deals
at press time. To view the latest coupon offers and instant rebates, check out the
AppleInsider
16-inch MacBook Pro Price Guide
.
Adorama (final prices for most)
Amazon
B&H
Expercom
MacMall