Best gifts for Apple fans priced under $100
As the holidays approach, everyone is on the lookout for the perfect gift for their family, friends, and coworkers. Here, we've compiled our favorite gifts under $100 that will be perfect for the Apple fan in your life.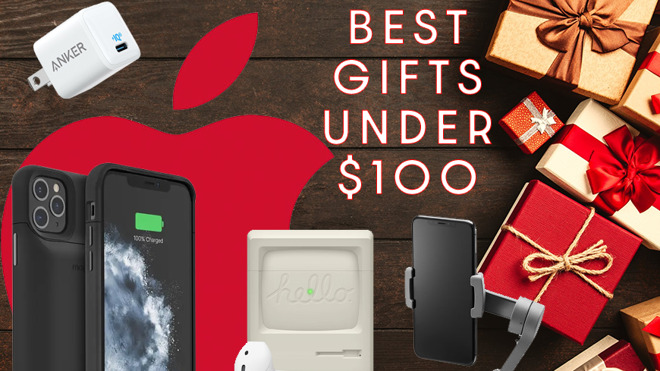 Anker PowerPort III Nano
If your special someone has an iPhone or an iPad, they'll likely love the
Anker PowerPort III Nano
(
review
). This compact charger is about as small as it gets but has enough power to fast charge their iPhone to 50% in only 30 minutes. With up to 18W of power, that will also fast charge their
iPad
or
iPad Pro
.
Priced at
$19.99 on Amazon
, this budget-friendly gift can be used as a stocking stuffer or Secret Santa gift easily. Just make sure they have a
USB-C to Lightning cable
if being used for their iPhone.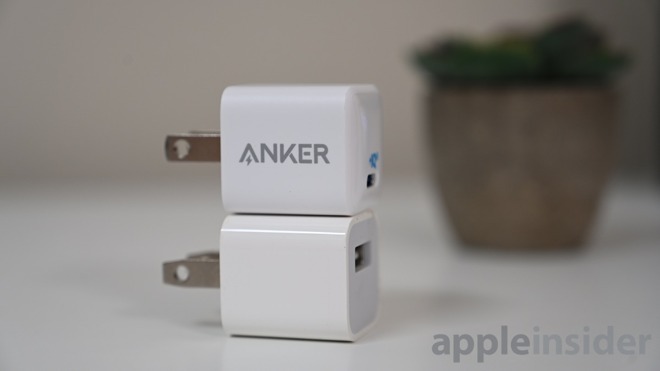 The 18W Anker PowerPort Nano III is a great gift idea, offering faster charging compared to Apple's 5W charger
For even more power, there is the
PowerPort III Mini
which can output 30W of power in a similarly small design. That is easily enough to not only power an iPhone or iPad, but a 2018 or newer MacBook Air in a size smaller than what Apple bundled. The beefier high-speed charger is currently
on sale for $25.99
on Amazon.
Anova Precision Cooker Nano
The
Anova Sous Vide Precision Cooker Nano
(
review
) is a fantastic sous vide cooker that can work on its own, or by being paired to an iPhone or iPad for more control and notifications.
Throw some protein or other food into a bag with seasoning and submerge it in a bath of water with the Anova set to the desired cooking temperature and wait. Not long after they'll have a perfectly cooked piece of meat without losing any of the flavor.
There are a lot of sous vide cookers out there as the technique grows in popularity, but Anova was one of the first to bring it to the masses and the new Nano model makes it even more compact. The Anovoa Precision Cooker Nano is currently
on sale for $97 at Amazon
.
DJI Osmo Mobile 3
Technically, the
DJI Osmo Mobile 3
is a bit above our $100 price point but it is such an excellent device we couldn't help but include it. It received
raved reviews
when we looked at it earlier this year and it still holds up as a great iPhone accessory.
While photographers and videographers will surely love it, casual uses will find use too as it stabilizes videos and helps shoot cinematic timelapse scenes. Retailing for $119, the DJI Osmo Mobile III is available at
Amazon
and
B&H
, with accessories also available bundled as a kit for $139.
Mophie Juice Pack Access
There are a few battery cases available for iPhone users, but the
Mophie Juice Pack Access
is one of few available for almost any iPhone from the past few years.
It charges itself and the phone wirelessly and leaves the Lightning port at the bottom free for wired charging, headphones, or CarPlay. Now available for the iPhone 11, iPhone 11 Pro and iPhone 11 Pro Max, the Mophie battery case retails for $99.99, but is
currently 20% off
with exclusive promo code
INSIDER20
at ZAGG.
Twelve South HiRise Wireless
Twelve South's
HiRise Wireless
is a creative multi-use Qi charging stand that works well vertically, but can also be removed and used horizontally as a charging pad or tossed in a bag as a travel charger.
When
we reviewed it
, we were impressed with the build quality and unique design that simplifies the user experience.
The Twelve South HiRise Wireless Charger
sells for $79.95 on Amazon
.
AirPods Case
Everyone loves AirPods, and like phones, many like to adorn their AirPods with protective cases. We
looked at
a huge variety of cases that will surely fit your giftee.
If those don't fit your needs, we also checked out the new
metallic Incase cases
and the
retro Elago AW3
that was inspired by vintage Macs.
All of these cases fit both the original AirPods as well as the second-generation with wireless charging case.
Prices for AirPods cases can be found for
as low as $7
with premium models covered in our roundup retailing anywhere from $29 to $79.
Nomad Base Station
Nomad
has always produced some of the most sought Apple accessories and in 2019, its Base Station was top of our list.
The
Nomad Base station
has an aluminum body with a Horween leather pad for charging up an iPhone. A second USB-A port fits around back for connecting a second device such as an Apple Watch charging puck.
If you don't mind shelling out a little more, Nomad also
offers a version
with an integrated Apple Watch charging puck as well as one made of
genuine leather and walnut
.
Prices for the charging stations
start at $84.95
with exclusive coupon code
INSIDER15
at HelloNomad.com.
Eve Light Strip
Lightstrips are rampant on Amazon but when it comes to Apple-friendly HomeKit-enabled ones they don't get better than
the one offered by Eve
.
It connects over Wi-Fi, can be controlled via Siri or scheduled to turn on and off when desired, and is the brightest of the lot.
Plus, light strips are incredibly versatile. It can illuminate under countertops, along baseboards, up stairs, under the sides of the bed, and more. The Eve Light Strip that works with Apple HomeKit
sells for $77
at Amazon.
BentoStack Charge
BentoStack Charge is a great accessory for dealing with all existing accessories. It has repurposed a traditional Bento Box into a travel case that can hold cables, chargers, memory cards, Apple Watch bands, an Apple Pencil, and more.
Compared to the original BentoStack, BentoStack Charge integrates a battery pack into the lid and allows to charge over USB or Qi, with a
price tag of $89.95
.
It won't make it in time for the holidays, but Function101 did
just launch
an updated model with a USB-C hub as well.
Ember ceramic mug
As the temperatures drop, more people turn to coffee, tea, and hot chocolate.
Ember
improves the experience by always keeping your drink warm. It comes in both a tumbler as well as a mug and can be controlled and monitored through Bluetooth and its corresponding iOS app.
It was even updated earlier this year with a thicker ceramic wall that helps keep it warmer for longer. Priced at
$99.95 on Amazon
, the Ember mug makes a great gift for coffee and tea enthusiasts, as well as those looking to curl up with a good book this holiday season.
UpperCase Space Saving MacBook Stand
For the business professional or home office user that finds space ever elusive, the
Aluminum Vertical MacBook Stand
from UpperCase is the perfect solution. Available in your choice of Space Gray or Silver to coordinate with Apple finishes, the UpperCase Kradl is made to fit 13- and 15-inch MacBook Pros from 2016 onward.
Designed in California and machined from a single piece of aerospace-grade aluminum, the Kradl is up to 60% smaller than other vertical stands on the market.
Holiday shoppers can pick up UpperCase's Kradl Aluminum Vertical Stand for
$29.95 with free shipping
on Amazon.