How to set up and use HomeKit and AirPlay 2 on Sony Smart TVs
Just in time for the end of the year, Sony has delivered its long-promised HomeKit and AirPlay 2 update to some of its popular smart TVs. Let's go hands-on to see how to perform the update, set it up, and what you can do with the newfound features.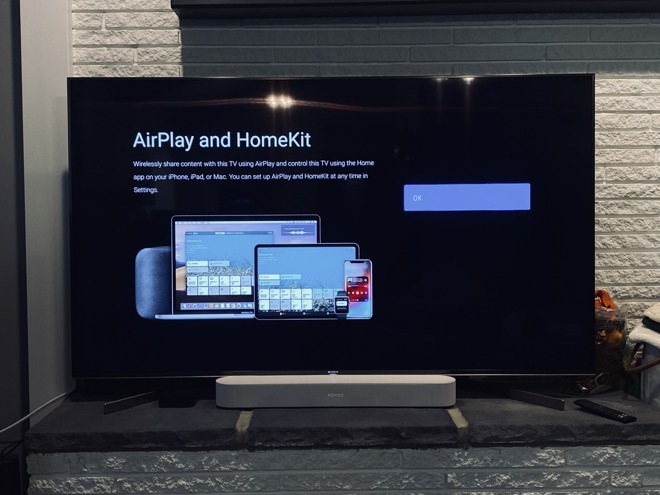 HomeKit and AirPlay 2 support comes to select Sony Smart TVs
We will dig much further into what these features can do, but on a high level, AirPlay 2 support allows you to cast audio and video the display without an Apple TV and
HomeKit
allows control of the TV through the Home app and Siri. It's easy to see why this feature is so requested.
Setup
Updating your Sony TV to support HomeKit and AirPlay is easy. First, you need to ensure
your TV is compatible
. Sony originally announced support for the 2019 A9G, Z9G, X950G, and X850G but they've since added the 2019 A9F and Z9F models to the list. The update will be available for all those models, regardless of size.
To update the TV, users can head to
Settings
>
Device Preferences
>
About
> then
System Software Update
. The TV will search for the available update, and when found, let you install it. The update screen will also inlcude the release notes specifiying HomeKit and AirPlay 2 support.
The update will download, then when you turn the TV off, it will perform the necessary process to finalize the update. Be sure you don't need to use the TV for a bit as the update can take up to 10 minutes.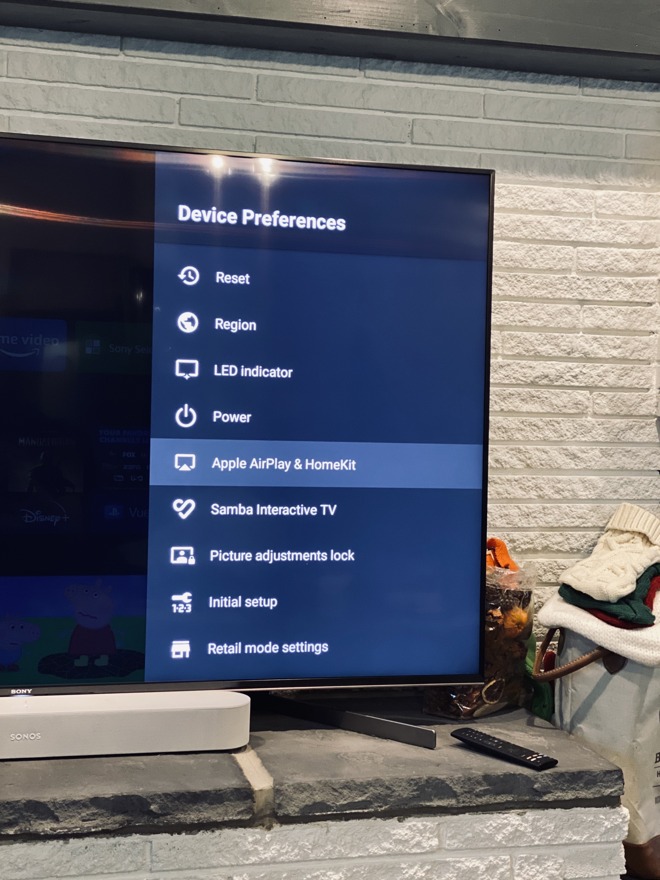 Sony X950G settings
Post-update, the TV when next turned on will let you know your TV now supports HomeKit and AirPlay 2. You still have to head to
Settings
to enable the features, however. For this, venture to
Settings
>
Device Preferences
>
Apple AirPlay & HomeKit
.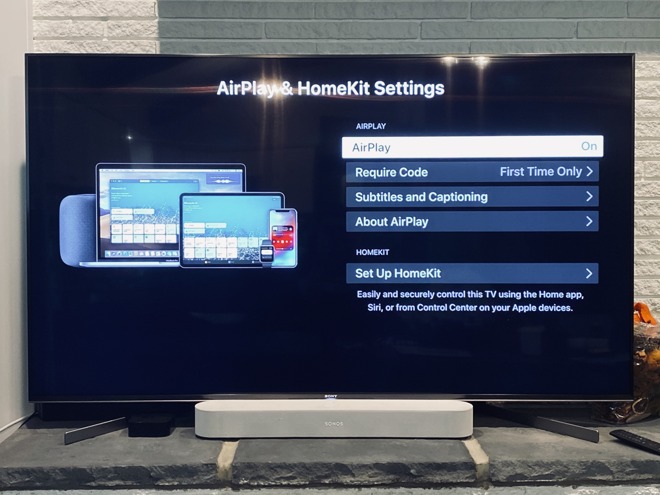 AirPlay and HomeKit Settings on the Sony X950G smart TV
This will bring up the AirPlay settings such as turning it on/off, requiring a code, and enabling/disabling subtitles and captions. Familiar options for anyone who has used AirPlay on an Apple TV.
There is also the option to enable HomeKit. A QR code will be displayed on the screen where it can be scanned when adding an accessory from the Home app. Once scanned, it will connect and allow you to configure your TV's HomeKit preferences. That includes its name, the room, and all of the possible inputs. Home will then suggest various scenes that may be applicable.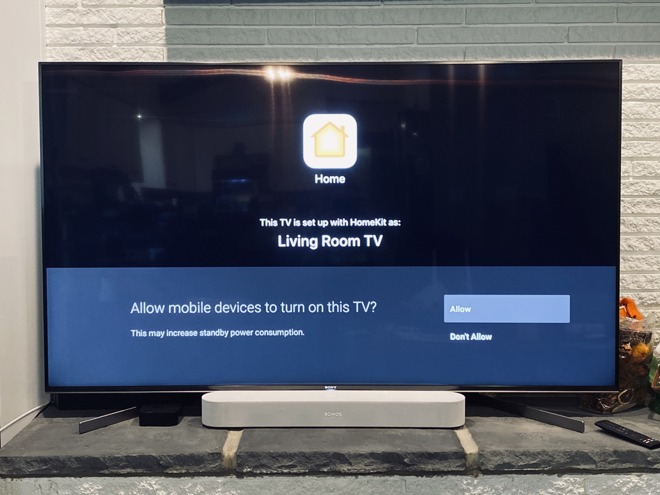 You must allow mobile control for HomeKit to function
As an important last step, you must confirm you want to allow mobile devices to control the TV on the television itself. Otherwise, HomeKit won't function.
What can you do?
Once you have your television set up with AirPlay 2 and HomeKit there are several new features available to you.
AirPlay 2 is Apple's method of casting audio and video to speakers, Apple TVs, and TVs. With this update, you can send a photo, video, or song from your iPhone right to your TV. Similarly from your Mac or iPad. You can even mirror those devices to the TV.
AirPlay 2 also enables multi-room audio, so you could send music from your iPhone to your HomePod, your AirPlay 2 speaker, and your Sony TV at the same time.
HomeKit is all about remote control and home automation. You can use Siri on your iPhone, Mac, Apple Watch, or HomePod to turn the TV on or off, change the volume, or switch inputs. You can do the same things from the Home app. Apple's Remote in Control Center can also control your TV.
If you want to take things to the next level, that is where clever scenes and automation rules come into play. Maybe when you say "goodnight" to Siri, your door locks, the thermostat adjusts, the blinds close, lights turn off, and your TV powers down.
Your "movie time" scene may dim the lights to five percent, lower the blinds 75 percent, turn on the TV, and set the input to your Bluray player. You could also set the TV to turn on to the cable box with your good morning scene so you can get started with the local news, or set the TV to turn off when you leave so that the TV isn't left on.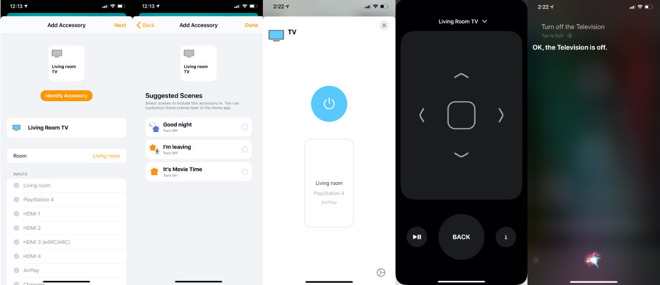 HomeKit setup and controls for the Sony smart TVs including using the Home app, Siri, and the Control Center Remote
Whatever your preference, there is much you can do with Siri, AirPlay 2, and HomeKit.
To explore more what you can and can't do with HomeKit on TVs, check out
our in-depth guide
.
HomeKit and AirPlay on more than just Sony
Sony
, alongside LG,
Vizio
, and Samsung all pledged to support AirPlay 2 natively on their TVs with all but Samsung also promising full HomeKit support. Samsung owns SmartThings and therefore doesn't want to support a competing smart home platform.
The joint announcement with Apple came earlier in 2019 at the Consumer Electronics Show. Thus far,
Samsung
,
LG
, and
Vizio
have all already added support to their TVs. Sony was the last of the bunch to finalize support.