Review: Nomad Active Strap finally makes leather waterproof
Nomad's latest Apple Watch accessory is an updated strap, crafted from all-natural leather, yet remains entirely water-resistant. Let's check it out.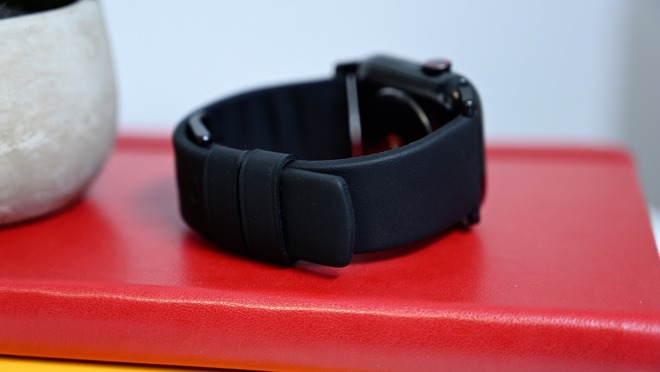 Nomad Active Strap for Apple Watch
Leather bands are a popular option for Apple Watch owners -- but they often have one major flaw. They aren't resilient to water. Whether it is washing your hands or getting caught in the rain, moisture can wreak havoc on leather watch straps.
Over time, the leather starts to smell, can discolor where there was too much water contact, and will swell up. So, forget wearing it to the gym. Leather funk isn't exactly a selling point.
These new bands, available in black and brown, are made of natural leather, but specially treated to withstand water. Nomad used the same leather in an updated water-resistant version of its rugged case, but it is even more impactful on Apple Watch.
Users can now take a leather strap to the gym, in the pool, or to the ocean. When that's done, heading to a nice restaurant before changing watch bands isn't out of the question.
As water resistant as Apple Watch
Historically, Nomad has employed Chicago-made Horween leather on all of its leather goods. It is outstanding leather and renowned for its quality. However, it has all the pitfalls of other leathers. This time, Nomad looked elsewhere.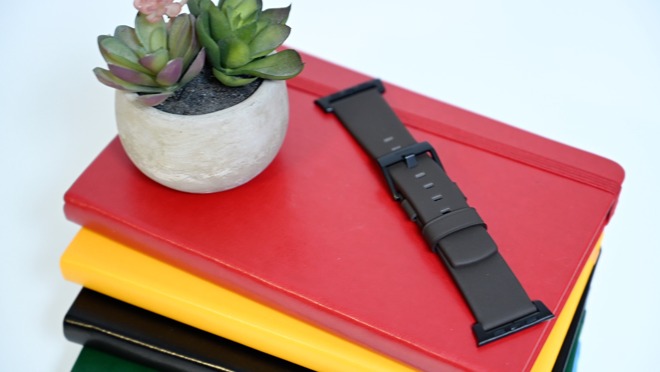 Nomad Active Strap for Apple Watch in brown
That brought them to the Heinen tannery based in Germany. This decades-old tannery has created a high-tech tanning process that infuses the quality leather with natural lipids that repel water. The manufacturing process yields an entirely water-resistant, all-natural, durable leather strap.
Ventilation channels under the Active Strap
To aid with water/sweat resistance, Nomad added ventilated channels on the underside of the band. This helps water and sweat wick and fall away from the watch band, rather than get trapped and cause odors if it was smooth.
Finishing off the band's looks is a set of stainless steel lugs that come with either a brushed silver finish or a PVD-coated black to match both the aluminum and stainless steel Apple Watches.
Should you buy it?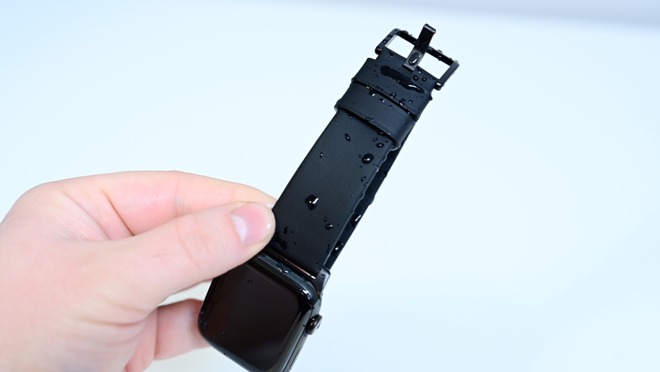 The Nomad Active Strap is water resistant
In our time with the Apple Watch, we've historically found ourselves switching to a leather band during the day and night but swapping on a sports band at the gym or while swimming. The alternatives would be to let the watchband get smelly or discolored -- or to use a metal band that doesn't have those issues but can be much more substantial.
This new style of leather is comfortable, very adjustable, durable, and easy to take everywhere.
Where we did find the band lacking is the generation of the patina that quality leather acquires over time. We look forward to the character that a leather band can get over wear, and with time. You don't have that here, as the hydrophobic finish will cause the watch band to retain its look. It will look the same after two months as it does when you put it on -- maybe just slightly marred from use.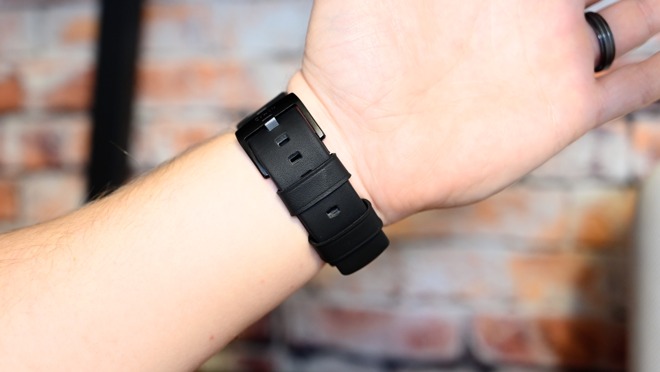 Nomad's Active Strap is very comfortable
If you love the idea of a universal leather band, we'd highly recommend the Nomad Active Leather Strap. If you instead prefer a quality leather band that distresses and wears, we'd say look elsewhere -- including Nomad's own Horween leather straps.
Pros
Very comfortable


Entirely water resistant


Modern look


All-natural, quality leather


Strong stainless steal custom hardware
Cons
Won't develop a patina


No gold/lighter option


Brown color isn't very rich
Giving this a universal rating is hard. If you're seeking the look of leather and lead a very active lifestyle, the Active Strap gets a
Rating: 4.5 out of 5
. Stay away, though, if you like the natural aging process of leather watch bands, because you won't get that here.
Where to buy
You can pick up the new Active Strap
from Nomad for $69.95
though AppleInsider readers can save 15% by using code
INSIDER15
.