$73K in Apple products stolen from Target, iPad thief chased by 71-year-old on the Apple C...
Posted:
in iPhone
edited December 2019
Investigation opened into Apple Store employee accused of sending nudes to himself, a bagel buffet iPhone theft, and more from the Apple crime blotter.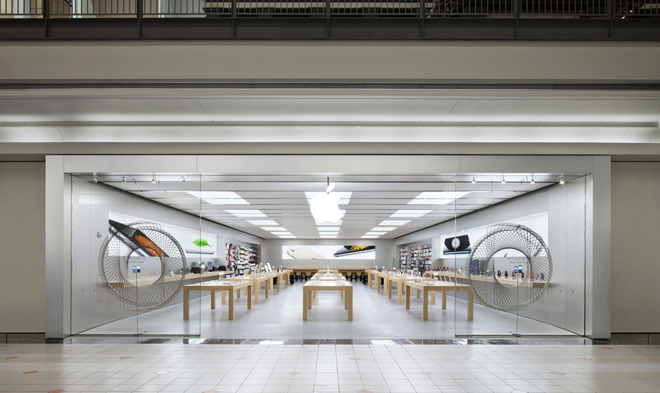 The Marlborough, Mass., Apple Store
The latest in an occasional
AppleInsider
series, looking at the world of Apple-related crime.
71-year-old florist tracks down iPad thief
A septuagenarian British woman who owns a flower shop arrived one morning to find her store ransacked, and later that day decided to track down her stolen
iPad
,
using the Find My iPhone app
.
According to
The Lancashire Post
, the expedition led her to the door of the suspect's apartment, at which point he brandished a knife, however, police soon arrived and arrested the man.
iPad stolen at swordpoint
A 40-year-old man in Florida has been charged with
using a sword
to rob a salesman of his iPad.
Bradenton.com
reports a home-alarm salesman was going door-to-door when the accused perpetrator grabbed the salesman's iPad. Shortly afterwards, the perpetrator produced a sword, which he brandished in "a threatening manner."
The man was soon arrested, and charged with armed robbery.
Police investigating ex-Apple Store employee who emailed customer's intimate photos to himself
We
told you last time about an incident
in Bakersfield, Calif., in which a young woman who brought her
iPhone
to an Apple Store discovered that an employee of the store had emailed an intimate photo of the customer to himself from the phone. Now, per
KRON
,
police have opened
a criminal investigation into the matter.
The employee in question was fired following the initial discovery.
Seattle man tracked stolen iPad, leading to arrests
A man in Seattle whose iPad and laptop were stolen got his items back by tracking them to a fast-food restaurant parking lot in the city's Capitol Hill section, leading to three arrests. Reported by
Key News Network
,
police tracked
the signal to a car -- which had also been reported stolen -- and found the trio of accused perpetrators.
Men charged with stealing $73,000 of Apple products from Target
Police in Delaware arrested three New York men, stating that they had stolen more than $70,000 worth of Apple products from a secured case at a Dover-area Target. According to
WBOC
,
police say the men also attempted a similar theft
at a Target elsewhere in Delaware.
iPhones and iPad seized from indicted Giuliani associate
It was a frequent occurrence during Robert Mueller's investigation into Russian interference for large numbers of iPhones, iPods and other devices to be seized from such targets of the probe as Paul Manafort and Roger Stone. Now, that's happened in the Ukraine investigation as well.
The Washington Post
writes Lev Parnas, the associate of presidential attorney Rudy Giuliani who was charged with campaign finance violations,
had numerous devices
, including "two iPhones, a Samsung device, an iPad and another cellphone," seized when he was arrested in October at Dulles International Airport in Virginia.
Parnas' attorney asked the judge to turn over the devices, which are in federal custody, in order to comply with a Congressional subpoena.
Apple Watch ping leads to arrests
Two California men were arrested, police say, after they were found
with a stolen Apple Watch
that was pinged by its owner. According to
Fox 40
, police were searching the motorhome with he two suspects inside it when the Watch made a sound, indicating that it was on the premises.
Both men were arrested and charged with possession of stolen property and possession of a controlled substance.
Congressman accused of improper Apple Store purchases pleads guilty
Rep. Duncan Hunter of California, who was indicted last year on charges that he directed more than $250,00 in campaign funds towards his personal use,
changed his plea to guilty,
NBC News
reported.
The indictment against Hunter, which had also named his wife, alleged that the Congressman's improper spending including two visits to the Apple Store, which included the purchase of a $1,199 Mac computer in 2010.
iPhone stolen at Bagel Buffet
An iPhone 10 was stolen last week at a Bagel Buffet location in Secaucus, N.J. The owner of the phone had arranged to meet at the location in order to sell the device to a buyer they had met on Craigslist. However, a co-conspirator of the "buyer" showed up, grabbed the phone, and ran, per
Patch
. The man who took the phone
was apprehended
and charged with theft and conspiracy to commit theft, and was also held on an outstanding warrant.
Nationwide locker theft ring spent big on Apple products
Police in the Chicago area say a nationwide ring that steals credit cards from gym lockers
has recently been active in the area.
According to
NBC Chicago
, the ring has hit five different gyms in the Chicago suburbs, and has gone on to spend "approximately $30,000 on Apple products and high-end jewelry" at a local high-end mall.
The crew is said to consist of more than 20 people, who are described as "Eastern Europeans."
"Thousands" in Apple Watches taken from Apple Store in Boston area
Police are looking for three men who they say stole 15
Apple Watches
from an Apple Store in Marlborough, Mass.
WCVB
reports two of the men
acted as lookouts
while the third took the items, which are valued at a total of about $8,000.
Have an Apple crime story for us? Email
AppleInsider
and tell us about it.