North Carolina officials hint that Apple may still build new campus there
A year after Apple appeared certain to base a new campus in North Carolina, but instead picked Austin, Texas, the local council raises hopes the company may yet come to the region.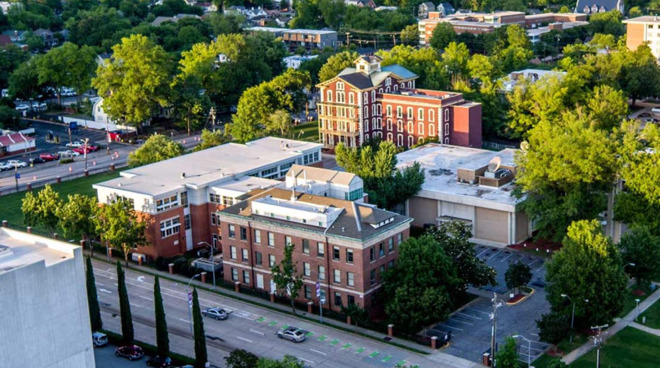 North Carolina Research Triangle (Source: Research Triangle)
Throughout 2018, there were
continued reports
that
Apple
was planning to build a new campus in North Carolina's Raleigh, Durham, and Chapel Hill "
Research Triangle
" area. Now, a year after those plans were seemingly cancelled
in favor of Austin, Texas
, local officials have confirmed that Apple does own land there.
As
previously reported
by
AppleInsider
, the land was bought in December 2018 by a firm called Acute Investments. Based on staffing, it was believed to be a holding company front for Apple, but neither the company nor the state would comment.
Speaking to local radio station
WRAL
this week, however, Commerce Secretary Tony Copeland said that this 281 acre site in Wake County is "controlled by Apple."
The state still will not release details of the deal, and continues to say that it is standard procedure to not comment on issues such as incentives paid to attract companies to the region.
"When Apple tells us it's no longer an active project," said Copeland, "and we jointly decide that there's no prospect of this project moving forward, then we'll release the records."
Apple did not comment on why it seemingly chose Austin, Texas over North Carolina, but a year later, local officials are claiming that the issue may have been to do with leaks.
"Apple and companies like it are very sensitive to information getting out," Senate Majority Leader Harry Brown told
WRAL
, "and there's a possibility that could have hurt the negotiations with Apple a year ago."
However, during the 2018 discussions, it was also reported that Apple was concerned about
undisclosed legislative issues
. A report said Tim Cook and Jeff Williams were being regularly briefed on issues concerning "meddling with constitutional amendments for political influence."
At the same time, not everyone in North Carolina welcomed the prospect of Apple building a large new campus there.
"All these new workers are going to need to go to school; they're going to need to go on the highway," Allan Freyer, of the North Carolina Justice Center, told
US News and World Report
in
August 2018
. "It's not the worst problem to have. We want new jobs and big companies. The question is, are we well-positioned to provide the infrastructure and public services that we're going to need?"
The
WRAL
report was first spotted by
MacRumors
.