Review: Aqara HomeKit Starter Set is an easy way to begin your smart home
Aqara's new HomeKit starter kit is a quick and simple way to automate lights, add a security system, and more, at an affordable price.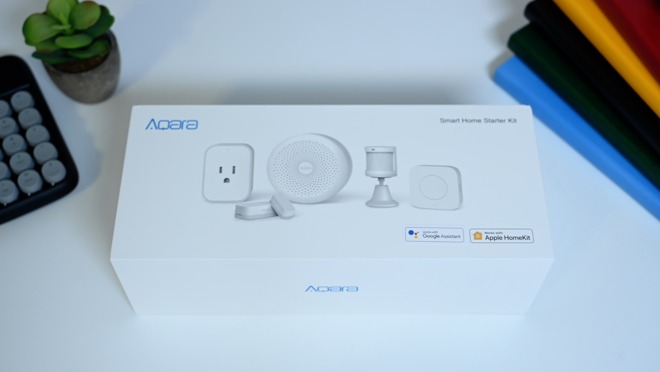 The Aqara HomeKit starter kit
The
HomeKit
ecosystem continues to grow, with new accessories cropping up and
Apple adding additional features and categories
through software updates. So far, "starter kits" of accessories have yet to permeate the market, leaving adopters to pick up each accessory piecemeal.
Piecemeal isn't necessarily bad on its own, but it does make getting started a bit more of a process than it needs to be.
That's in part why we were so thrilled to see the Aqara kit finally launch here in the U.S. This is a HomeKit starter kit that includes several accessories to kick off your Apple smart home, with many additional accessories available from Aqara to add-on. Of course, since it is HomeKit, any other HomeKit device can also be integrated.
Let's explore what the kit includes, what else Aqara offers, and how this can incorporate into the broader HomeKit ecosystem.
Getting started with the starter kit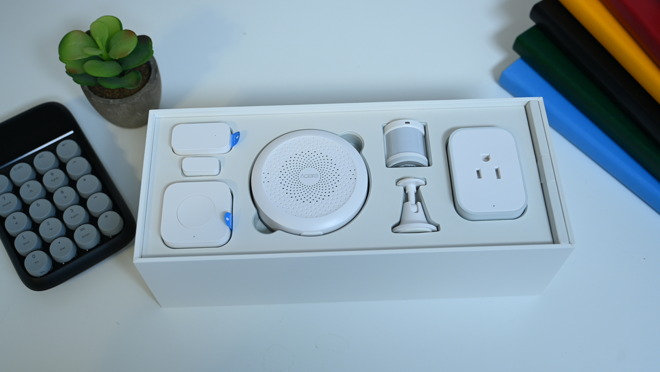 Aqara starter kit components
Inside the starter kit are five different HomeKit accessories, all serving different purposes.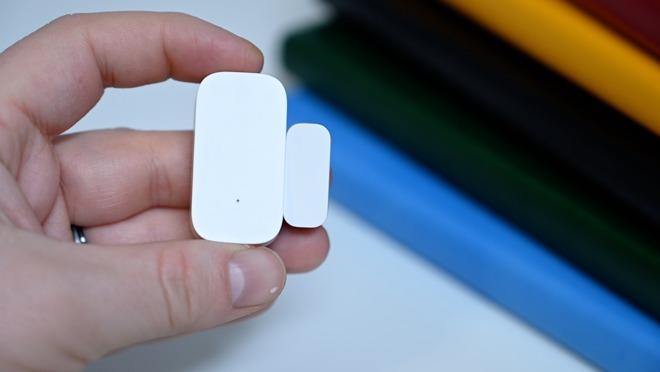 Aqara contact sensor
The door and window sensor are a pair that affix to the edges of any door or window and lets HomeKit know if and when they are opened or closed. They have adhesive on the back -- and a spare in the box -- to easily stick to most surfaces.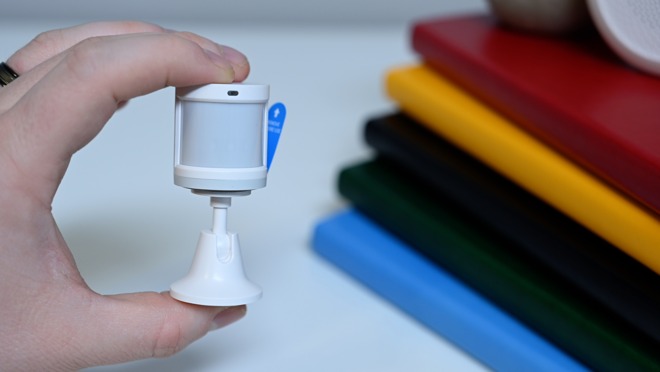 Aqara motion sensor
The motion sensor is in the shape of a small can with a sensor spanning roughly half of the front. A small status light is right above the sensor portion.
The bottom of the motion sensor has a silicone ring to prevent it from sliding off wherever it is placed. Aqara also includes a jointed stand for the motion sensor that has an adhesive on both the top and bottom so that it can be mounted on a wall or ceiling.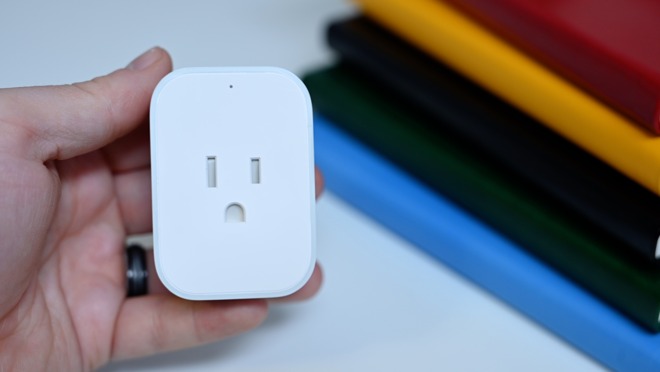 Aqara outlet
The smart plug included in the kit is a bit on the tall side, allowing it to be plugged in and leave the adjacent outlet unobstructed. Due to its height, however, two of these could not be used in the same set of wall outlets. A physical power button is located on top.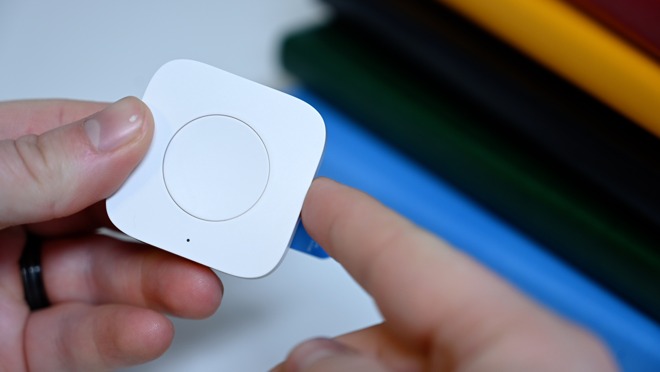 Aqara switch button
A button on the switch can be used for a multitude of purposes, many of which we will explore later in this review.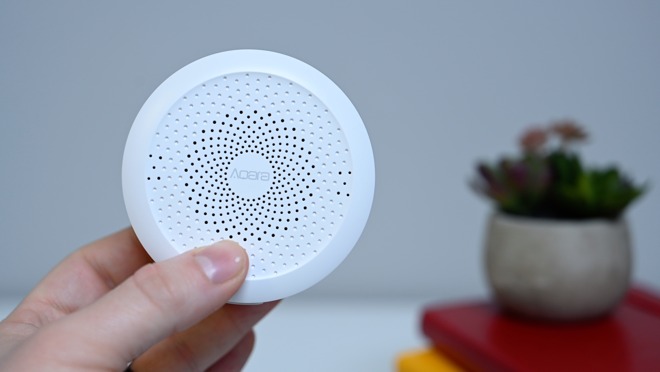 Aqara hub
Bringing it all together is the multi-function hub. Beyond just providing communication to the already discussed accessories, The hub also has a light around the edge and a speaker, designed to act as a home security system. Whenever a specified sensor is tripped while the system is armed, a siren and light will blare.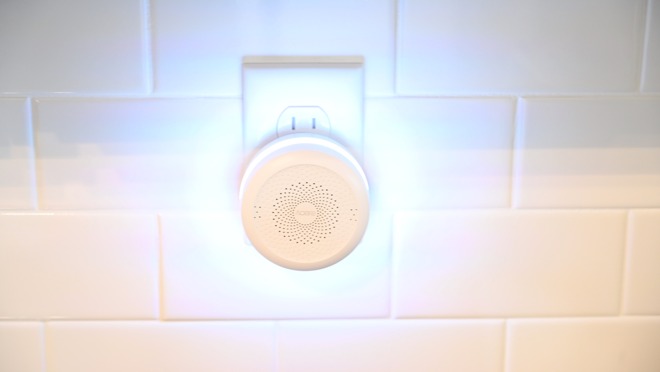 The Aqara hub blocks the other outlet
One issue we had with the hub is the size. It is too big, preventing the other outlet next to it from being used. This enclosure sprawl is common to many HomeKit peripherals, and frustrating when you have more devices that need to be plugged into power.
Setup and configuration
Because all accessories are connected to the hub, only the hub needs to be added to HomeKit. Once the hub is added, all of the accessories that come in the kit are connected as well.
In our case, we did have a software update to perform, which took a few minutes.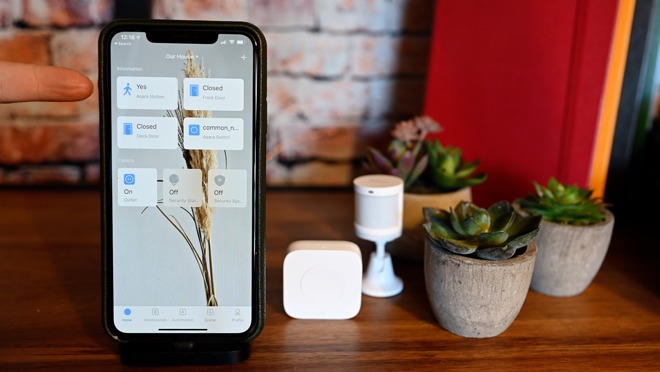 The Aqara app shows your home's status and control of the other accessories
Within the Aqara app, you can view the hub and all Aqara accessories that are paired with it. The app's home tab shows all your home's info (such as whether motion is detected and if the doors are closed) and allows control of any accessories such as the outlet, alarm, or security system.
As is the case with other HomeKit accessories, some settings can only be changed from here in the manufacturer's app -- most of which pertain to the hub. This is where you can choose which devices will trigger the alarm as well as how loud the alarm is when it sounds.
Other configurations can be done in the Home app, such as creating scenes and automation rules. Some of the basics include arming the security system whenever the last person leaves and disarms when the first person arrives, or arming the system and turning off the lights when you tell Siri "goodnight" and the inverse when you say "good morning."
Similar actions can be set for the motion sensor (turning on the indoor lights when motion is detected) or turning on the porch lights whenever the front door is opened.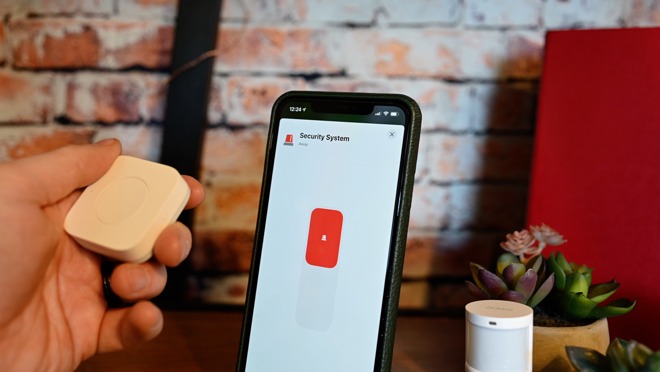 Using the button to arm the Aqara security system
There are, in total, three commands the Aqara switch can execute. A single press, a double press, or a long hold. This is somewhat limiting out of the gate, because if you want the button to arm or disarm the security system, you'd have to set a single press to arm and a double press to disable.
Luckily, thanks to third-party HomeKit apps such as Eve or Home+, conditional elements are possible. This requires a little more work, but when appropriately configured, one press could arm the security system and a second single press would then disarm it. In my home, we have a single press set up like that, then a double press will turn on the living room lights (a second double press will turn them off), and a long hold will toggle the fan on or off. This turns those three buttons into three toggles.
Additional components and the world of HomeKit
Aqara offers several other accessories to expand your setup even further. Some are just individual versions of the accessories included. Pick up an extra button, another motion sensor, more contact sensors for additional doors and windows, or more smart outlets for added lights.
Outside of that, Aqara also offers accessories that aren't included in the starter kit.
There is the cube, which is very similar to the Nanoleaf Remote. It can be rotated, shaken, tapped, and flipped to control up to six different accessories or scenes.
Two more sensors are the temperature and humidity sensor as well as the vibration sensor. Use these to trigger accessories or scenes as well, or just keep an eye on your home.
There are two more buttons that are rocker style rather than a simple push button. There is a single rocker as well as a double rocker model.
As we mentioned at the onset because this is HomeKit, any other HomeKit accessory can integrate with these accessories. For example, an in-wall iDevices switch can turn on the Aqara smart outlet. The Aqara motion sensor can turn on your living room's Hue lights. Or saying Goodnight to your HomePod will arm your security system.
One frustrating limitation does exist -- and it isn't Aqara's fault. Only Aqara sensors can trip the security system. If you have a Fibaro, Koogeek, or Eve contact sensor on your door, you can't have that set off the alarm. The same thing applies to other motion or vibration sensors.
This is unfortunate and means that if you want any door or window to set off the Aqara alarm, you have to pick up an Aqara sensor for each of them. In my particular instance, I already had sensors on my doors but was forced to buy new Aqara sensors to make the alarm work as I intended. Hopefully this is something Apple rights in the future.
Should you buy it?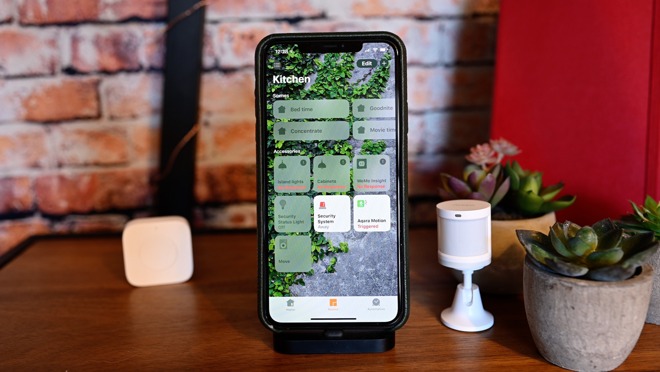 Aqara's security system in the Home app
Whether you are legitimately starting your smart home or you already have an existing smart home, the Aqara start kit is a great investment. It is a bargain for the accessories included -- many of which anyone would be able to find uses for. Individually, the set would be around $150. Even better, for launch, Aqara is offering a sizable 20% discount with promo code
AQARA017
.
Not only is that a good deal but as everything is pre-paired with the hub, it is very fast to get up and going.
In our testing, all of the devices have been very reliable without any spurious triggers. The alarm is also loud enough to startle an intruder, though there is no professional monitoring.
Aqara may be a relatively unknown name here in the U.S., but with the launch of its starter kit, it has made an impression.
Rating: 4 out of 5
Where to buy
The Aqara HomeKit starter kit is available
on Amazon for $129.99
. For a limited time,
AppleInsider
readers can drop the price even further with promo code
AQARA017
.
Additional accessories
are available
starting at $16.99.