January 2019 in review: Apple sales down, China worries up
2019 arrived with stories of iPad Pro models that could be bent, but we forgot all of that as Apple profits seemed set to tumble to the ground.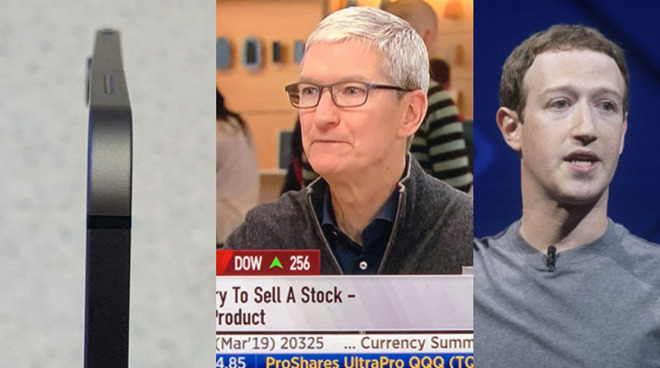 January 2019 began with iPad Pro bendgate (left, image from The Verge), concentrated on China problems (center), and of course included Facebook issues
This year, January had its fill of news that came and went in a flash, stories that are still with us at the end of the year, and plenty of predictions for what Apple would do. Some of them were even right.
As 2019 began, though, Apple seemed to dodge all the previous year's fuss about
bending iPad Pro devices
by dropping a bigger bombshell.
Apple was forced to make an unusual move that seemed to unquestionably signify trouble ahead. As required by law, Tim Cook
wrote to investors
telling them that Apple was now expecting lower revenues for its December quarter. More, that weaker performance was because of poorer than expected iPhone sales.
That was it, the iPhone gold rush was over.
Apple was doomed
the analysts cried, and we weren't even a week into the new year.
It was indeed a significant decline, though. Where Apple had originally forecast revenues between $89 billion and $93 billion, Cook was now saying it looked more likely to be $84 billion.
"Lower than anticipated iPhone revenue, primarily in Greater China, accounts for all of our revenue shortfall to our guidance and for much more than our entire year-over-year revenue decline," Cook said. "While Greater China and other emerging markets accounted for the vast majority of the year-over-year iPhone revenue decline, in some developed markets, iPhone upgrades also were not as strong as we thought they would be."
Apple can't do good for doing bad. Those upgrade figures were lower for several reasons, he said, but maybe one in particular.
"Some customers [instead were] taking advantage of significantly reduced pricing for iPhone battery replacements," he said.
That would be how Apple had reduced the replacement cost for iPhone batteries to just thirty bucks for much of 2018. And that would be because of how Apple got hit by "
batterygate
" in 2017.
Perhaps because we knew just how long that battery story had gone on for, and perhaps because we're just pessimists, it was natural for all to think that the losses in China were not going to be fixed overnight. Unsurprisingly, Tim Cook had other ideas -- or at least he wanted us to believe he had.
Tim Cook speaks
"There are a lot of things we can do to turn our business around in terms of both in China and more generally," Cook told
CNBC
.
You'll notice in all his interviews, and especially in quarterly financial calls, Tim Cook tends to lead with variations on "the way I see it," particularly when he wants to avoid directly responding to a question.
He'll take you from an interviewer's question about iPhone failure, and on into the way Apple would like you to see its figures. It's a shrewd politician's move, but even though he uses it a lot, each time Cook says this, it tends to help Apple get over a bump. Sometimes you can see that reflected in a rising stock price.
In this case, what he wanted you to see instead of failing sales, was the fact that Apple still made $84 billion in the quarter. He wanted you to see that the future was looking particularly good.
"There will more things coming. I don't want to tell you about what they are," Cook said on the "
Mad Money
" show. "They're things that we feel really great about, that we've been working on for multiple years."
This January interview is also the later often quoted one where he first spoke about Apple's ultimate legacy.
"If you zoom out into the future, and you look back, and you ask the question, 'What was Apple's greatest contribution to mankind?' It will be about health," he said.
Apple's Successes
Samsung was
taking a beating
at the same time, but nobody cared about that.
There was more interest in the idea that the iPhone XR was a failure because, reportedly, Apple was cutting production. But this was a flap about a flop and
Christmas 2018 activations
suggested the iPhone XR was doing pretty well.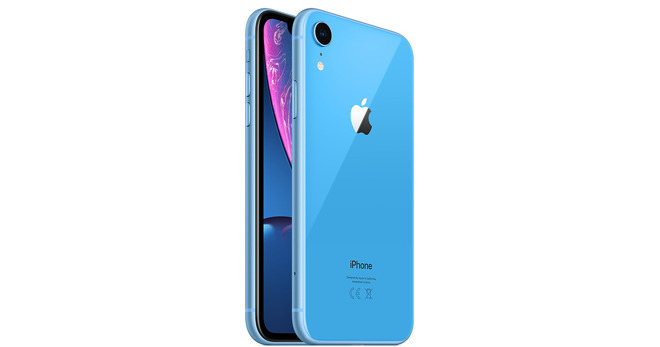 Apple's iPhone XR was a big hit
And then sales figures revealed that, no, it was better than that. The iPhone XR was
best-selling iPhone
, so there.
Then regardless of which iPhone you had, the then still quite new iOS 12 was being
adopted faster
than its predecessor had been.
Apple talked that up, and suggested that the iPhone XR sales over Christmas had been a significant part of that. Then sales estimates by the Consumer Intelligence Research Partners confirmed it, saying that the XR accounted for
39 percent of iPhone sales
.
That compares to a combined 26 percent for the iPhone XS and iPhone XS Max, which is all the more remarkable since the iPhone XR was released later than those.
Alongside money coming in, Apple was paying some of it out, too. While launching its new
Entrepreneur Camp
-- a developer education program specifically for women technologists -- Apple announced some figures.
It revealed that since the formation of the App Store back in 2008, Apple has paid out $120 billion to developers.
During 2018 alone, the company later said that it had also
paid $60 billion
to a total of 9,000 different American manufacturers.
That included hardware companies, such as ones providing Apple with the
precision manufacturing process
that made the iPad Pro.
Away from the US, iPhone assembler Foxconn
cut 50,000 seasonal jobs
in January -- and then days later claimed it would be
hiring 50,000 again
.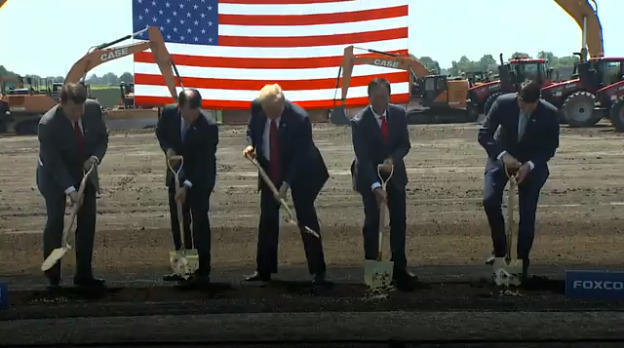 Foxconn had definitely begun work on its Wisconsin plant.
Previously, Foxconn had also been talking a lot about hiring in the US, and specifically had announced a $10 billion investment in a site in Wisconsin. By January 2019, with the State having committed money and resources to the project, locals were wondering when Foxconn might actually do something.
In January, Foxconn admitted that it was reevaluating what its promised $10 billion building would be used for. "Reevaluating" is rarely a positive word, and in this case, it meant that the promised 13,000 engineering and manufacturing jobs would not be coming. Instead, though, Foxconn insisted that the Wisconsin site would still employ some number of people in a "
research-oriented
" endeavor.
More clearly investing what it promised it would, was Microsoft. Following an announcement made back at the 2018 WWDC, Microsoft released Office 365 for the Mac
onto Apple's Mac App Store
.
Failures
If the bendy iPads Pro heat seemed to fall away during early January, the criticisms of Apple's MacBook Pro keyboards did not. While continuing to update the
butterfy mechanism throughout the year
, Apple was already looking at alternatives such as
glass panel keyboards
.
Sometimes Apple's problems were caused by rivals, though, and sometimes Apple was able to take action. Such as when it was
discovered that Facebook
and Google had been leveraging an Apple system for testing apps, into a way to widely distribute software that captured user data.
The system depended on these corporations having a developer certificate, and Apple disabled the ones that Facebook and Google had once this came to light.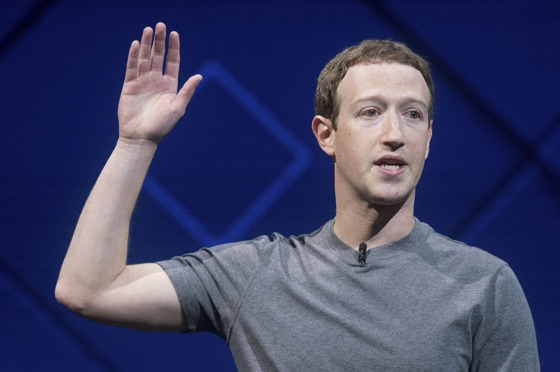 Facebook CEO Mark Zuckerberg puts his hand up for something.
The trouble, at least for those companies, was that without a valid developer certificate, none of their apps would work. Including any of the ones used solely internally within the corporations. Apple switching off these certificates meant Facebook and Google staff were abruptly unable to do their work.
There was a debate at the time over whether
Apple had the right to do this,
but that debate was solely about the morality of one business stopping another working. There was no question but that Apple had the legal right, as it was in the terms and conditions.
Legal problems
Sometimes, though, you have to wonder whether Apple's busiest department is its legal team. Throughout January, the company was waist-deep in court battles, mostly with Qualcomm.
We may never know every inch of the issues between the companies and their long conflict, but one interesting aspect that was revealed in January was over allegedly leaked code.
Repeat the word "allegedly" to yourself a lot as the whole story is a mess going back to at least 2014. But at this point, we learned that Qualcomm believed Apple had continued to use its code for customizing modems.
"In my wildest imagination of some evil intention of Apple, I have trouble coming up with a real scenario where anything of significant value could be leaked based on this code," wrote Apple Chief Operating Officer Jeff Williams in an email shown to the court.
Whether or not this code was a specific reason why the relationship between the two companies
broke down
, the consequences were enormous in January.
A Munich court had ruled in late 2018 that iPhones infringed on certain patents, and so banned Apple from selling them. While the case was being appealed, Qualcomm put up a $1.5 billion security bond. If Qualcomm ultimately lost the appeal, that money would recompense Apple for lost sales.
So it was a court-mandated requirement, but it was also a great PR boost for Qualcomm. It was saying yes, bring it on. And it was saying that Qualcomm was confident of an iPhone ban in the US too.
New hardware coming, or not
It can be hard to follow all the legal cases Apple is involved in, not least because we so rarely hear the complete details of any of them, but if you preferred to look instead at what new devices were coming out, January was a good month for you.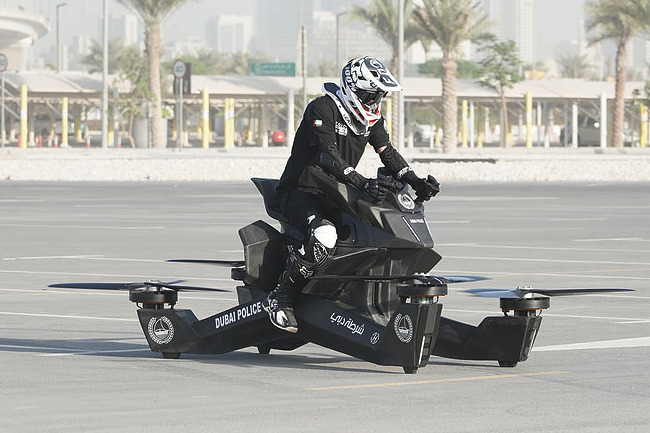 Admit it, you want one. (Source: Hoversurf)
The annual Consumer Electronics Show was its usual collection of futuristic hardware -- although this year did seem to be
heavily inspired by 1980s TV shows
-- of which few will ever actually launch.
You've got to give Apple credit: it never announces hardware that it doesn't end up shipping. In January 2019, we were ready and waiting for the release of the Apple
AirPower
, the wireless charging mat. It must surely be here soon.
Keep up with AppleInsider by downloading the AppleInsider app for iOS, and follow us on YouTube, Twitter @appleinsider and Facebook for live, late-breaking coverage. You can also check out our official Instagram account for exclusive photos.