July 2019 in Review: MacBooks shaken up, trade wars, and Apple TV+ defense
As if to stop people talking about how long they had to wait for the Mac Pro, or how badly Apple will be affected by Jony Ive's departure, the company revamped its MacBook and MacBook Pro range.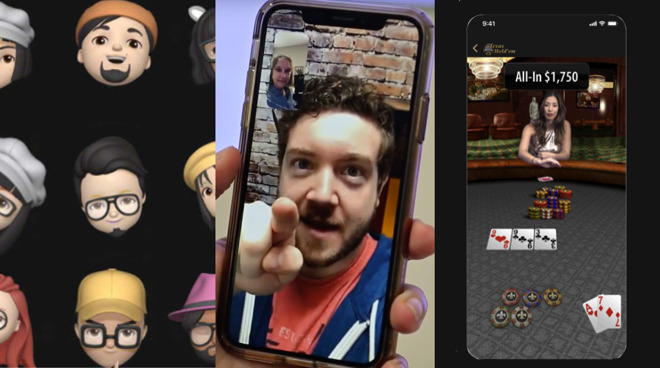 July 2019: (left) that's not the Animoji you're expecting. (Center) Apple uses AR to make it appear you're looking at the camera in FaceTime. (Right) Texas Hold'em is back.
Stop us if you've heard this one before. In July, Apple yet again released new variations on its laptops. Last time, they were good updates but not especially significant. This time, they were both.
July changed Apple's lineup to the extent that we had a new answer to anyone asking what Mac to buy. As of May 2019, if someone doesn't already happen to know which Mac is right for them, your new go-to answer was the
13-inch MacBook Pro
.
It's not as if the previous updates were duds, but the new 13-inch model represented a price/performance sweet spot and enough so that it unseated the
MacBook Air
as the best general-purpose Mac.
It starts at $1,299, but the $1,799 version of the 13-inch MacBook Pro now sports a quad-core Intel 8th generation Core i5 while there is an option for the Core i7.
Apple also
added the Touch Bar
to this entry-level
MacBook Pro
. You can't truly say that people have a love/hate relationship with the Touch Bar -- it's more a kind of like/don't mind one.
Beloved laptops
In case this becomes too much of a love-fest, do let us point out we're talking about the 13-inch MacBook Pro in the past tense even though it is the current model. Not to leap ahead too far, but the fact that 2019's later
16-inch MacBook Pro
brought an entirely revamped keyboard has changed things.
Right now, the 13-inch MacBook Pro is the
excellent, comparatively inexpensive workhorse
it became in May. It is a bargain for, while it isn't cheap, what you get for your money is excellent.
To the extent that all these months on, our opinion about the 13-inch MacBook Pro being the best all-around portable Mac to recommend to people still stands.
If you were less sold than we were, you could've instead considered the
latest Surface Book 2
. Microsoft found a
man called "Mac" Book
to say you should.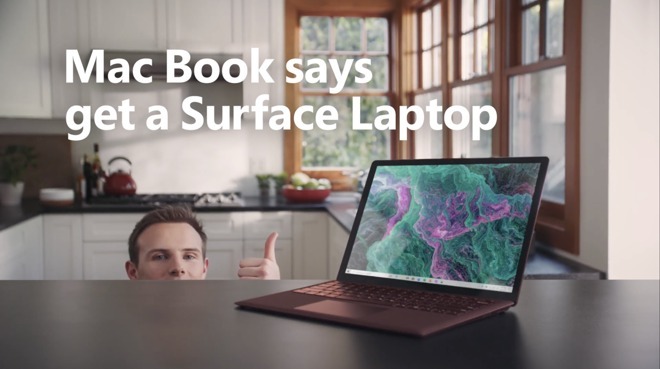 Okay.
Nonetheless, the 13-inch MacBook Pro is a machine worth loving, which is good since when it came in, the
utterly beloved MacBook went out
. That smallest, occasionally cheapest, laptop is no more. The
MacBook Air had a revision
, too, but our hearts still went to the MacBook Pro.
Anyway, back to Jony Ive
Thanks for the great new MacBook Pro, Apple, but about that Jony Ive and his leaving the company. We wouldn't have expected long-time Apple users to exactly shrug his departure off, but we did not expect a backlash against the man himself.
Just as the month began, we were reading a
Wall Street Journal
piece claiming that Ive had effectively left the company years before. It accused him of having pulled back so far from Apple that he would work from home a lot, and then not bother to turn up for meetings.
Tim Cook read it too, and in an uncharacteristic move, reacted publicly. He emailed
NBC News
-- don't ask us why them and not the
Wall Street Journal
--
attempting to refute the entire piece
.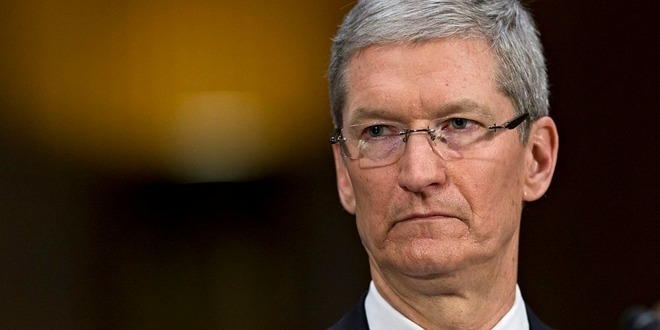 Tim Cook. He's looked happier.
"The story is absurd," Cook said in the letter. "A lot of the reporting, and certainly the conclusions just don't match with reality. At a base level, it shows a lack of understanding about how the design team works and how Apple works. It distorts relationships, decisions, and events to the point that we just don't recognize the company it claims to describe."
Some
critics drew parallels
with how entirely false the
Bloomberg
China spy chips story was -- that single article is becoming a
shorthand for bad journalism
-- while others claimed there could be some truth in it.
Specifically, Steve Jobs biographer Walter Isaacson
said that Apple Park took Jony Ive's attention away from products
.
He suggested it was true that Ive had pulled back from regular design to do this, and he lamented how he felt if Steve Jobs had lived longer, the two "would've figured out more designs."
Jobs, Cook and Ive
Isaacson also had first-hand knowledge of what happened when Tim Cook became CEO. Isaacson even says he deliberately underplayed this in his own Jobs biography rather than reveal what the Apple founder had thought of Cook.
"I softened it in the book a bit, but in my book, Steve says how Tim Cook can do everything," he said. "But then he looked at me and said 'But Tim is not a product person.'"
While he was saying this about Steve Jobs and Tim Cook, incidentally, Bill Gates was off
claiming that Jobs could cast spells
.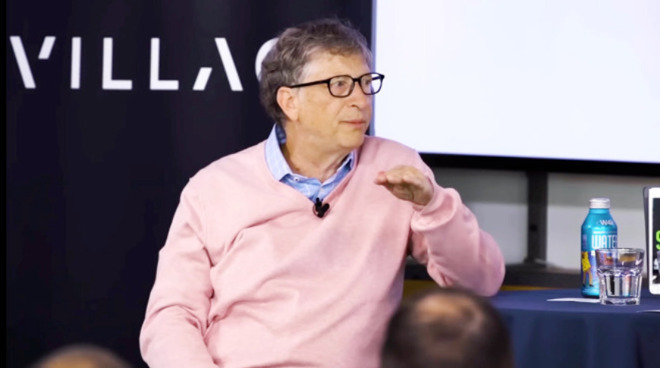 Bill Gates saying everyone would fall under Steve Jobs's spell, except of course himself
"I was like a minor wizard because he would be casting spells, and I would see people mesmerized, but because I'm a minor wizard, the spells don't work on me," he said.
"I have yet to meet any person who [could rival Jobs] in terms of picking talent, hyper-motivating that talent, and having a sense of design of, oh, this is good [or] this is not good," Gates continued.
Hard facts
Everything and everyone to do with Apple is always surrounded by opinion. Only every now and again do we get actual facts. This felt particularly true in July 2019 when countless accounts were all successfully refuted by
Apple's financial earnings call
.
These are not the most electrifying phone calls. They're a legal requirement rather than a platform for Apple to promote its products. Yet if the company also never gives away a single pixel about future products if it can help it, sometimes it does answer a lot of questions.
All year, China and falling iPhone sales had been news, but every month had brought some kind of recovery.
This time Tim Cook directly spoke about "a return to growth in mainland China," and said this happened "despite strong headwinds from foreign exchange." In other words, the dollar was struggling against the currencies, and Apple still grew, so there.
"What happened last quarter in China, it's a confluence of things,"
Cook said
. "The [Chinese] government stimulus just came, in terms of a VAT reduction, a very bold one [and] we took some pricing action."
"We instituted our trade-in and financing programs in our retail stores," he continued, "and worked with certain channel partners on that as well. And we're seeing a growing engagement with the broader Apple ecosystem during the quarter."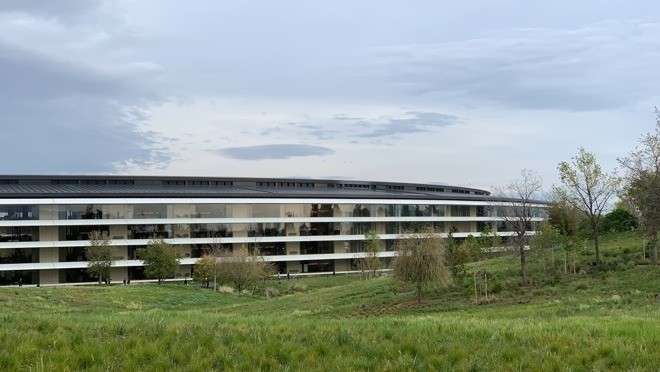 Tim Cook most likely took part in the earnings call from here, Apple Park. You don't make a building like this if you can't afford it.
There had been growth in China across all the company's major categories. "Everything improved sequentially, so we couldn't be happier with the results, or the progress, I should say," said Cook.
Waiting on the Mac Pro
Progress on the Mac Pro seemed a bit less happy, though. While presumably design and manufacturing were proceeding, there was a more significant issue over the price -- because of US/China trade tensions.
Apple asked the White House to
not apply tariffs
to the parts it needs to import for the Mac Pro.
You know how complex trade and political negotiations are, but the short version is that the
White House said no
.
Moreover, President Trump restated his belief that Apple should make its machines in the US, and
specifically in Texas
.
The future of iPhone
Whenever the Mac Pro would ship, and from where, we were now barely two months away from the 2019 iPhone unveiling. So, of course, there were rumors. These new phones
might remove 3D Touch
, for instance.
And the 2020 iPhones might reduce the notch.
JP Morgan predicted
that Apple would launch four phones -- three OLED iPhones with 5G plus a budget model, too.
The 2021 iPhones would have 5G like the 2020 ones, but now might have
Apple's modem technology
.
Amid all of this, there was something approaching a fact. Apple iPhone processor manufacturer TSMC,
formally predicted
a robust second half of 2019 because of increased demand.
That was then
If you want hard facts, though, there's nothing like photographic evidence of problems. Apple had recently introduced what was called a
voluntary recall
of the 15-inch MacBook Pro and it was to do with battery overheating.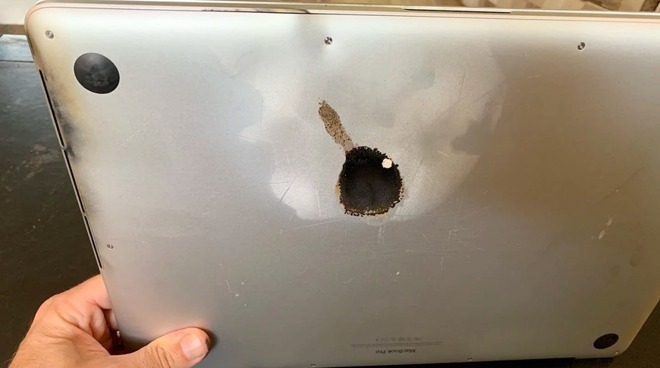 A MacBook Pro battery burn. (Source: Steve-Gagne on Facebook)
See if you can
spot the problem
.
In a separate case, an
iPhone 6 also had some issues
, although in this particular incident the damage is harder to determine with the naked eye.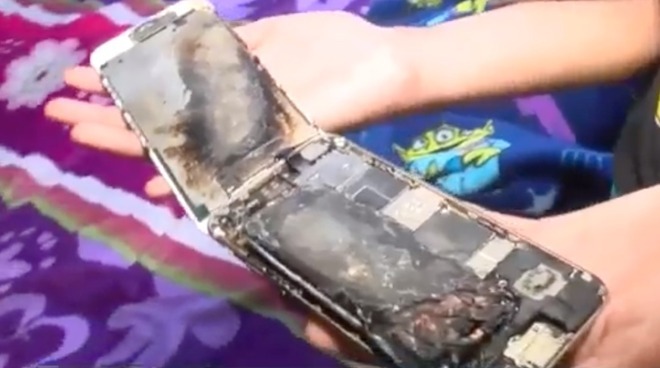 An iPhone 6 with some slight discolouration.
Fixing problems
Apple was reported to be looking into that iPhone 6 problem, but it was also definitely fixing other issues -- not only its own.
The company patched iMessages to
prevent a bug
which could even mean that getting a particularly crafted message could brick your iPhone.
Then it was discovered that a
flaw in the Zoom video conferencing app
could let websites turn on your Mac's camera without your knowledge or permission.
Zoom initially said it wasn't a flaw, it was a convenience for its users. After perhaps turning on all those cameras and seeing our faces, though, it backtracked and
promised to remove the feature
.
Seemingly it didn't do it fast enough, though, because
Apple stepped in
and did it for them.
So that's all good, then
While Apple engineers were working on that, Tim Cook and Eddy Cue were networking with TV people at the
Sun Valley conference
. It's an event that does bring technology people together, but it's chiefly where deals are made for media companies.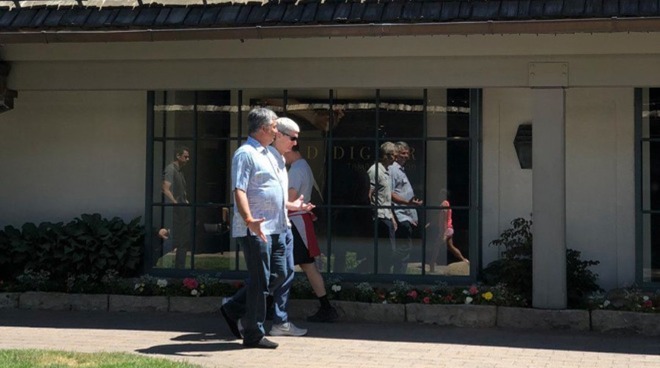 Eddy Cue and Tim Cook spotted at Sun Valley 2019. (Source: Alex Heath on Twitter)
Having both Cue and Cook there was a show of force that was presumably intended to demonstrate how serious Apple is about
Apple TV+
. However, this month Cue had also had to downplay Apple's involvement, too. The accusation was, that Apple in general, and Tim Cook in particular, were hiring talent to make TV but then micromanaging them.
"I saw the comments that myself and Tim were writing notes on the scripts and whatever,"
Cue said
. "There's never been one note passed from us on scripts, that I can assure you. We leave the folks who know [what] they're doing [alone]."
One of those folks is Imelda Staunton, a versatile actor best known in the US for the "Harry Potter" movies. She is
now working for Apple TV+
in a comedy called "Alabama," from the BBC.
Not much is known about the comedy, but it's unlikely to require the
$15 million per episode
that we learned this month was spent on "See."
That wasn't the most money Apple spent, either. According to reports this month, Apple has now bought Intel's modem business for $1 billion. It wasn't a
quick buy
, either, but it followed Apple and Qualcomm making up.
Intel is out of the modem line, and Apple is right in it. We were only just over halfway through 2019, but Apple was looking far, far ahead.
Apple did also look a few years back, too. In July 2019, Apple celebrated ten years of the App Store by bringing back old favorite "Texas Hold'em."
And what we can only charitably call a homage, Xiaomi innovatively released Mimoji, which are in no possible way anything like Apple's Memoji. Even if Xiamoi's own staff
can't tell the difference
.
Keep up with AppleInsider by downloading the AppleInsider app for iOS, and follow us on YouTube, Twitter @appleinsider and Facebook for live, late-breaking coverage. You can also check out our official Instagram account for exclusive photos.