August 2019 in review: Apple Card arrives, Siri listeners, trade wars escalate
In August, 2019, the Apple Card was officially launched. At the same time, the company had to re-evaluate having people listen to Siri recordings, and the US/China trade tensions got complicated.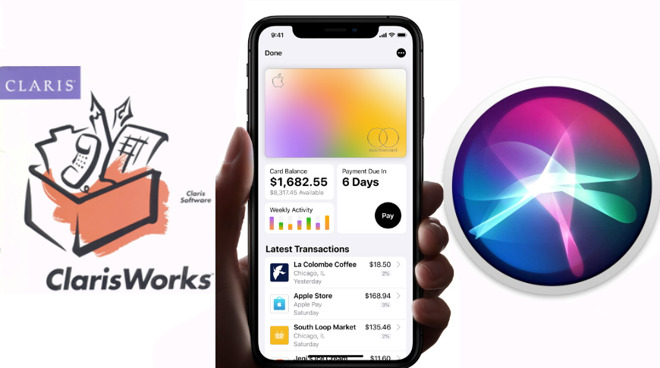 August 2019: FileMaker revives the old Claris name (left); Apple Card launches (center)l and Siri is listening to you (right)
Given that across the whole of 2019,
Apple
launched at least as many major hardware updates as ever, still this year feels like it's when the company pivoted to services. By August, we had
Apple News+
and we knew we were getting both
Apple TV+
and
Apple Arcade
. But it was this month's launch of the
Apple Card
that may end up being the most significant.
Apple Card
Around six months after it was
first unveiled
, and following
series of internal testing
,
Apple Card finally opened
to applications in August 2019.
Initially available only by invitation -- which
didn't go flawlessly
-- Apple Card was formally opened to all eligible applicants
on August 20
.
It's conceivable that Apple Card is the company's fastest success. Shortly before its release, a survey reported that consumer interest was "
remarkably high
," for instance.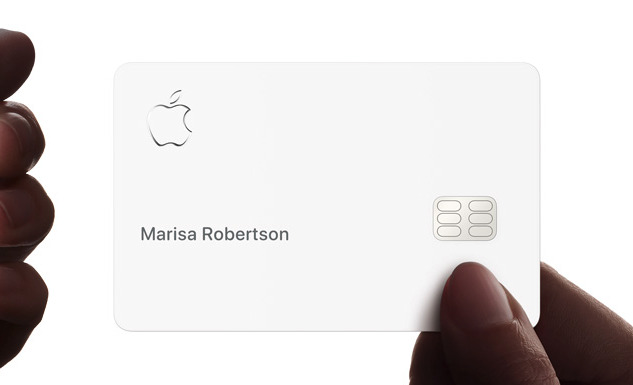 Apple Card is finally here.
It appeared that Goldman Sachs, the issuing bank, was expecting big things because it was putting its money where its mouth is. Reportedly it was
spending $350
for every Apple Card signup, although, separately, it was suggested that it may also be accepting "
subprime
" applicants.
It's a credit card, so you do need to
know what you're getting into
with it, but there were two more signs of success.
First, Tim Cook was pressed into saying that yes, yes, okay, we'll be bringing Apple Card
to more countries
, enough already. And, second, the earliest users were finding that the
physical card shows wear
.
They may just have repeatedly been taking it out of wallets and purses to show off, mind. Admit it -- you'd do the same. It's the credit card that clangs when you drop it on the table.
Speaking of clangers
Samsung unveiled the Galaxy Note 10 but left something out. A headphone jack. After mercilessly mocking Apple for removing the jack, Samsung had done precisely the same.
But there was a difference. In the hope that nobody would notice, Samsung also removed something else -- the company took down its anti-Apple video ad on the subject.
It just didn't do it very well. Search YouTube for it, and it's true, the US ad is gone. But the Portuguese Samsung account still has it, and it's in English.
Meanwhile, at the Samsung Unpacked, Microsoft CEO Satya Nadella talked up the
partnership between the two companies
. And Microsoft, semi-accidentally, released a new build of the Microsoft Edge browser for Mac.
It wasn't accidental. It's not as if Microsoft didn't know it was doing it. Microsoft Edge uses the engine from Google Chrome and since that's on Mac,
so is Edge
.
Whatever the reason we've got it, and whatever we can expect Microsoft to support in the future, this latest build introduced a
key feature called Collections
. It was still a beta and a little flaky, but it added facilities for researchers to gather their work.
Complicated
That Collections research feature is for managing information you collect online and if you wanted to test it on anything, the White House was busy giving you lots and lots of data to track and update and stay on top of.
For all the months in which the US and China have had their current trade dispute, it seemed as if August 2019 was the most complicated.
Starting right on August 1, President Trump
threatened a 10% tariff
on electronics, which was to begin a month later. He later suggested he was
open to discussions
with China, but in the meantime had
dinner with Tim Cook
to discuss it.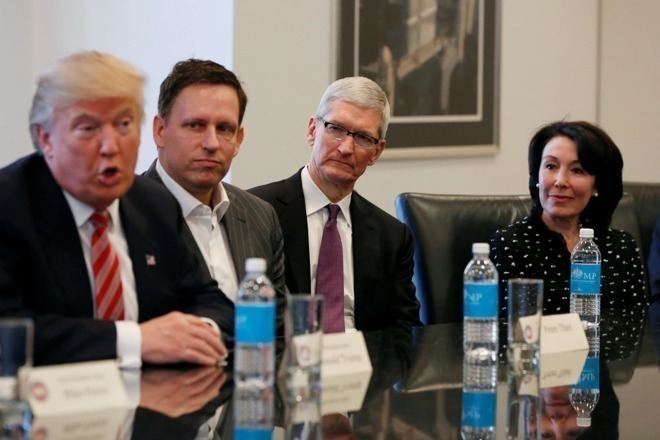 Did Steve Jobs and Steve Wozniak ever imagine Apple having to lobby the government?
After that, the president
praised Cook's communication skills
, and said that he'd
made a good case for Apple
being excused the tariffs.
We'll never know the full details, but some time after Cook's dinner, the White House did make some changes.
"Certain products are being removed from the tariff list based on health, safety, national security and other factors and will not face additional tariffs of 10 percent," reported the United States Trade Representative in
a statement on August 13
.
However, by August 23, things were changing again.
"Our country has lost, stupidly, Trillions of Dollars with China over many years,"
tweeted the President
. "We don't need China and, frankly, would be far better off without them. The vast amounts of money made and stolen by China from the United States, year after year, for decades, will and must STOP."
Consequently, throughout August, Apple's share value was, well, interesting to say the least, and the company was being studied to see what it could and would do. Apple was predicted to
absorb any potential tariff prices
increases rather than pass them on to the consumer, for instance.
Then Apple was seen to have
many options
to reduce the impact of any tariffs, including exploiting a perceived
lowering of production costs
on the iPhone.
For us
The direct upshot, for us, of all the political impact on Apple, could be that iPhones became more expensive. Yet that's only an issue if you're planning to buy one, and there was reason to suspect that 2019's iPhones weren't going to be all that great. Not when it's 2020's models that are going to get 5G.
Financial company Nomura Instinet figured would happen, with it saying the 2019 iPhones would
fare poorly
. It also, for thoroughness, said everyone else is wrong about the demand for 2020's 5G iPhones.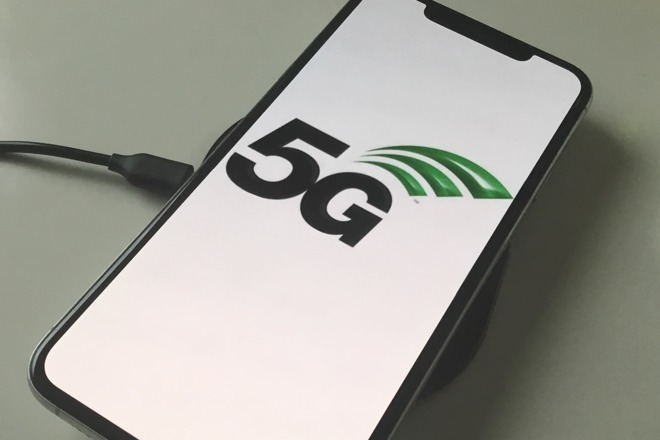 Apparently just because you and we really want 5G, that doesn't mean anyone else does.
Apple itself didn't appear to be expecting a barn-burner with the iPhone 11, reportedly sticking to predictions of selling
about the same as last year
.
Whatever the predicted sales volumes, though, Apple was now reportedly looking to
include the word "Pro"
in certain iPhone models. It's just a name, but it caused
a lot of fuss
.
But while we're on the subject of future iPhones, reports of the 2019 range's demise did not stop any predictions about the next few years of the product. We saw solid reports that the
notch could vanish
, for instance, and that
Touch ID could return
in 2021.
Other hardware
It's not just the iPhone that could get 5G, either. You wouldn't be surprised to see it in a future iPad Pro, but sources were saying now that we may even get a
5G MacBook Pro in 2020
.
The FAA was thinking about MacBook Pro machines this month too. It decided to
prohibit the carrying
of specific models on flights, the 15-inch ones from September 2015 to February 2017 that were the subject of Apple's voluntary recall over battery issues.
Software
While we looked forward to what was coming next, both with new hardware and the forthcoming releases of iOS 13 and macOS Catalina, FileMaker Inc was also looking to the past. It looked so far back in its own timeline that it stopped being called FileMaker Inc. In a
nod to Apple history
-- though possibly not a very thorough nod -- the company rebranded itself as Claris.
And then it seemed that everybody, just everybody, was looking at Siri.
Amazon, Google and Apple's voice assistants have long been recording our requests of them and getting human beings to listen later to see how it worked. Not everything is recorded, not everything is listened to, and all of it is anonymized, but people were getting to hear what Siri heard and sent for analysis.
In truth, maybe Apple could have shouted about this more, but it had
always told us
it would do this. Nonetheless, a self-styled whistleblower contacted the press about how Siri is listening to us.
This followed previous reports saying the same for
Google Assistant
and
Amazon Alexa
.
But if they were all at it, at least Apple reacted the most promptly. It said it would
suspend the program
while investigating and we all thought yeah, sure, of course you will.
It did. Apple suspended that program and it investigated. It didn't just open some investigation and wait for us to forget about it, either, it released its findings. Before the end of the month, Apple
changed how it worked
the program and what it would tell us about.
But speaking of telling us things, Apple rounded out the month by doing its usual cryptic message.
By Innovation Only
We knew that there would be new iPhones announced in September, we knew there might not be much to them, but we didn't know the date. Until now.
Apple revealed that September 10 was the day the new phones would be announced -- and it called this year's event "
By Innovation Only
."
Whether that was to tell naysayers that this year's phones would be good, or it was to fool us into thinking they might be, we'd soon find out.
Keep up with AppleInsider by downloading the AppleInsider app for iOS, and follow us on YouTube, Twitter @appleinsider and Facebook for live, late-breaking coverage. You can also check out our official Instagram account for exclusive photos.