CES 2020: Best of Wi-Fi and Networking
Network upgrades in a home can enable better inter-device connections, faster media streaming, and make browsing better for wireless devices. Here are the best Wi-Fi and network hardware launches at CES 2020.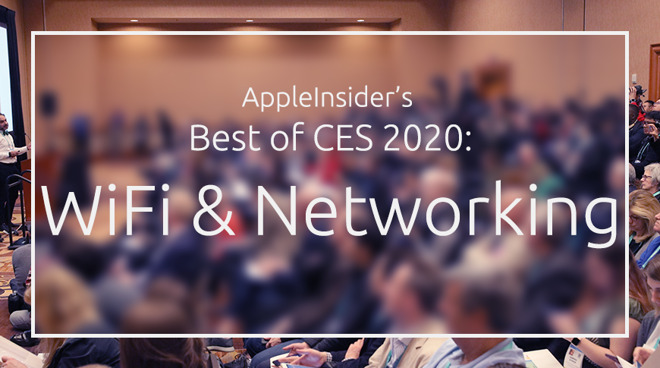 Netgear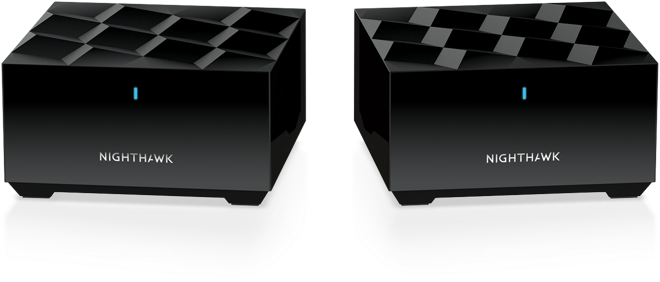 Nighthawk Mesh Wi-Fi 6 System
Netgear
has announced a wide lineup of new routers during CES, including several advanced Wi-Fi 6 options.
Expanding their mesh networking options is the new
Nighthawk Mesh Wi-Fi 6 System
. The new, boxy, system is powered by the
new EasyMesh Wi-Fi standard
that aims to make setup and interoperability simpler between different brands of router.
The Nighthawk Mesh Wi-Fi 6 System support dual-band Wi-Fi 6 at up to 1.8Gbps for homes up to 1,500 square feet per unit. They also support Secure boot, WPA3, and automatic firmware updates.
There are two gigabit ports on the main router and one on the satellites for wired devices. The two-pack become available this month for $229.99, pending EasyMesh certification. A three-pack will launch in March.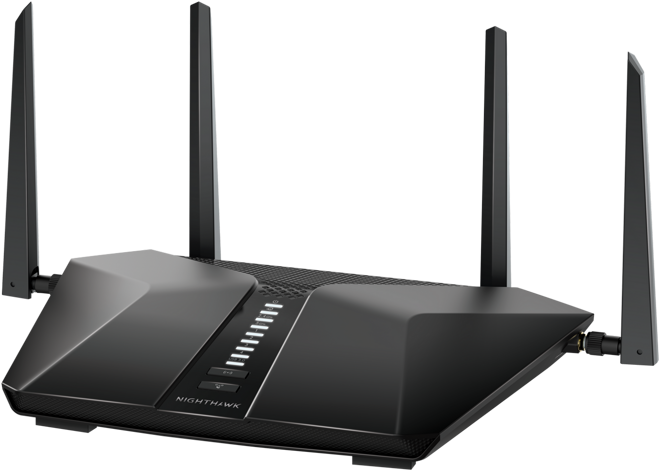 Nighthawk AX6 6-stream AX5400
Netgear also took the wraps off the Nighthawk AX6 6-stream AX5400. It supports Wi-Fi 6, has five gigabit Ethernet ports, and a two-core 1.5GHz processor.
Aside from the mesh options, Netgear also is introducing its first Wi-Fi 6 extender. The AX1800 supports four-stream Wi-Fi 6, has two internal antennas, four Gigabit Ethernet ports, and easily extends your existing network. It ships in February 2020 for $149.99.
Netgear has also announced the Nighthawk M5 5G Wi-Fi 6 mobile router, which has been named a CES 2020 Innovation Awards Honoree.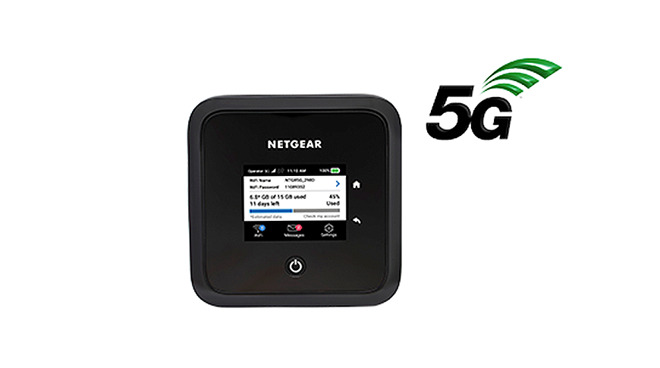 Nighthawk M5 5G Wi-Fi 6
The
Nighthawk M5 5G Wi-Fi 6
mobile router is designed to provide faster internet speeds with low latency over Wi-Fi 6 and 5G. They are ideal for families that stream movies, music, and play video games while on the go. It also provides a reliable connection for travelers who need enhanced stability while on the go.
"At Netgear we believe in pioneering a new generation of connectivity and the key technologies leading the charge are WiFi 6 and 5G, which will fundamentally change the way we work, live and adopt digital experiences. The Nighthawk M5 combines the power of these two wireless technologies and provides an option for advanced connectivity in a mobile environment," said David Henry, senior vice president of Connected Home Products for Netgear.
At this time, none of the new Netgear routers support Apple's HomeKit though Netgear did say they were interested and investigating the possibilities.
D-Link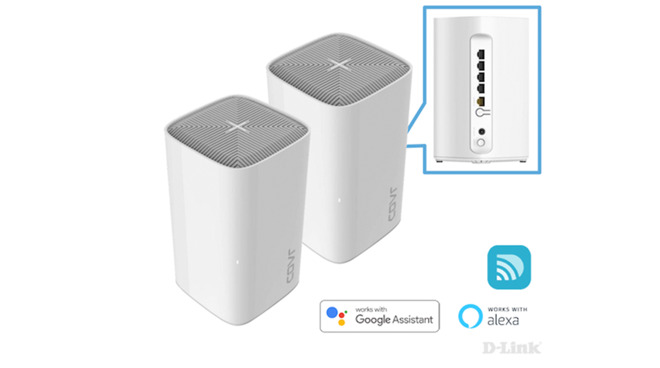 AX1800 Whole Home Mesh System
D-Link is announcing a set of routers and access points at CES 2020 that will feature
D-Link Wi-Fi Mesh
. All the products within the release will work seamlessly with other products that adopt the EasyMesh standard.
"Most people don't want to fuss with their Wi-Fi. They want to grab a router, set it up, and go," said Rayan Fakhro, product line manager, consumer solutions, D-Link Systems. "Our new routers use D-Link Wi-Fi Mesh to remove issues with compatibility while providing the bandwidth and processing needed to reduce congestion and increase efficiency. They also include new enhanced profile-based parental controls that are easy to set up."
Releasing in the second quarter of 2020, the AX1800 Whole Home Mesh System offers up to 6,000 square feet of coverage and supports wired Ethernet backhaul. Each unit features four Gigabit LAN ports and one Gigabit WAN port.
Users have the ability to set profiles, allowing parents to control what content their kids see with ease.
While the Whole Home Mesh System comes in a two-pack, additional units can be added for extra coverage.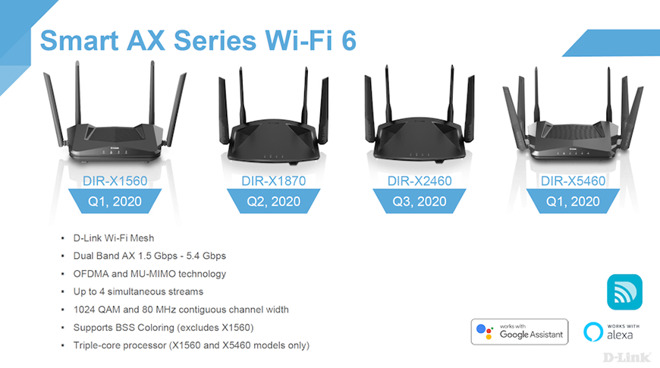 Smart AX series Wi-Fi 6 routers
Also announced is the Smart AX series of Wi-Fi 6 routers, capable of supporting anywhere from 1.5 Gigabits per second to 5.4 Gigabits per second speeds, and 1024 QAM and 80 megahertz contiguous channel width.
Prices for D-Link's new Wi-Fi routers and extenders will range between $100 to $280, with most devices becoming available in the first half of 2020.
Linksys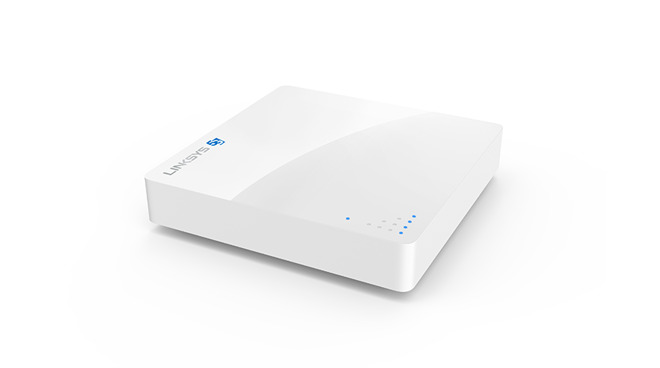 Linksys 5G Mobile Hotspot with Wi-Fi 6
Linksys is debuting their line of 5G networking gear, set to release mid-2020 with no exact dates set as of this time.
Included in the lineup is Linksys' 5G Mobile Hotspot with Wi-Fi 6 support, affording users enhanced stability while traveling. Also announced were a 5G modem designed to be used within the house, and a mmWave 5G outdoor router that supports 10 gigabits per second connections. The 5G Mobile Hotspot supports Quick Charge via USB, limiting downtime when on the go.
Linksys also announced the Linksys Velop Mesh Gateway. Both a modem and a router, it supports 5G and Wi-Fi 6, giving users the ability to extend 5G throughout their home via a mesh system. If a user already owns a
Linksys mesh system
, such as the Linksys Velop, the Velop Mesh Gateway will seamlessly integrate within the system.
Currently there are no hard launch dates and no pricing available for either the 5G Moble HotSpot or the Velop Mesh Gateway.