CES 2020: Best headphones and wireless earbuds
Following the popularity of the AirPods and AirPods Pro lines, accessory producers have been amping up personal audio offerings to keep up with Apple. Here are some of the many CES launches for earphones and headphones.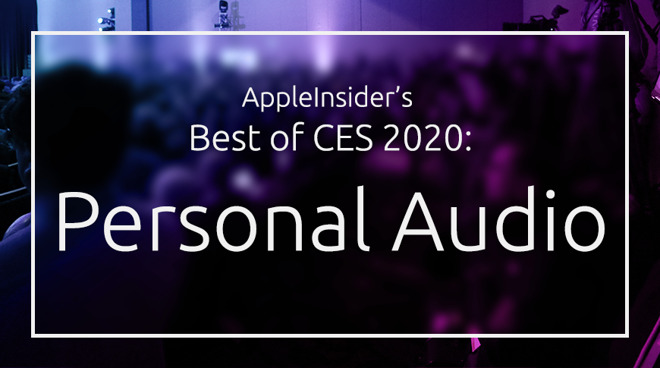 iFrogz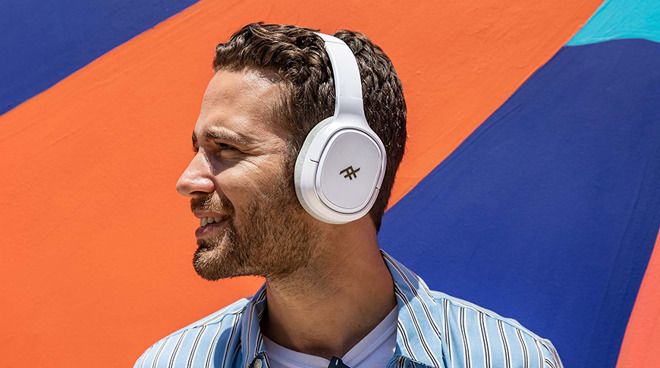 Airtime Vibe active noise cancellation headphones
iFrogz has announced their brand new Airtime Vibe active noise cancellation headphones. These over-the-ear headphones feature a 30 hour battery life (25 with active noise cancellation enabled) for all-day performance.
The active noise cancellation mode allows users reduce ambient noise by approximately 20 decibels with the much of a button. The iFrogz Airtime Vibe headphones will be released in the first quarter of 2020, be priced at $99.99, and will be available in black, blue, or white.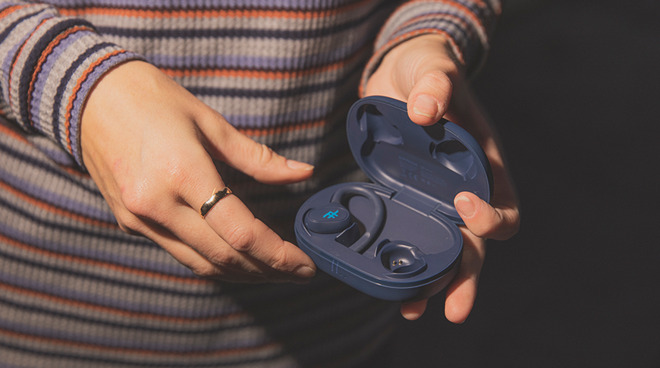 Airtime Sport earbuds
Also announced was the iFrogz Airtime Sport earbuds. The wireless charging case gives you 25 hours of playtime by enabling them to charge the earbuds four full times. The case can be charged via USB-C or on any Qi-standard wireless charging mat.
Included microphones means you can take hands-free phone calls, and tap controls means no fumbling with a phone while you're out on a run. The Airtime Sport earbuds are IPX5 water resistant, capable of standing up to light rain and sweat. Available at the end Q1 2020, the Airtime Sport earbuds will be available in black, white, blue, and mint, and will cost $79.99.
JBL
The JBL Tune 220TWS is the audio producer's attempt to take on the AirPods with a more colorful alternative. Packing 12.5mm drivers, the earphones offer JBL Pure Bass Sound through its ergonomic-fit earbuds, which are designed with a descending section dangling from the earbud itself.
Said to have up to 19 hours of combined playback time, the earbuds are supplied with a 16-hour charging case for storage. The case also offers Speed Charge capabilities for a rapid recharge when exhausted of power.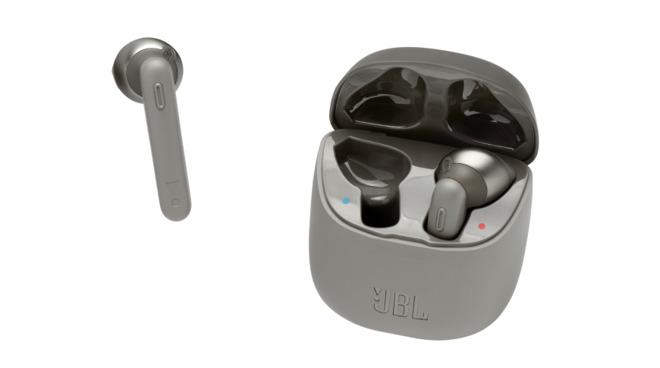 JBL Tune 220TWS
Connecting over Bluetooth, the earbuds will work with a connected device's digital assistant, including Siri and Google Assistant, as well as being able to make and receive stereo calls hands-free.
Offered in a selection of six metallic finishes, the JBL Tune 220TWS is expected to ship in the early spring, priced at $99.95.
Harman Kardon
The company's first new headphone series since 2014, the Fly range is a trio of headsets and earphones designed for consumers. The models consist of the Fly BT with Bluetooth, the Fly TWC True Wireless, and Fly ANC with active noise canceling.
The Fly ANC, the premium option of the trio, are over-ear earphones with custom 40mm drivers. Able to block out external noise for up to 20 hours using Bluetooth and ANC, or up to 35 hours for ANC via a wired connection, the headset also includes a speed charge feature where it can gain 2.5 hours of playback from a 15-minute charging session.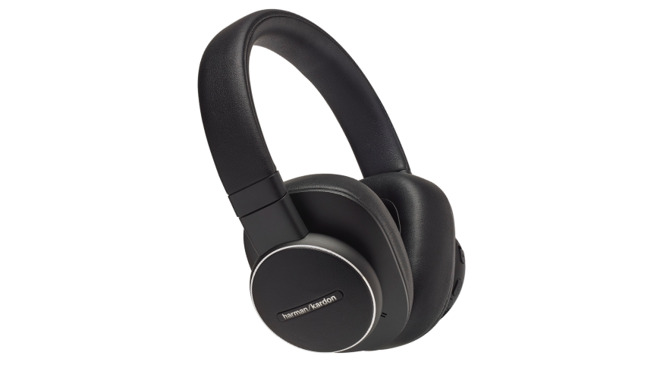 Harman Kardon Fly ANC
Connecting over Bluetooth as well as a detachable cable, the headphones also have support for digital assistant summoning via an earcup tap, and can connect to two separate devices at once. Support for the Harman Kardon app allows further control, including preset equalizer options and the ability to set a custom sound signature.
The Fly TWS offers full touch control without wires, with up to 15 hours of audio playback from a single charge. A TalkThru function allows users to talk with others without fully turning off or turning down their music playback, while tapping an earbud allows for access of voice assistants.
The Fly BT uses 8.6mm drivers and offers up to 8 hours of active listening. Combining magnetic earbuds with a fabric-covered cable and a compact storage pouch, the Fly BT includes support for digital assistants by a touch of the in-line controls. Its IPX5 rating allows it to be used in the rain, and to help withstand splashes and the rigors of exercise.
The Harman Kardon Fly BT costs $99.95, the Fly TWS is $149.99, and the Fly ANC is priced at $249.95. Harman Kardon aims to ship the Fly series this winter.
Sennheiser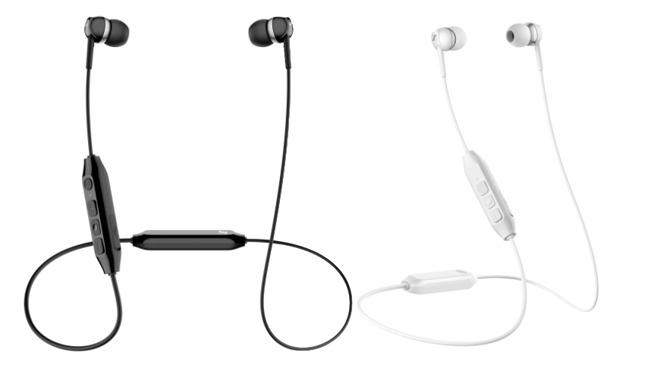 Sennheiser CX 350BT and CX 150BT
The CX 350BT and XC 150BT are wireless earphones from the premium audio device producer, with the in-ear accessories providing high-quality audio the company is known for in a compact size.
The two models offer up to ten hours of battery life from a single charge, which is performed over USB-C. Connectivity to a mobile device is performed over Bluetooth 5.0, and while both include support for SBC and AAC, the 350BT adds in AptX and AptX Low Latency, which minimizes audio lag when viewing video on an iPhone display.
The companion Sennheiser Smart Control app also offers further control over the audio experience via its equalizer function. The app can additionally provide firmware updates, and can enable a podcast mode designed to enhance speech content.
The pair also include four different ear tip sizes for comfort and optimal noise cancellation. While the two versions are similar, and are even offered in the same black and white shades, one other big difference is the inclusion of a dedicated button on the 350BT for summoning Siri and other digital assistants.
The CX 150BT at $79 is available now in black, with a white variant anticipated to ship in February. The CX 350BT in both colors will cost $99, and will ship in February.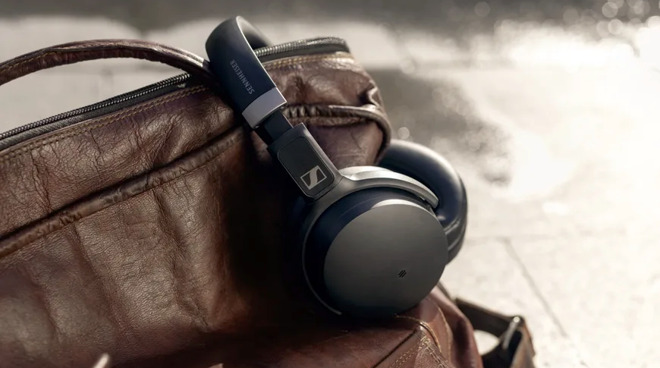 Sennheiser HD 450BT
Building on top of the popular HD4.40BT and HD4.50BTNC, the HD 450BT and HD 350BT are Bluetooth-enabled headphones with a deep dynamic bass. Both connect over Bluetooth 5.0 and offer wide wireless codec support, including AAC, AptX, and AptX Low Latency.
Recharging via a USB-C connection, the pair offer up to 30 hours of battery life. The HD 450BT also includes active noise cancellation, which can even be used while in a wired mode to conserve battery power on long journeys.
The sound can be tailored in each unit via the Sennheiser Smart Control companion app, which offers the battery status of the headset, guidance of its features, firmware updates, and a podcast mode.
Both units are able to be folded flat, to help keep them as small as possible for storage in transit. Physical controls on the earcups can be used to control music, as well as a dedicated button for accessing digital assistants.
Offered in black and white variants, the HD 350BT will cost $119 when it ships later in January, while the HD 450BT will arrive in mid-February for $199.
Audio-Technica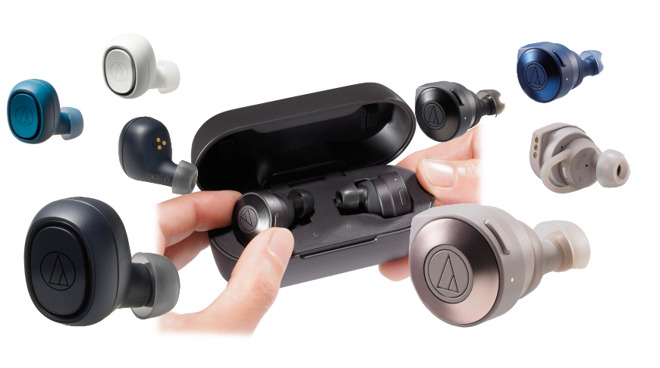 Audio-Technica ATH-CKS5TW and ATH-CK3TW
The ATH-CKS5TW and ATH-CK3TW are truly wireless in-ear headphones supplied with a charging case. Both connect over Bluetooth 5.0, can handle connections with multiple devices, and can automatically turn on and off when removed or placed inside the charging case.
The ATH-CK3TW includes 5.8mm drivers and smooth silicone eartips for comfort and noise isolation. Supporting aptX and SBC codecs are included, with the earphones using Qualcomm's TrueWireless Stereo Plus for a low-latency and stable connection.
The earphones include touch sensors for audio control, and hands-free support for digital assistants like Siri. Up to six hours of battery life is offered, with the charging case adding another 24 hours on top.
Sporting 10mm drivers, the ATH-CKS5TW adds on support for AAC codecs, and is capable of up to 15 hours of playback from a single charge, extended by 30 hours using the included charging case. There is also support for the Audio-Technica Connect mobile app for monitoring battery life, adjusting settings, and to find misplaced earbuds.
Both the ATH-CKS5TW and ATH-CK3TW are available now, priced at $169 and $119 respectively.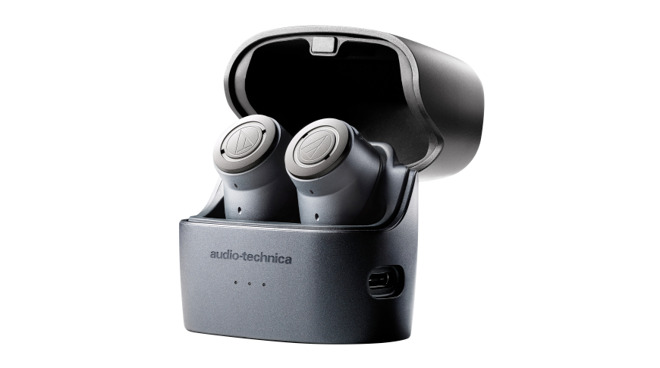 Audio-Technica QuietPoint ATH-ANC300TW
The QuietPoint ATH-ANC300TW goes further in being truly wireless in-ear headphones, but this time including digital hybrid active noise cancellation. Using microphones on both sides of the driver, including one in a unique horizontal configuration within the sound chamber, the ANC system is optimized to balance noise reduction with audio performance.
Using 5.8mm drivers with a diamond-like carbon-coated diaphrag for audio quality, the earphones offer connectivity over Bluetooth 5.0 with aptX, AAC, and SBC codec support, as well as Qualcomm TrueWireless Stereo Plus. Up to 4.5 hours of play time is available on a single charge, extended by 13.5 hours with the use of the charging case.
Arriving in Spring 2020, the QuietPoint ATH-ANC300TW will cost $249.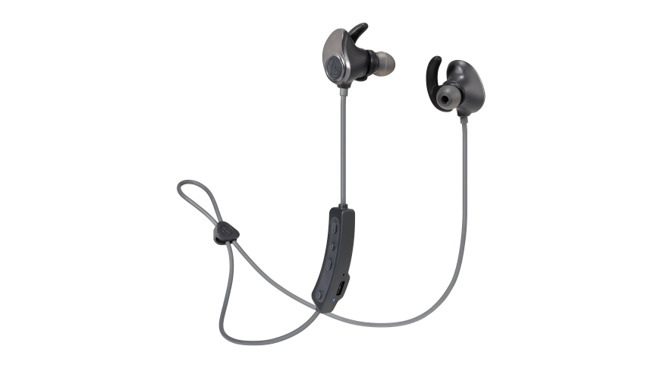 Audio-Technica SonicSport ATH-SPORT90BT
The SonicSport ATH-SPORT90BT and ATH-SPORT60BT are fitness-oriented Bluetooth in-ear headphones that have received some upgrades from previous models in the line.
The 90BT model has new 6mm drivers with a dedicated amplifier, bringing with it full-range audio reproduction. As an alternative to connecting to a host device, the model also includes a built-in 4GB music player.
When not in use the earphones can be stored on the neck using magnets built into the earbuds. Battery life is up to 5 hours on Bluetooth or 8 hours using the built-in player, and on-device controls are complemented by voice confirmations of the various functions being engaged.
The 60BT model uses 6mm drivers and is capable of up to six hours of playback from a single charge. Offering similar voice confirmations and an in-line mic and controls as the other SonicSport model, it also has multi-point pairing to connect to two Bluetooth devices at once.
Arriving in the spring the SonicSport ATH-SPORT90BT and ATH-SPORT60BT are priced at $159 and $79 respectively.
Jabra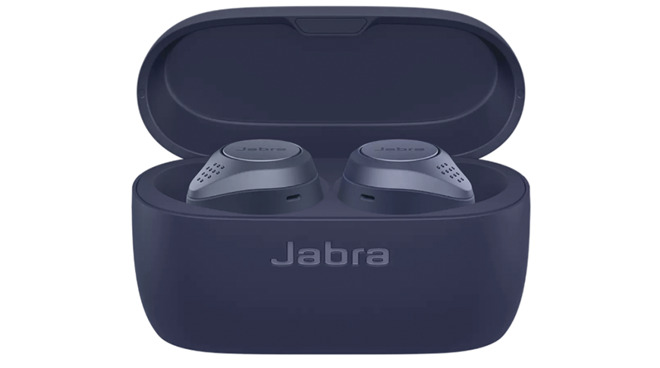 Jabra Elite Active 75t
Jabra has announced the upcoming release of their new truly wireless earbuds, the Elite Active 75t. The new earbuds are waterproof with an IP57 rating and can be submerged for 30 minutes. This rating means they can safely be used in the rain, or washed thoroughly after a particularly sweaty workout.
Aside from their watertight construction, the Elite Active 75t earbuds feature four noise-reducing microphones to make hands free calls, intuitive touch controls with support for voice assistants like
Siri,
and a companion app with a customizable equalizer.
Additionally, for athletes who need to be more aware of their surroundings, Jabra has included a feature they've dubbed "HearThrough." HearThrough enables the wearer to utilize the built-in microphones to listen to environmental noise alongside their audio. This feature is ideal for those who work out in busy urban environments, or for times when a wearer might not want to isolate themselves from their surroundings.
Those interested in the Jabra Elite Active 75t wireless earbuds won't have to wait too much longer, as they're available for preorder
through Best Buy
and set to be released in early Feburary. The earbuds are available in Navy or Titanium Black and retail for $199.99.
Update
Jan 8 8:30 ET - Sennheiser added.
Jan 8 1:30 ET - Audio-Technica added.
Jan 9 7:30 ET - Jabra added.