CES 2020: Best of hard drives and SSDs
Mac users who handle large files on a regular basis have the need to upgrade the amount of storage available to them over time. At CES 2020, many manufacturers offered drives and enclosures to help those with lofty storage requirements.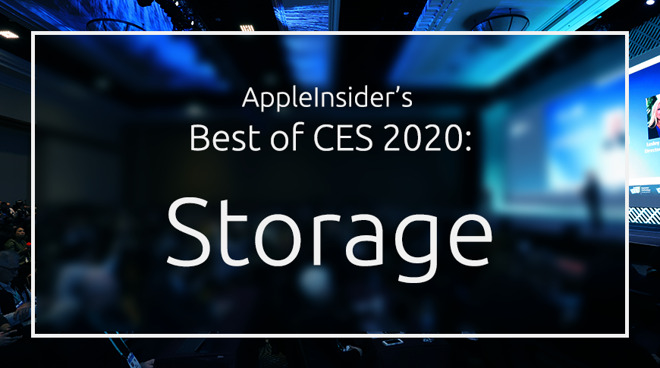 Seagate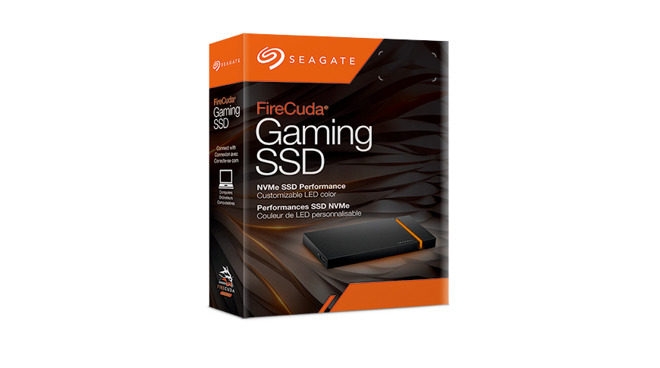 Seagate FireCuda SSD
Seagate has announced high-performance external storage solutions to it's line of gamer-branded storage.
The Seagate FireCuda gaming SSD slots into recently released Seagate's FireCuda Gaming Dock and was designed for those who need to back up large quantities of data quickly and reliably. The FireCuda offers SuperSpead 20Gb/s interface with a read speeds of up to 2000 megabytes per second via a USB 3.2 Gen 2 port.
The Seagate FireCuda Fast SSD is available in capacities of 500 gigabyte for $189.99, one terabyte for $259.99, or two terabyte for $499.99. It will be available in March and include a five-year limited warranty.
Also new to Seagate's SSD lineup is the Barracuda Fast SSD. Its pocket-sized design means it's portable, and it's read/write speeds of 540 megabytes per second mean users can transfer data quickly wherever they are. It features a USB 3.1 Gen2 port, is PC and Mac compatible out of the box, and includes software for simple backups and syncing. Included with the purchase is a two-month subscription the Adobe Creative Cloud Photography plan.
The Barracuda Fast SSD will launch in February with a three-year limited warranty and will retail for $94.99 for 500 gigabytes, $169.99 for one terabyte, or $299.99 for two terabytes of storage.
OWC
The ThunderBay 8 is a professional-grade 8-bay Thunderbolt 3 storage device, one which is capable of offering up to 112TB of capacity in any combination of 2.5-inch or 3.5-inch hard drives or SSDs. Up to six of the units can be daisy-chained together, resulting in up to 672TB of storage capacity at its highest, all accessible over Thunderbolt 3 with added Thunderbolt 2 and Thunderbolt backward compatibility.
Featuring hot-swappable bays, the device can be set to run in a variety of different configurations, including in RAID for speed or redundancy using the included SoftRAID management software. At its fastest, it is possible to achieve transfer speeds of up to 2586MB/s over Thunderbolt 3 and RAID.
Able to work plug-and-play without drivers and including the capability to run a 4K monitor over DisplayPort 1.2, OWC is planning to ship the ThunderBay 8 in the first quarter. It will be available as an empty unit for customers to supply their own drives, as well as bundled with drives in capacities from 16TB to 112TB, starting from $1,228.99.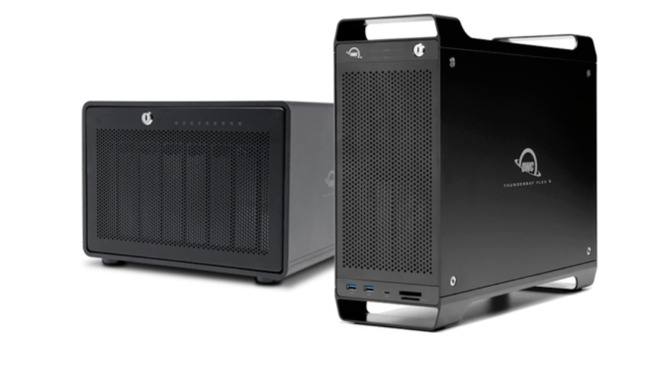 OWC ThunderBay 8 and ThunderBay Flex 8
The ThunderBay Flex 8 is a more enhanced storage enclosure that offers 8 drive bays capable of accepting a mix of SATA, SAS, and U.2 NVMe drives, at a maximum capacity of 128TB. Four top bays can take a mix of the drives, while the four bottom versions take SATA drives.
Able to be configured over SoftRAID, the unit offers transfer speeds of up to 2,750MB/s. A pair of Thunderbolt 3 ports enables daisychaining and for high-speed data transfers, with it also including an extra USB-C and two USB-A ports for device docking and charging.
A built-in DisplayPort 1.4 connection can support an 8K display, and front-side SD 4.0 and CF-Express card readers are available for file ingesting. Expansion is also available via the use of a PCIe x16 slot.
OWC plans to ship the ThunderBay Flex 8 in the first quarter, with pricing to be determined. The enclosure will be offered on its own, as well as in bundles with drives, in capacities from 16TB to 128TB.
Western Digital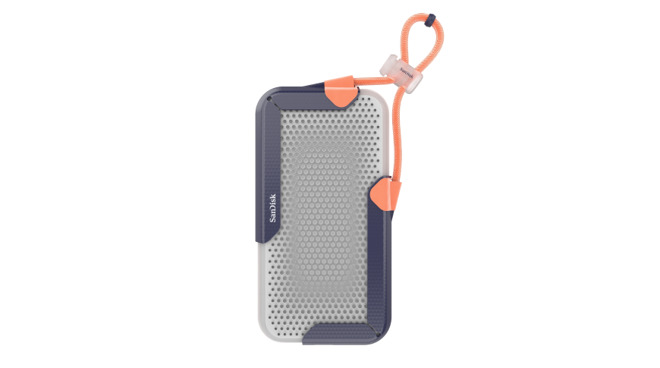 SuperSpeed USB 20Gbps portable SSD | Image credit: Business Wire
Western Digital brought several new storage solutions to CES 2020, including a prototype of their brand new SuperSpeed USB 20Gbps portable SSD. It's a pocket-sized portable hard drive that was created to help creators capture and keep content. Currently, there is no word on pricing or availability.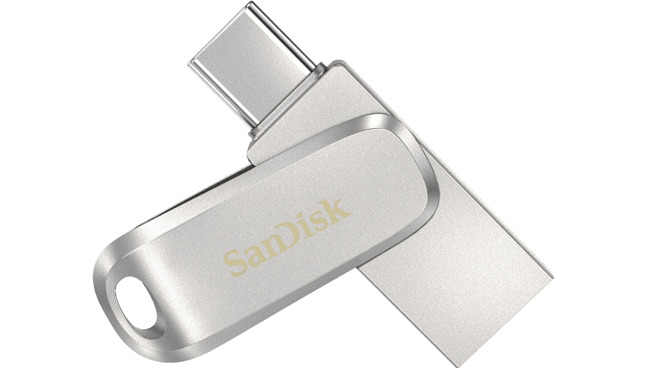 1TB SanDisk Ultra Dual Drive Luxe USB Type-C
Also launched was the 1TB SanDisk Ultra Dual Drive Luxe USB Type-C, an all-metal, high-capacity drive designed to capture media and transfer content between USB-C smartphones, tablets, laptops, and computers.
It features a keychain connector to enable users to keep their storage with them wherever they go. The 1TB SanDisk Ultra Dual Drive Luxe USB Type-C is expected to be available late in the first quarter of 2020.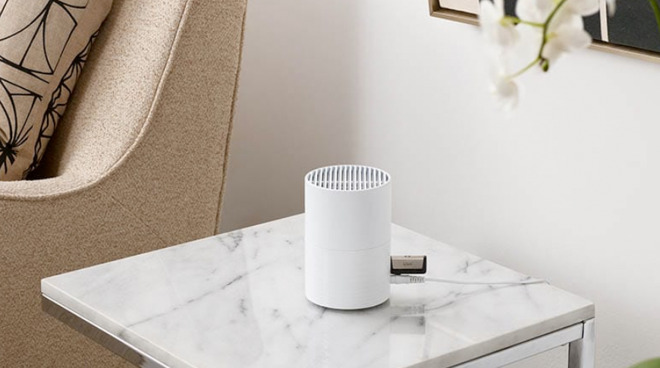 Western Digital's new ibi device
They also premiered a smart photo management device that blurs the line between local and cloud storage. The device, called "Ibi," has a capacity of one terabyte and works with a companion app that allows users to wirelessly connect their phone for automatic back up of photos and videos.
It allows users to aggregate photos and videos from laptops, USB drives, social media and cloud accounts, giving them a secondary local backup that can be accessed wirelessly. Ibi can store up to 250,000 photos or 100 hours of video. Ibi is available now and
can be purchased for $129.99.
Samsung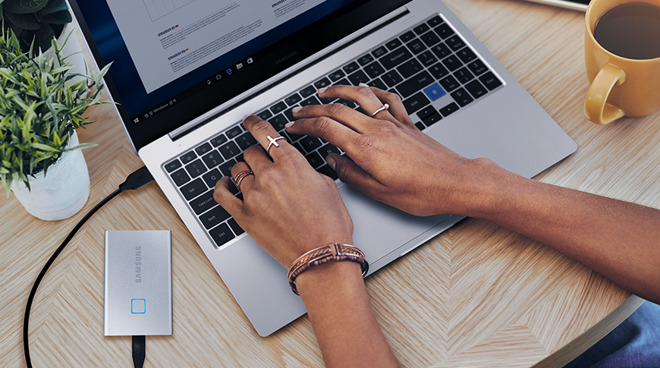 Samsung SSD T7 Touch
Samsung is debuting its latest portable storage device at CES 2020 -- the SSD T7 Touch. The new external drive includes an integrated fingerprint sensor for added security.
The Samsung T7 SSD has a durable aluminum shell and a Type-C USB 3.2 Gen 2 port for connecting to Mac, Windows, tablets, and phones. Samsung includes both a USB-C to USB-C cable as well as a USB-C to USB-A cable for additional device support.
Like the popular T5 drive currently on the market, transfer speeds for the T7 are great at 1,050MBs read speed and 1,000MBs write speed. That is twice as fast the T5 and, at roughly the size of a business card, is very similar in size.
The fingerprint sensor secures the files stored on drive and can recognize up to four prints for shared usage at work or at home. A simple LED status light informs users of whether the drive is locked or unlocked. There is also password protection and AES 256-bit hardware encryption as well.
The drive comes in silver and black with 500GB, 1TB, and 2TB as choices for capacity. Pricing starts at $129 for the lowest capacity and goes up to $399 for the highest. It will begin shipping later this month, and the standard T7 without a fingerprint sensor will start shipping in quarter two.
Updates
January 8 10 A.M. ET - Samsung added.