Apple is now collecting donations to help with Australia's bushfires
Following the company's own commitment to helping out with the fire relief efforts, Apple is now accepting donations from users that it is passing directly on to the relevant bodies.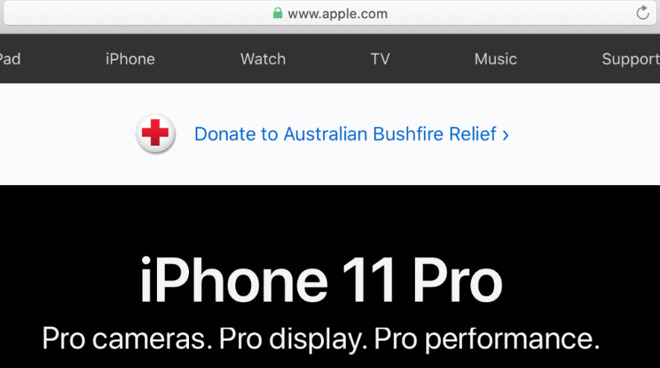 Detail from Apple's US website calling for donations
Apple
has updated its
US
and
Australian
websites to include a new option to donate money to help with the bushfire relief efforts in Australia.
Clicking on the website banner opens the Music app on Mac or the iTunes Store one on iOS. Users can then select the amount of their donation from a series of options. In the US, there are six buttons ranging from $5 to $200.
If you use the US site then your donation goes to the American Red Cross. In Australia, local users have their donations paid directly to the equivalent Australian Red Cross.
In neither case does Apple collect any processing or handling fees and so says that "iTunes will transfer 100%" of your donation goes to "providing relief efforts for the Australian bushfires."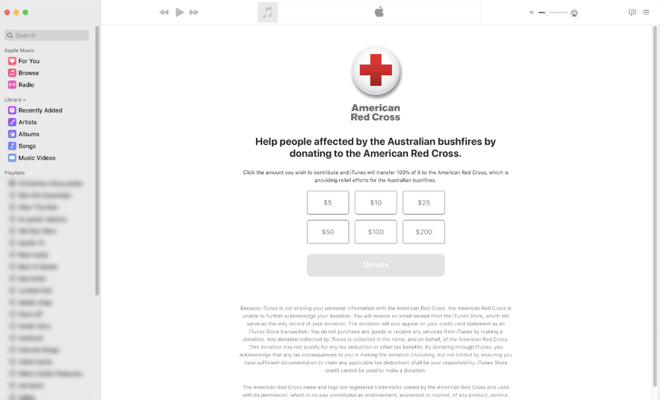 The US donations page in the macOS Music app
There is currently no option to donate from countries and no donation link. Users who click the donate link from outside the US or Australia, do get the Music or iTunes Store app opening, but are then informed that donations are not being accepted.
It's not known if Apple plans to expand the donations to more territories. In the meantime, the Red Cross is
accepting donations
for all its relief efforts via its official site.
This gathering of public donations follows
Apple's own commitment
in December 2019, pledging unspecified sums to help.
Our hearts are with those impacted by the Australian bushfires and with the courageous volunteer force fighting the unprecedented blazes across the country-- please stay safe. Apple will be donating to support relief efforts.