First iPod went from conception to shipping product in ten months
Apple's development of the world-changing iPod was extremely rapid, details from former Apple SVP Tony Fadell reveal, with the claim Apple took less than ten months from first being contacted by Apple and the company shipping its first units to customers.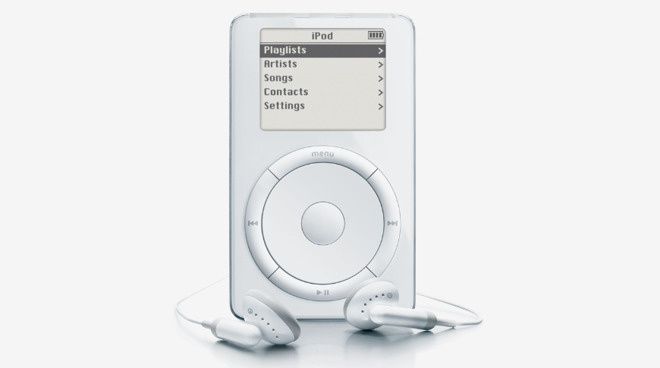 The first generation of the iPod was, at the time, an engineering and design marvel, but few details have been offered about its inception. According to information from Fadell, "father of the iPod" and former SVP for Apple's iPod division, the timeline for its creation was exceptionally short by modern standards.
In a
tweet
from Stripe CEO Patrick Collison researching about the iPod, Fadell gave an overview of events that took place in 2001, the year the iPod was made. Fadell himself was initially contacted in the first week of January, with a first meeting in the third week, but only started related work on the product by the fourth week as a consultant.
Given the codename "P68 Dulcimer," the project had Fadell investigating "what is possible?" for the company. At the time, Fadell insists "there was no team, prototype, designs, nothing," with a pitch to Steve Jobs in the third week of March resulting in a green-lighting of the project.
Fadell became a full-time employee by the second week of April, then quickly found a contract manufacturer in Asia the following week. The first employee for the team was hired in the second week of May.
Apple launched the iPod in the fourth week of October before shipping its first iPods to consumers in the first week of November.
The rapid development and production of the iPod in less than a year is a far cry from Apple's current position. While it has far more resources now than it had two decades ago, the scale of its product launches and the sums involved force Apple into lengthening its schedules for a variety of reasons, including producing at scale and ensuring product safety and reliability.
The new timeline mostly matches up with an early recount of the iPod's development from 2004,
told
to
Wired
by Ben Knauss. Knauss worked for PortalPlayer at the time, a company Apple was in discussions with over creating an MP3 player. In his account, Tony "had the business idea" of making an MP3 player and creating a "Napster music sale service to complement it."
For the iPod's creation, Knauss agrees with the "early 2001" hiring for Fadell, but he was assigned "a typical industrial design team" of about 30 people, including designers, programmers, and hardware engineers.