Review: Pitaka Air Quad is the only wireless charger you need
Pitaka is taking on multi-chargers with a unique design that is capable of powering an iPhone, a set of AirPods, an Apple Watch, and an iPad all at once with a surprisingly small footprint.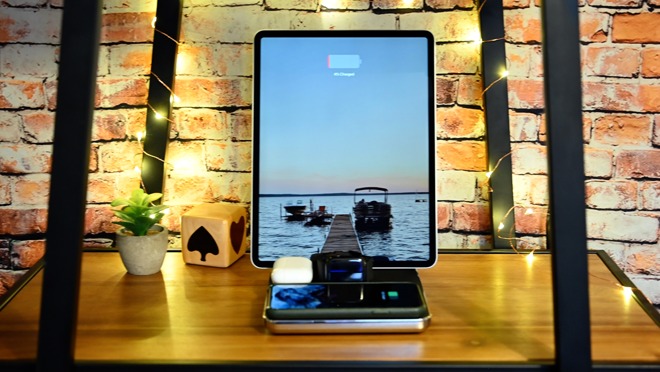 Pitaka Air Quad
Most of the multi-chargers that come across our desks are reliable but lack real support for iPad. They usually tack a USB-A port on the side and call it a day -- not the most elegant of solutions.
Air Quad integrates the iPad dock right into the back of the dock itself and comes in both a Lightning and a USB-C version to fit almost any variety of iPad. Let's look at it in a bit more detail.
Design
The Pitaka Air Quad is very compact for the number of devices it can charge. It is quite thick and very hefty. The bottom is all stainless steel, which is glossy and attracts fingerprints very easily. Fortunately, once you place it, you aren't going to be touching the base all too often.
On top of the charger is Pitaka's favorite material, aramid fiber. Aramid fiber is similar to carbon fiber, but it is not as brittle and doesn't conduct electricity, which makes it preferable for things like accessories and chargers.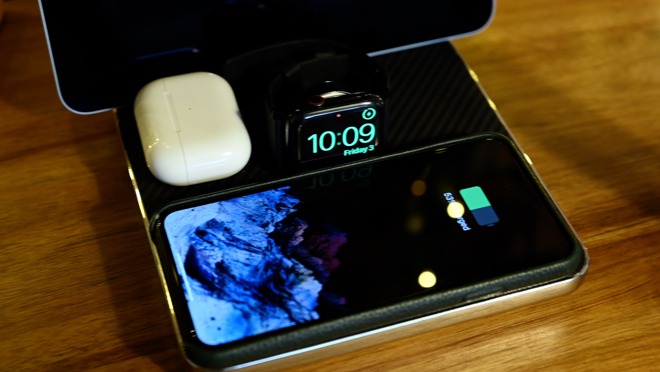 Pitaka Air Quad can charge four devices at once
Around the back of the charger is a hidden stand that rotates out from the bottom to help prop up an iPad when it is being charged. It can be adjusted slightly, but if you want to charge something else in that position you can tuck stand away underneath. On ours, we had it engraved with "AppleInsider," though it did, unfortunately, arrive misspelled.
For your other devices, an iPhone can be placed up front on the wireless charger, a set of AirPods can be charged on the left, and the Apple Watch can be set onto the MFi-certified magnetic charging puck.
The Apple Watch charger is adjustable to either lie flat or pop up vertically to support Nightstand Mode. Pressing a button on the right of the stand moves it into the vertical position. This position also allows users with all band varieties to charge their watch because if it just laid flat, bracelet-style bands wouldn't fit.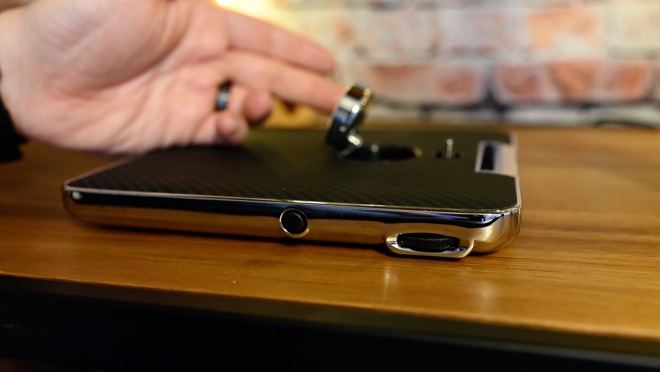 Pitaka Air Quad has a button to control the Apple Watch puck and iPad charger height
Air Quad comes in both a USB-C and Lightning flavor for the iPad stand. To add more versatility, the connector can be adjusted up or down to compensate for most cases via a nob on the right side. We also wanted to note we tried it out with our Smart Keyboard Folio and found it fit, but it made our Apple Watch a bit tight.
Speaking of the Apple Watch, Air Quad has an Apple-certified MFi magnetic charging puck smack dab in the center. The puck comes completely flat, allowing an Apple Watch to be placed left to right against the surface. Alternatively, the puck can be propped up vertical when a small button is pressed. This enabled Nightstand Mode and allows cuff-style bands to fit.
Speed and performance
Air Quad is quite the fast charging dock. The rear USB-C connector outputs 18W of power for your iPad, the front Qi wireless charger can go up to 10W or 7.5W on iPhones, and the AirPods wireless charger puts out another 5W.
The only downside to all of that is that it is all powered off of a barrel connector rather than something more universal such as USB-C. We'd have much preferred to have a USB-C power brick and cable so if it should ever fail it would be easy to replace. If it was USB-C it means you could also use that cable to charge other devices, like a Mac while the AirQuad isn't in use.
We tested ours with the biggest devices that Apple makes -- our 42mm Apple Watch, our 12.9-inch iPad Pro, iPhone 11 Pro Max, and AirPods Pro. This did make space a little problematic, but not a dealbreaker. Our devices were all touching each other, but they did all fit together. It would have been nice if it was slightly more spacious, but then it wouldn't be so compact.
Should you buy one?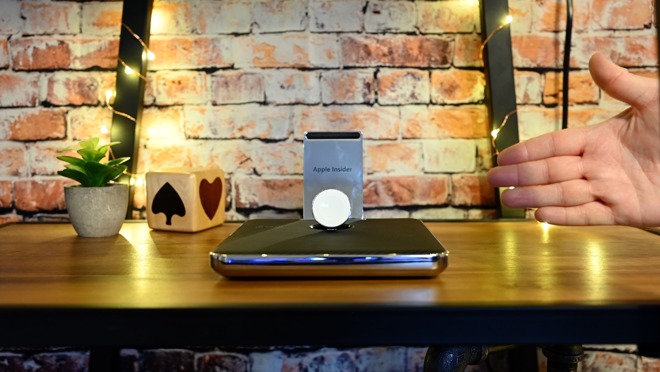 Pitaka Air Quad
Deciding for or against Air Quad is, we think, a bit easier than other chargers. To start -- if you don't have at least an iPad, smartphone, and Apple Watch and preferably have a set of wireless-charging AirPods, then there is no need for Air Quad. You could get by with many of the three-in-one chargers or some other configuration.
The device itself is pricey, but the cost seems entirely justified looking at the four chargers integrated, the Apple MFi certification, and the premium steel and aramid fiber materials.
Our biggest reason not to pick up the Air Quad is because, as we saw
hands-on at CES 2020
, the Air Omni is getting ready to launch. Air Omni follows a similar design but the USB-C and Lightning cables are swappable, there is a USB-C and a USB-A port on the right side of the dock, and a small LED-illuminated drawer is integrated to the front right. It will carry a higher price tag, but if you have six devices to charge at once, it may be the preferable model.
Pros
Premium materials


Fast charging


MFi certified


Charges up to four devices at once


Works with iPad over Lightning or iPad Pro with USB-C
Cons
Can be cramped with AirPods Pro and iPhone 11 Pro Max


Can't change between USB-C and Lightning after purchase


Aramid fiber design can come off as too modern
Rating: 4 out of 5
Where to buy
Pitaka's Air Quad can be
picked up direct from Pitaka
in either Lightning or USB-C versions for $199 and they will begin shipping February 5th.