Apple 16-Inch MacBook Pro vs Lenovo X1 Extreme Gen 2 - portable power head to head
The 16-inch MacBook Pro is an exceptional machine that caters well to Apple's audience. But for those that consider themselves platform-agnostic, there are other similar machines that are worth considering. Let's compare the new 16-inch MacBook Pro to one of those machines from Lenovo.
Lenovo X1 Extreme (left) and Apple's 16-inch MacBook Pro (right)
Apple's
16-inch MacBook Pro
is the machine that many Mac users have been waiting for. It has slimmed-down bezels, impressive power, and all of Apple's latest technology. Steadfast Apple users may see the upgrade as a no-brainer, but for others, there are other options to consider. Particularly within the Windows PC space.
One of the Windows machines that closely matches up with the 16-inch
MacBook Pro
is the second-generation Lenovo ThinkPad X1 Extreme.
Apple 16-Inch MacBook Pro vs Lenovo X1 Extreme Gen 2 specifications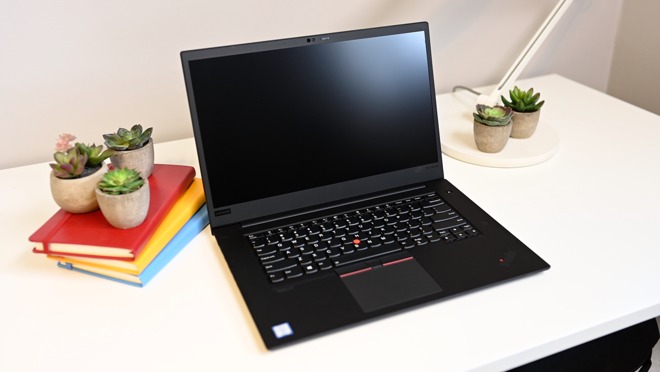 Lenovo X1 Extreme gen 2
The Lenovo X1 Extreme Gen 2 model we picked up has a 15.6-inch display and is equipped with a six-core 2.6GHz i7 processor. It also comes with 32GB DDR4 RAM, a 512GB SSD, and NVIDIA GeForce GTX 1650 Max-Q 4GB graphics. That stacks up against our 16-inch MacBook Pro with its own 2.6GHz six-core i7 processor, 16GB of RAM, AMD Radeon Pro 5300M graphics, and a 512GB SSD.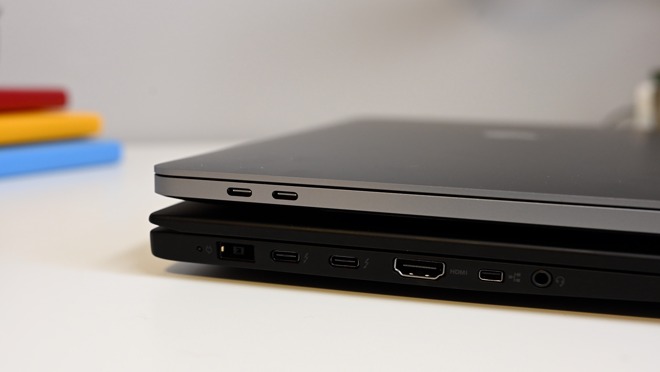 The ports on the left side of the X1 Extreme and MacBook Pro 16-inch
For ports, Apple keeps it simple with nothing but four 40gbit/second Thunderbolt 3 ports and a headphone jack. The X1 is more varied with two Thunderbolt 3 ports, a power input, an HDMI 2.0 port, an SD card reader, two USB-A ports, and an RJ45 via Ethernet Extension adapter.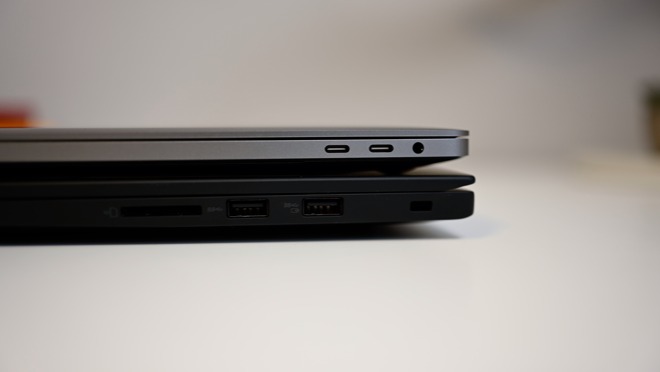 The ports on the right side of the X1 Extreme and MacBook Pro 16-inch
For those who insist on having legacy USB-A ports, the X1 has them -- though there is no shortage of adapters or updated cables to make this less of an ordeal. The X1 also has support for an Ethernet adapter though it is a proprietary dongle and not a standard port. It is also sold separately.
| | Lenovo X1 Extreme Gen 2 | 16-Inch MacBook Pro |
| --- | --- | --- |
| MSRP | $3,799 | $2,399 |
| Processor | Six-core 2.6GHz i7 processor | Six-core 2.6GHz i7 processor |
| Memory | 32GB RAM | 16GB RAM |
| Storage | 512GB SSD | 512GB SSD |
| Graphics | NVIDIA GeForce GTX 1650 Max-Q 4GB | AMD Radeon Pro 5300M with 4GB of GDDR6 memory |
| Display Specs | 15.6 inches, 500 nits brightness, matte finish, 141 PPI | 16 inches, 500 nits brightness, glossy finish, 226 PPI |
| Ports | (2X) USB-A, HDMI 2.0, Kensington lock port, (2X) Thunderbolt 3, proprietary Rj45 Ethernet port, headphone jack, SD card reader, power input | (4x) Thunderbolt 3, headphone jack |
| Authentication | Facial recognition, fingerprint | Touch ID |
| Speakers | Dolby Atmos | Dolby Atmos |
| Assistant | Cortana, Alexa | Siri |
| Depth, Width, Height | 14.2 x 9.7 x 0.7 | 14.09" x 9.68" x 0.64" |
| Weight | (Starting at) 3.76 lbs | 4.3 lbs |
Design
There are many differences when it comes to design, not the least of which is the more business-like approach that the X1 historically adopts versus the aluminum all-around nature of the MacBook Pro. The X1 has a matte black finish with relatively slim bezels around the display. An X1 logo is across from the ThinkPad logo on the top of the machine, and both are upright when the laptop is open.
Ports are equally split between both sides of the machine. Considering this machine is likely to end up in an office or college environment, it's beneficial to see the Kensington lock port on the right of the X1. Apple abandoned the Kensington lock port a long time ago.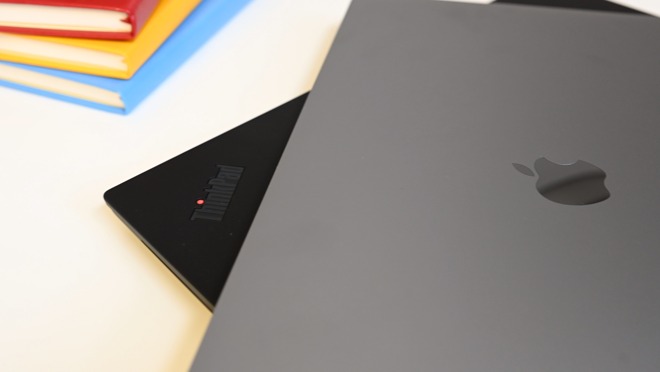 MacBook Pro on top of the X1 Extreme
Lenovo has multiple methods of authentication on the X1, including fingerprint and facial recognition. Apple has the superior Touch ID for authentication on the Mac but lacks Face ID or any other form of facial recognition. To make up for this, the Mac has the added benefit of authenticating credentials and payments via Apple Watch.
The two PC makers have different approaches to the keyboard and trackpads on each laptop and it is hard to give the edge to either one. Apple has its latest butterfly keyboard design that is quiet, fast, and very low profile. It also has a massive glass trackpad that is very much loved.
Alternatively, the Lenovo X1 has more tactile keys that sit higher and have more travel. They are a bit louder when typing quickly, which can be good or bad depending on a user's preference. In the center of the keyboard is Lenovo's signature mouse nub that is very easy to control and loved by many as well. The trackpad also can be tapped, but feature additional buttons above the tracking surface.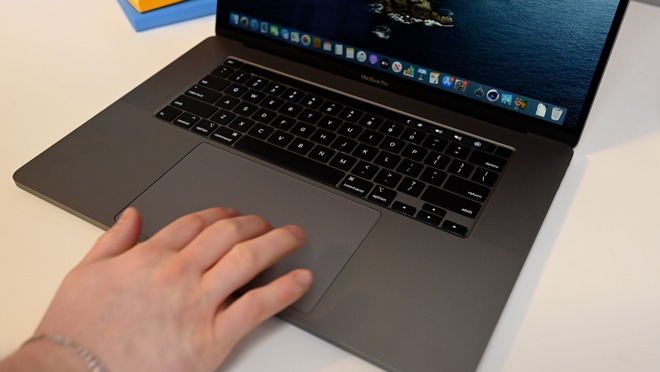 Apple's large glass trackpad
Personally, we prefer the large glass surface of Apple's multi-touch trackpad but we know users swear by the physical buttons and pointing stick. The one thing we can defiantly say we dislike about the Lenovo keyboard though is the backlight bleed. Light comes out from the keys that sit so high and can be distracting unlike the backlight on Apple's keyboard that only emits from the glowing letter, number, or symbol on each key.
Both laptops have incredible sounding speakers, even supporting Dolby Atmos playback.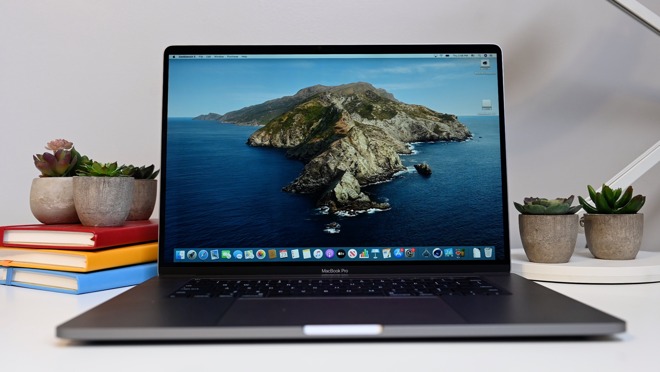 Apple's MacBook Pro has a glossy, higher-resolution display
Looking at the displays, the X1 comes in at a standard 16:9 ratio at 1920 by 1080 while the MacBook Pro measures at 3072 x 1920. That computes to a PPI of 226 on the Mac and around 141 PPI on the Lenovo. Both can achieve brightness of up to 500 nits. One drastic difference is that Lenovo opted for a matte finish while the Mac is glossy.
Lenovo does have the ability to fold completely open with 180-degrees of rotation.
Finally, Apple's laptop comes with Siri support which can be helpful if you are already in the Apple ecosystem because it can access messages, your smart home devices, and much more across your iPhone, iPad, Apple TV, and other Macs. Lenovo's X1 comes equipped with Cortana or Alexa for your preference which may be equally useful if you are tied into either of those ecosystems.
Performance
In terms of performance, the X1 pulled 2530 on Cinebench R20 and 1249 single-core and 5467 multi-core on Geekbench 5.1.
When we ran the tests on the MacBook Pro, it slightly underperformed on the single-core Geekbench 5.1 benchmark earning a 1069 but outperformed on the multi-core with a 5639. On Cinebench R20, the MacBook Pro scored a 2788, quite a bit above the X1 Extreme.
One thing that may come into play with the lower scores on Cinebench is cooling. The vents of the X1 are directly below the machine and the fans were very loud when maxed out. The Mac was significantly quieter and was able to sustain its higher speeds longer than the X1 could manage.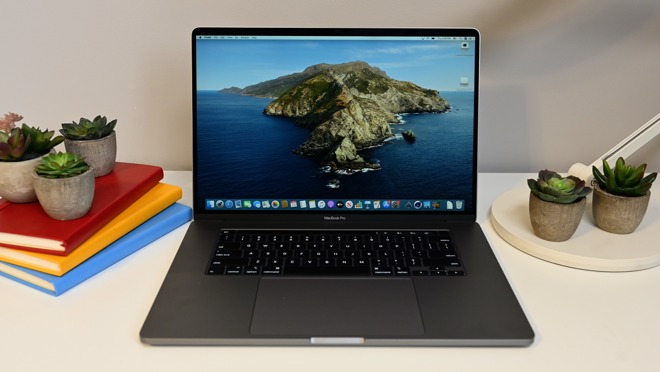 Video encoding
On the video work side, we need to talk about Intel QuickSync. Both our 16-inch MacBook Pro and Lenovo X1 support QuickSync.
On top of that, Apple also has VideoToolbox. This is Apple's low-level framework for iOS, macOS, and tvOS that provides software with access to hardware-based encoders and decoders, for the purposes of compression, decompression, and transcoding. Apple's custom T2 chip is used to accelerate video encoding, and also manages security via Touch ID and payment credentials.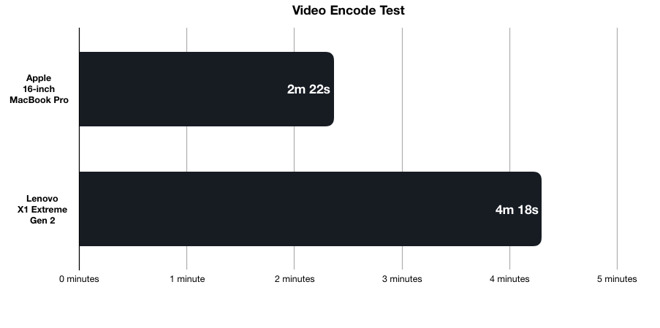 Video encoding test results
In a test
that we have run before
, that uses a custom preset for Handbrake and a master file of an AppleInsider review video, the Lenovo X1 took 4 minutes and 18 seconds while the MacBook Pro was able to knock it out in only 2 minutes and 22 seconds. A huge improvement for video professionals.
Apples versus Lenovos
In this comparison, we looked at comparable models of the 16-inch MacBook Pro versus the latest Lenovo X1 Extreme. Both can be outfitted with a wide range of improvements from more storage, to faster processors, to additional RAM. Between the two, the MacBook Pro can be outfitted more at the point of purchase, including the ability to configure it with up to an 8TB SSD.
Both of these machines can also gain significantly more connectivity through Thunderbolt 3. External GPUs, ultra-fast
PCIe storage bays
, and of course external displays.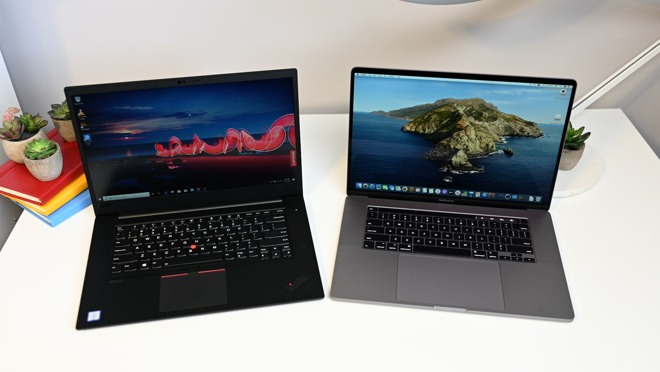 Lenovo X1 Extreme Gen 2 (left) compared to the 16-inch MacBook Pro (right)
When it comes to the actual machines themselves, it comes down to -- as it often does -- a Windows PC versus a Mac.
The MacBook Pro won out by a hair in terms of raw performance and won handily in video encoding. It has more Thunderbolt 3 ports, a higher resolution vibrant display, and the superb hardware and software integration Apple is known for. The last one is a huge factor in why users are drawn to Apple in the first place.
Lenovo offers up a larger array of various ports, a matte-finished display, additional physical buttons with the trackpad, Alexa support, facial recognition for authentication, is great for office environments, and is no slouch when it comes to performance itself.
At
AppleInsider
, it comes as no surprise that we prefer the Mac in this comparison but can appreciate the usefulness and preference people have for the Lenovo X1 Extreme. If you need Windows Hardware, you need Windows hardware. It doesn't have to be a spiteful debate between the two but the result of necessity. If you have no allegiance between the two, this comparison should give you a better idea at which to gravitate towards based on your particular needs.
Deals on the 16" MacBook Pro and Lenovo ThinkPad X1 Extreme
For a limited time, B&H Photo is knocking up to $250 off Apple's
16-inch MacBook Pro (MVVJ2LL/A)
and the
Lenovo ThinkPad X1 Extreme (20QV0008US)
exclusively for
AppleInsider
readers.
The standard 16-inch MacBook Pro with a 6-core processor in Space Gray is currently on sale for $2,149, the
lowest price available
, according to our 16-inch MacBook Pro Price Guide. Instructions for redeeming the discount can be found below.
Those wanting more RAM or upgraded graphics can also
save up to $300
on every other 16-inch MacBook Pro model with exclusive deals.
Meanwhile, Lenovo's X1 Extreme with 32GB of memory, 512GB SSD and NVIDIA GeForce GTX 1650 graphics is
priced at $2,499
at B&H. Both the Apple MacBook Pro and Lenovo ThinkPad X1 Extreme qualify for free 2-day shipping within the contiguous U.S.
Shoppers in eligible states can also
save on sales tax
with the Payboo Card, averaging out to another $170 to $200 in savings for the MacBook Pro and Lenovo ThinkPad respectively.
Lenovo itself is also currently running a special on its X1 Extreme (Gen 2) with promo code
THINKNEWYEAR
, bringing the price
down to $2,279.40
for the model we tested for a limited time only.
*Special activation instructions for B&H deals
To activate the discounted prices at B&H, you must shop through the special pricing links above or in our
16-inch MacBook Pro Price Guide
from a laptop, desktop or iPad. We apologize, but the offers cannot be redeemed in mobile apps at this time.
Need help?
Send us a note at
[email protected]
and we will do our best to assist in redeeming the deals for both the Apple 16-inch MacBook Pro vs Lenovo X1 Extreme Gen 2.