Review: Naim Mu-So 2 is the epitome of a connected Hi-Fi speaker
Naim went all-out in redesigning its flagship Mu-So connected Hi-Fi speaker. What was already an impressive speaker, becomes extraordinary in its second incarnation.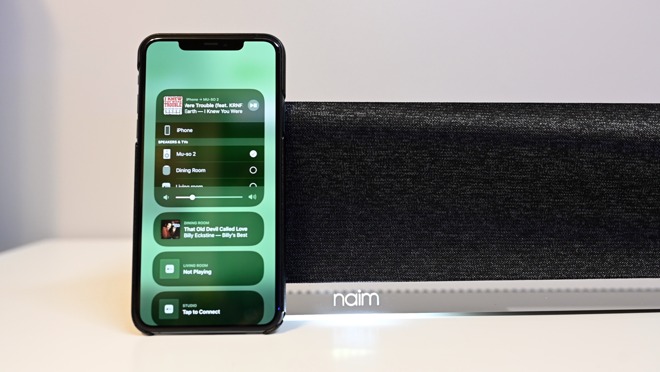 Mu-So 2 and iPhone 11 Pro Max streaming over AirPlay 2
It has been more than five years since the original Naim Mu-So debuted. In the years since Naim was not resting on its laurels. Instead, it spent the time meticulously redesigning the Mu-So 2. So much in fact, that the Mu-So 2 is 95% new internally, despite the similarities in the exterior.
Everything has been improved, from the refined design to the controls, the sound quality to the connectivity. After our
review of the original
, we didn't go looking for a second generation. But now that we do, we're happy it's here.
Design
The Mu-So 2 is a boxy speaker, long and wide and of significant heft. Aluminum largely makes up the body with a swappable grille on the front. The grille comes in black by default but is available in olive green, terracotta red, and peacock blue. The last one may be our favorite of the bunch.
On top of the Mu-So 2 is its signature oversized control wheel. New in gen two is a proximity sensor that automatically illuminates the wheel as your hand approaches. More proactive than reactive.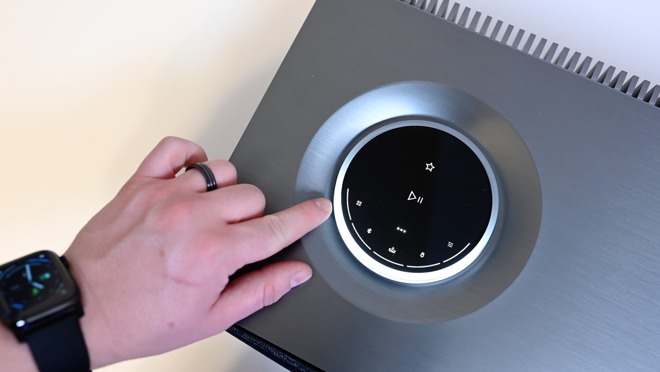 Mu-So 2 control wheel
Rotating the ring will adjust the speaker's volume, while a series of touch-based buttons control the playback and inputs. Along the top is all of your programmed presets. Below is the various inputs that you can choose between. Finally, the play/pause button, forward, and back controls lie in the center.
We enjoy using the control wheel as it is both easy as well as intuitive to use. Our only qualm may be the bright light, but that can be dimmed and otherwise doesn't impose.
Speaking of lights, the whole speaker rests on a clear acrylic block, like the first-gen, and lights up from within. Fret not, for it too is dimmable.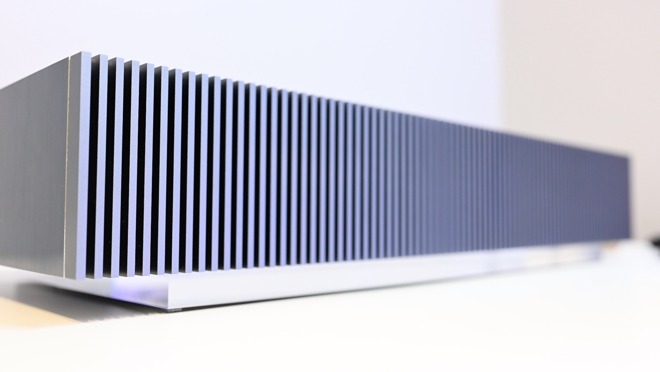 Naim Mu-So 2 aluminum heat sink
Around the back of the speaker is the same massive aluminum heat sink we saw before in the form of a plethora of vertical slats running the length of the speaker for passive cooling.
Inputs galore
There are more inputs than you'd ever need on the Mu-So 2, building on the last generation. On the side is a USB port for any USB-based media. The remaining of the hardwired inputs are located on the bottom. This is less than ideal if you are frequently needing to connect any devices. This is one of our few niggles with the Mu-So 2, but something we can easily overlook.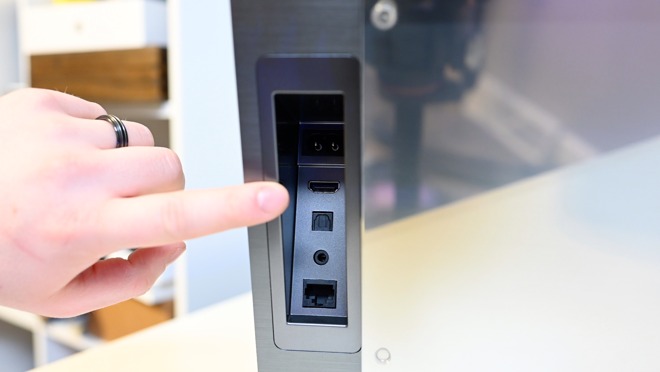 Bottom inports of the Mu-So 2
Those bottom ports include holdovers such as 10/100-base Ethernet, optical audio, 3.5mm auxiliary, and power. New to the bunch is HDMI-ARC. ARC allows the Mu-So 2 to be used much more seamlessly as a soundbar. Prior you'd have to resort to auxiliary or optical connections. ARC not only simplifies it, but lest the entire AV system be controlled through one remote.
The only issue with using the Mu-So 2 as a legit soundbar is its height. In front of a standard TV, the Mu-So 2 will likely sit too high, obfuscating the lower portion of the TV. Have your TV mounted or on a stand, this is a non-issue.
Hardwired inputs are welcomed. but we've no doubt many will turn to wireless with the updated Mu-So 2. Naim is revamped the wireless connectivity to include support for dual-band Wi-Fi at 2.4 and 5GHz.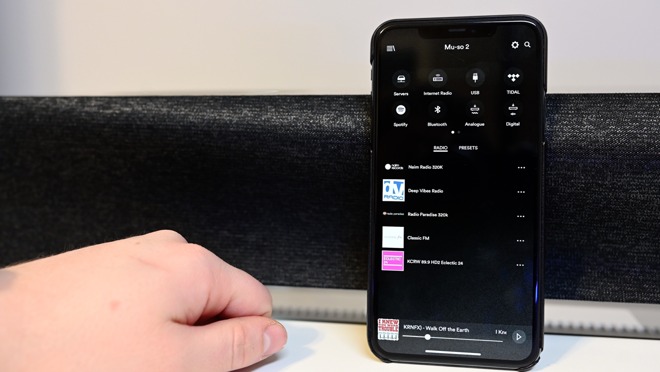 The Mu-So app
Users can stream Tidal from the Mu-So app, Spotify through Spotify Connect, internet radio, audio through Bluetooth, or most excitedly for Apple users -- AirPlay 2.
AirPlay 2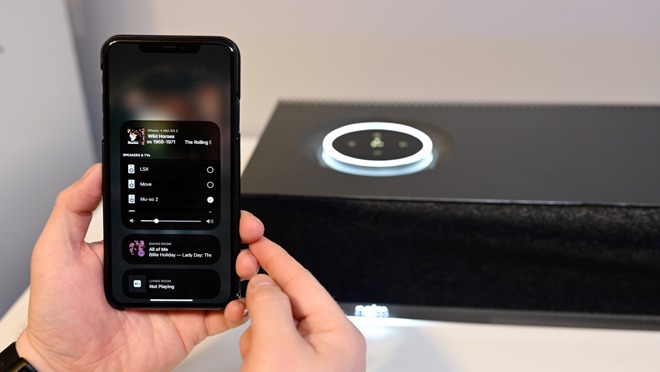 Using AirPlay 2 with the Mu-So 2
Via AirPlay 2, users can stream to the Mu-So 2 alongside any other AirPlay 2 speaker from other manufacturers. Personally, I can stream to the Sonos Play soundbar in the living room, the HomePod in my kitchen, the Safe & Sound on my ceiling, and the Mu-So 2 in my studio all simultaneously for whole-home audio.
It is easy and works from any Apple device such as Apple TV, Mac, iPhone, and iPad. Especially when the Mu-So 2 comes as a high-end option, it allows it to play nice with other devices deployed throughout the home.
AirPlay 2 has additional advantages -- it works via HomeKit. Just open the Home app, tap add accessory, and it will pop up ready to be given a name and assigned a room.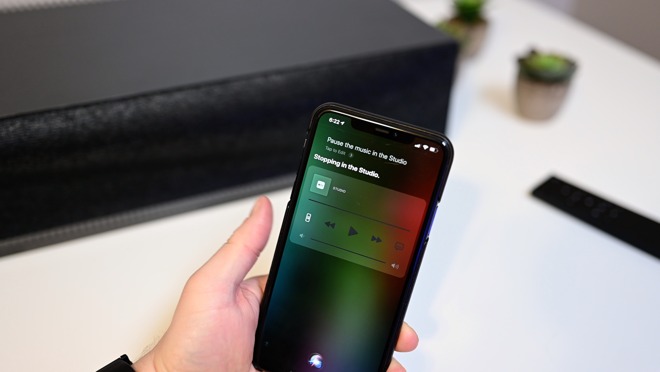 Siri controlling the Mu-So 2
Once added to HomeKit, the speaker can be controlled via Siri. Raise or lower the volume, control payback, or kick off a playlist just using your voice. You can call out the speaker by name, or based on the room it is in. Effortless, especially with Siri so accessible on Apple's hardware.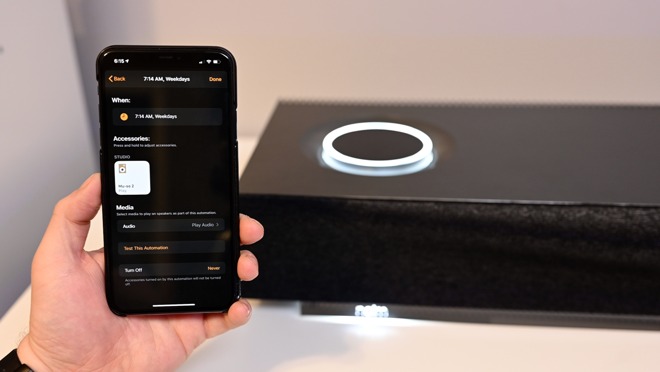 HomeKit scene example in the Home app with the Mu-So 2
HomeKit even lets you tie the speaker into scenes. Maybe a party scene turns your Hue lights to fun colors, closes the blinds, and starts playing your "party" playlist at high volume. Or your "exercise" scene closes the blinds, lowers the lights, and turns up your high-intensity playlist. We like to use the speaker for our morning scene. When our alarm goes off, our speaker kicks in with our early morning playlist to get us into a positive mood for the day ahead.
Audio performance
As stated, Naim redesigned much of the cabinet of the Mu-So 2. In doing so, Naim managed to increase the rigidity to tamper any vibrations or resonance that emanate. It also managed an additional 13-percent additional internal space which helps push the bass even further. In our testing via multiple methods of input, the increased bass was easily noticable.
This speaker also jumped up from 450 to 475 watts of power. The last-gen was loud, and this model is even louder. We couldn't push it past 75% max volume in our home. Not due to audio quality, but comfort level at that volume.
To further improve audio, Naim has boosted the DSP. The digital signal processor now does 2,000 million instructions per second compared to a paltry 150 MIPS on the gen-one unit.
This enables better audio and other features such as a room compensation algorithm to assist when placed against a wall. We noticed only small changes here, and likely doesn't do near as much as Sonos' TruePlay tuning or the HomePods auto EQ.
The cumulative effect of all the above is louder, more defined sound with a more substantial sound stage. There is little doubt this is one of the most impressive-sounding speakers we've tested.
Bass is powerful enough to feel in your gut, and a stripped-down acoustic performance from our playlist sent shivers down spines.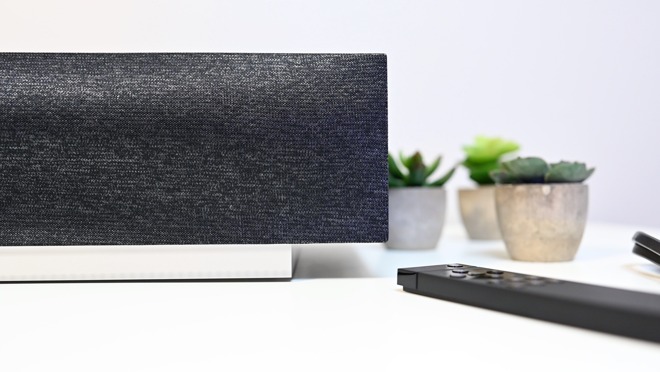 Naim Mu-So 2 comes with a remote control
Regardless of your genre of choice, Mu-So 2 delivers. We love our Marshall speakers though they excel best with rock whereas Mu-So 2 fits in no matter what we tested.
Even as we used the device as a soundbar. While watching Zombieland 2 the background music was vibrant, gunfire and explosions were powerful and rumbling, while the dialogue was clear and forward. Great separation of layers.
Should you buy one
Naim has priced the Mu-So 2 at the upper end of the market. Even more so than the original Mu-So. But it isn't without justification. It improved every detail of the original experience.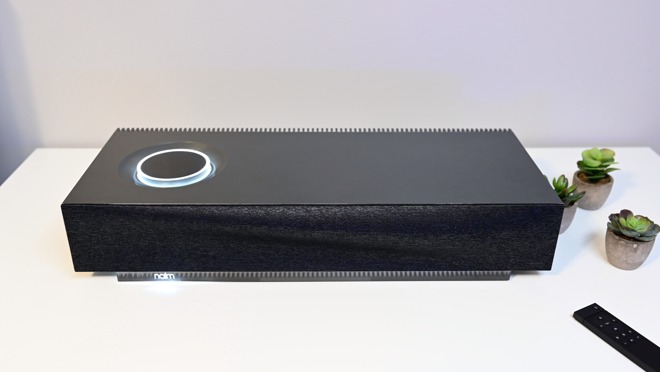 Naim Mu-So 2
If you were to price out all the components separately you'd be out considerably more to reach the same level of performance as the Mu-So 2.
We've been floored by the performance of the Mu-So 2, especially when it comes to Apple users and AirPLay 2.
Pros
Several inputs


Support for AirPlay 2 and HomeKit


Increible audio


Countless improvements over first-gen


Sleek design with swappable grilles


Massive sound


Ability to be used as a soundbar
Cons
Bottom ports are hard to access


May be too tall for a soundbar on some TVs
Rating: 5 ouf of 5
Where to buy
To pick up the Naim Mu-So 2, you can venture over to
Amazon where it runs $1,599>
or you can also find it on
Adorama where it is similarly priced
.