Review: Vocolinc Flowerbud HomeKit-enabled humidifier works better as a diffuser
The Vocolinc Flowerbud is the only HomeKit-enabled humidifier that also can act as a smart diffuser, though it does the latter much better than the former.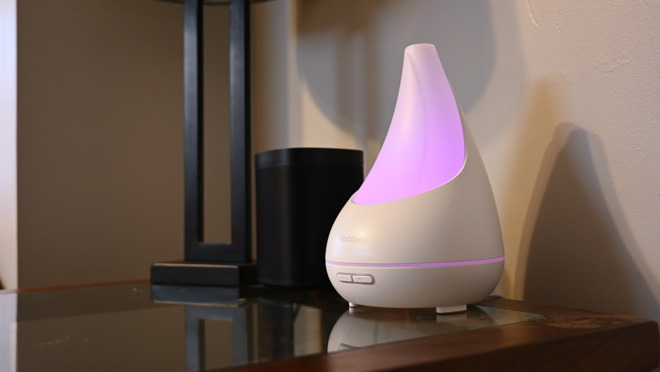 Vocolinc's Flowerbud HomeKit diffuser
If you were to venture to
Apple's HomeKit accessory micro site
that lists out all
HomeKit
accessories on the market, you will only see one device listed for humidifiers: the Vocolinc Flowerbud. While it technically can act as a humidifier, it is more notably a HomeKit diffuser.
It may be shy of the mark for a true humidifier, but don't count this oddly-shaped device out yet. It very much still can serve a purpose in your home.
Design
The Vocolinc Flowerbud is an interesting looking device. It is tall and curvy, and may stick out as it is placed in your home.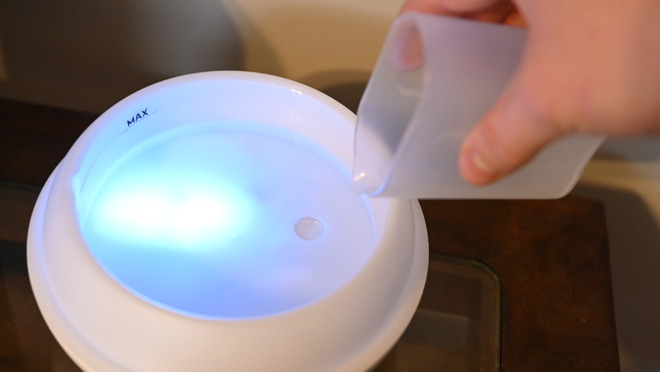 Refilling the water reservoir of the Vocolinc Flowerbud
There is a base portion that acts as a basin for the water with or without essential oils that also houses an LED light. Then there is the top portion that sits upon it like a hat, which acts as a diffuser for the light as well as a tunnel for the diffused water to be channeled through.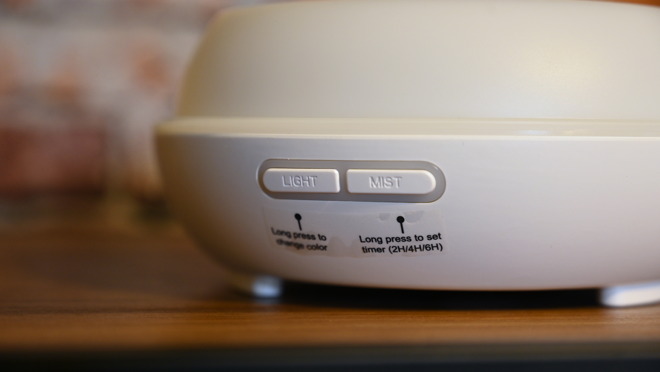 Physical controls on front of the Vocolinc Flowerbud
On the front are two buttons to turn the light on or off (as well as to change the color) and to control the mist (as well as the sleep timer). Otherwise, there is a power cable that connects underneath. Vocolinc also includes a small water cup to make filling the device easier as well.
As a humidifier
Apple lists the Vocolinc Flowerbud as a humidifier, though Vocolinc itself primarily touts its ability as a diffuser first and foremost. After testing, it is easy to see why.
While we are in the thralls of winter, my home is exceptionally dry. I've had to turn to a humidifier too many times to make it more comfortable and prevent issues like dry skin. Without any official HomeKit options on the market, I had to just use a smart plug to a standard "dumb" humidifier for control.
When I saw the Vocolinc Flowerbud, I was intrigued at how it could help. I set the device up in our bedroom, filled it with water, and monitored the humidity level on my Eve Degree that was placed nearby.
After a short time, I did notice the humidity level in the room rose, but not by all that much. Our fairly small bedroom went from 37% humidity to 41% humidity in roughly an hour.
Typical indoor humidity should be 40-50%, so technically this got us into the window, but just barely. That was also in the near vicinity of the Flowerbud. Across the bedroom, the effects weren't as noticeable.
Vocolinc says that as a humidifier, it works best in rooms of under 400 square feet. Our bedroom qualifies for that but it still seems underpowered. If you are buying this with the sole intent of a humidifier, I'd perhaps lean towards a larger standalone unit and outfitting it with a HomeKit smart plug.
As a diffuser
When it comes to a diffuser, however, things were much better. We were able to add essential oils to the Flowerbud to add some aromatics to our home.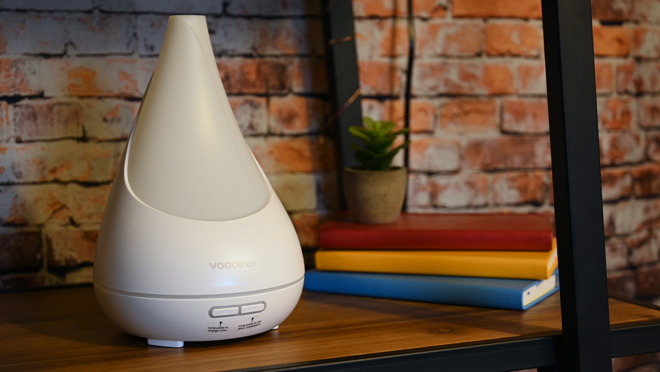 Vocolinc Flowerbud on a shelf
Flowerbud can work on a timer, so you can have a good morning scene that will wake you up with natural light as well as fragrant smells to energize you for the day. We very much appreciated this as we tested it out.
It is a cold diffuser, which means the air that comes out of the top as a cold mist rather than warm steam.
When we compare this to other diffusers, we would take this in a heartbeat. It does help, however mildly, with humidity alongside acting as a diffuser and even has an adjustable light for ambiance.
All of which can be controlled via Siri, HomeKit, or automated with scenes and triggers.
HomeKit-enabled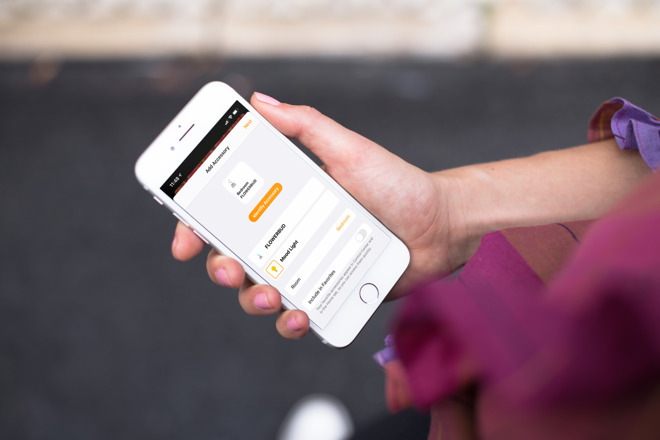 Setting up the Vocolinc Flowerbud in Apple HomeKit
What is truly unique about the Vocolinc Flowerbud is its HomeKit connectivity. As mentioned, this allows you to control the device from your iPhone, Apple Watch, iPad or using your voice a la Siri.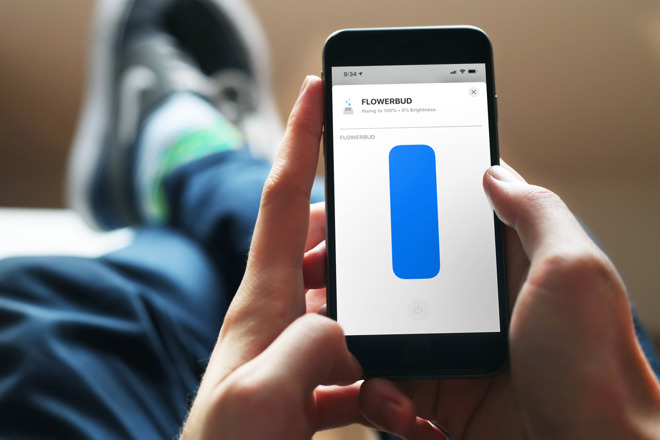 Controlling the humidifier in Apple's Home app
Since this doesn't entirely fit as a "humidifier" it makes things awkward in the Home app. The Home app allows you to set the desired humidity level, but the Flowerbud can't detect humidity levels.
So you set the desired level at 100%, but then you still have to make sure to tap the power button to actually turn it on. For a moment, it can be a bit confounding.
More confusion arises with the name. Even though this is marketed as a diffuser, if you ask Siri to turn the diffuser off, she won't know what you mean. You have to be sure to call it a humidifier even if you don't use it for that ability.
The easy way to get around this is to just name it inside of HomeKit as "diffuser" and from henceforth it will be recognized by that epithet.
Both the light and the humidifier can be controlled independently from the Home app, including full-color choice of the light.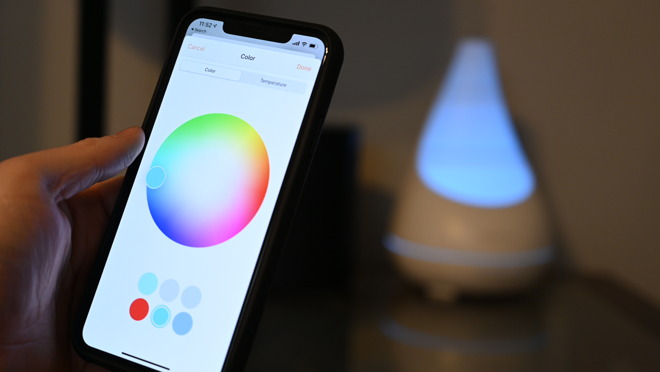 Controlling the LED light inside the Vocolinc Flowerbud through HomeKit
Thanks to HomeKit, there are many different applications of the Flowerbud. For example, paired with an environmental sensor like the Eve Degree, you can turn the humidifier on or off based on the humidity level, or turn on the diffuser if the air quality is low. It can be scheduled to go on and off at different times of the day, and can automatically go off with a sleep timer.
There are of course many other options as well.
Should you buy the Vocolinc Flowerbud?
If you want a HomeKit-enabled humidifier alone, look elsewhere. However, if you like the multi-faceted approach of the Flowerbud between the humidifier, diffuser, and light, then this device is a sure thing.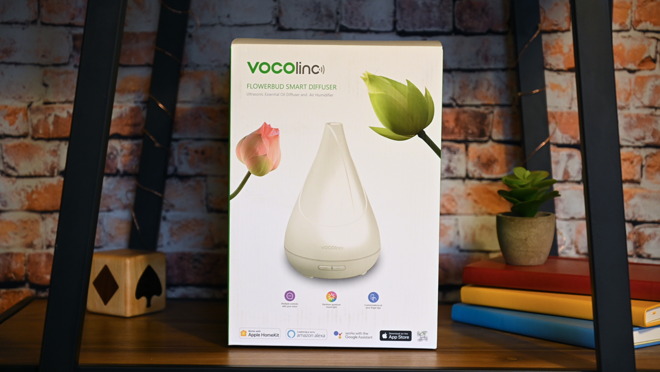 Vocolinc Flowerbud Box
In our testing, it has been reliable, responsive to our requests, and has been a welcomed addition to our home and HomeKit setup.
Pros
Acts as a diffuser, humidifier, and light


HomeKit-enabled for easy control, scheduling, and automation


Easy setup and use


Great diffuser


Works with Alexa and Google Assistant as well
Cons
Difuser isn't a real HomeKit category


Controlling humidifier can be confusing on first try


Humidifier isn't very strong or work in large rooms


Polarizing design
Rating: 3.5 out of 5
Where to buy
Vocolinc's Wi-Fi smart aroma diffuser is available
on Amazon for $49.99
.