Judge denies Apple request to dismiss iPhone 7 'Loop Disease' class action lawsuit
Apple's motion to toss a class action lawsuit targeting an iPhone 7 audio defect dubbed "Loop Disease" was denied in part by a California judge on Thursday, allowing three claims to move one step closer to injunctive relief.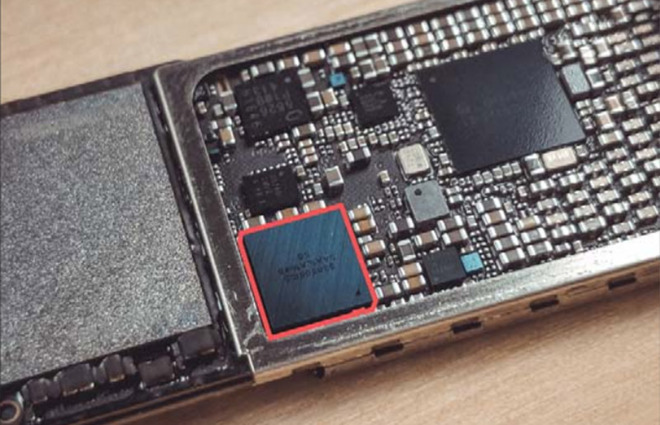 Apple's audio controller chip (highlighted) in iPhone 7 is at the core of the "Loop Disease" issue.
U.S. District Court Judge Jon Tigar in
an order
filed with the Northern California District Court found Apple failed to present reasonable arguments to dismiss plaintiffs' claims for breach of implied warranty under California law, violations of the Magnuson-Moss Warranty Act and unjust enrichment.
Apple moved to dismiss claims grounded in fraud and assertions for injunctive relief on the basis that each lacks constitutional standing. Those attempts failed.
Plaintiffs' common-law fraud claims, however, did not survive Apple's motion to dismiss because, in part, plaintiffs failed to provide evidence that they relied on Apple advertisements touting new audio features when purchasing the device. Apple argued for dismissal under Federal Rule of Civil Procedure 9(b), which as it applies to fraud holds "a party must state with particularity the circumstances constituting fraud or mistake. Malice, intent, knowledge, and other conditions of a person's mind may be alleged generally."
Judge Tigar found the tech giant's arguments failed in light of precedent and declarations filed by plaintiffs in response to its motion to dismiss. Further, plaintiffs satisfied Article III requirements, insofar as it applies to the current stage of proceedings, by stating they would not have purchased iPhone 7 had they known about the audio defect.
The order accepts as fact that Apple knew or should have known about the audio defect following pre-release testing, acceptance of customer complaints and wide media coverage. Apple also distributed an internal document detailing an
iPhone 7 speakerphone problem
and in 2018 fielded a temporary repair program to deal with the issue.
Plaintiffs have 21 days to file an amended complaint if they wish to reinstate the dismissed claims.
First
filed in May 2019
, the class action asserts Apple attempted to conceal an iPhone 7 and
iPhone 7 Plus
defect that could in some cases cause problems with device audio features. An identical class action was filed in Illinois court
a week earlier
.
Dubbed "Loop Disease," the issue is thought to be the result of sub-par casing materials that fail to protect sensitive internal components, namely iPhone's logic board. This "substandard" casing flexes at a point directly over the audio controller, causing failures in the solder connecting the chip to the logic board.
Common symptoms of "Loop Disease" include degraded handset audio functions and "grayed out" speaker buttons while in calls, loss of voice command capabilities for Siri, an inoperable Voice Memos app, degradation of microphone fidelity and other related issues.