Dating apps under investigation for allowing minors to sign up
The U.S. House Oversight and Reform subcommittee is investigating a number of popular dating apps, including Tinder and Bumble, on claims that they allow minors to sign up for the services, and are potentially matched with sex offenders.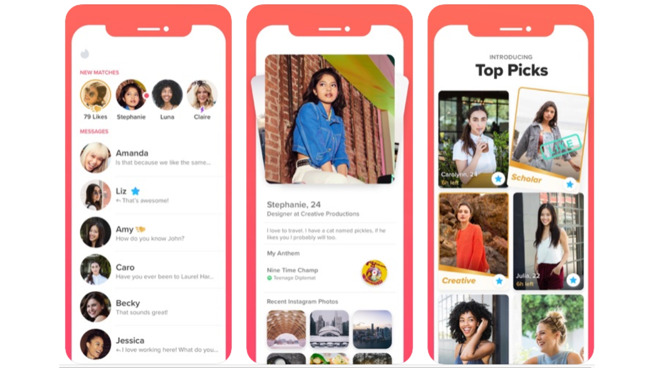 The committee has sent
letters
to Match Group, Meet Group, New Grindr and Bumble Trading for more information about user screening processes for apps like Tinder and Grindr. The letters are sent in response to a number of reports alleging the major dating apps had failed to properly keep underage users from signing up.
It is claimed in the letters the relaxed policing of younger users "creates dangerous and inappropriate situations,"
reports
The Next Web
. The four companies have been asked to provide details, such as the age of its users, how it verifies ages, and complaints relating to instances of assault, rape, or use by minors that have been reported to the firms, and to do so by Feb. 13.
"Our concern about the underage use of dating apps is heightened by reports that many popular free dating apps permit registered sex offenders to use them, while the paid versions of these same apps screen out registered sex offenders," said subcommittee chairperson Raja Krishnamoorthi. "Protection from sexual predators should not be a luxury confined to paying customers."
The report referenced by the subcommittee is a joint
investigation
by
ProPublica
,
BuzzFeed
and
Columbia Journalism Investigations
from 2019, which uncovered more than 150 instances of alleged sexual assault that involved dating apps. The same report also found 10% of the instances involved matches between users where one was previously accused or successfully convicted of sexual assault.
The committee highlights
one case
from June 2019, when Joseph Meili pled guilty to third-degree child molestation in Missouri after being charged with sodomy, statutory rape and kidnapping of an 11-year-old girl he found via a dating app. Reports from the United Kingdom are
also referenced
, where pedophiles used the apps to abuse children as young as 8 years old.
Another component of the investigation involves user data, and reports the apps are "inappropriately selling or sharing intensely personal and sensitive information." These include items such as sexual orientation, preferences, gender identity, drug and alcohol use, tobacco usage, employment, and their political views.
The issue of data harvesting, which can allow marketers to build a profile of a user's existence, has become a hot-button topic in recent months. One recent report found antivirus tool producer Avast was
selling data
on its users to other companies, including visited website URLs and search queries.
So far, none of the firms written to by the subcommittee have responded to the request, but previously Match Group called the joint investigation "disingenuous" and "inaccurate." The company stopped short of stating what was incorrect. Match did admit to not being able to provide thorough-enough background checks due to not acquiring enough data to perform them.
"As technology evolves, we will continue to aggressively deploy new tools to eradicate bad actors, including users of our free products like Tinder, Plenty of Fish, and OkCupid, where we are not able to obtain sufficient and reliable information to make meaningful background checks possible," Match said in 2019.