Mac Pro, Coronavirus, and Apple TV+ awards - January 2020 in review
What a difference a year makes. Apple began 2019 as a technology company but it's started January 2020 as a television, news, gaming and financial firm too -- and it may be that mix that meant it would not only cope with the
coronavirus
of 2020, but grow even bigger.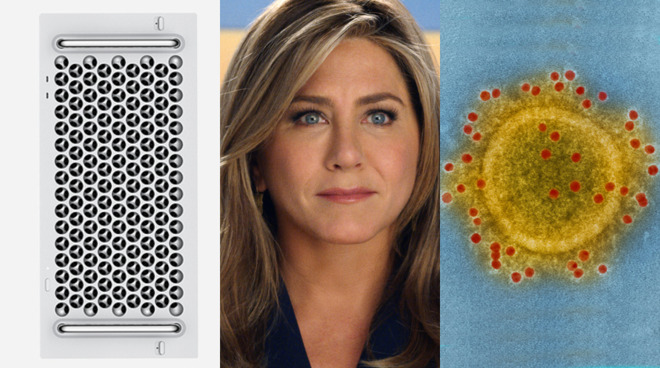 January 2020 for Apple. L-R: Rack-mounted Mac Pro, Jennifer Aniston in "The Morning Show", and the Coronavirus
At a casual glance, Apple was facing much the same issues in January 2020 as it was a year before. There were problems for the company with China, it was at the center of multiple controversies, and it didn't exhibit at the Consumer Electronics Show. Yet if there were familiar issues, still the Apple of January 2020 was not the same company that it was in January 2019.
For one thing, at least an Apple icon did make an appearance at CES. Samsung proudly showed off its new Samsung Pass security feature on stage there. We may have missed exactly what it's for, though, because all anyone could talk about was how it
includes an icon
we see every single time we pick up our iPhones.
If you were betting that Samsung would change this after being caught out, you were right. The later press materials and the software releases have a new Iris icon instead.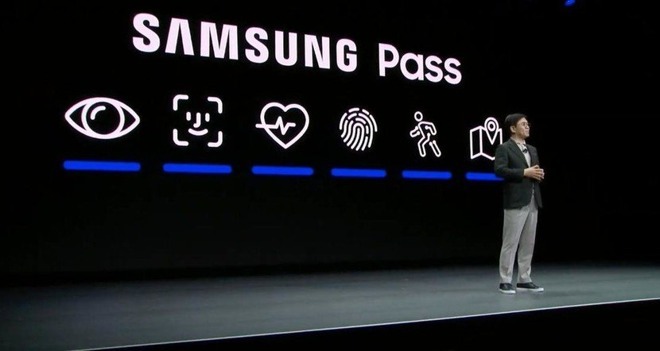 No one will ever notice the second icon from the left, you're fine. (Source: iMore)
Speaking of releases, though,
AppleInsider
took this chance to examine Apple's complete ignoring of CES for 15 years -- and how
instead of announcing products
at the trade show, it actually made and released them. For CES 2020, the company again had no need or desire to put up a stand, but it did contribute to a discussion about security.
Apple's senior director of global privacy, Jane Horvath, spoke on a panel specifically to defend the
company's stance on hardware encryption
.
She specifically underlined her key position that while Apple will help law enforcement as much as it can, it will not create a backdoor. Apple recognizes the problems that agencies like the FBI faces, but as it had said back in the San Bernardino case, breaching user privacy is not the solution.
"Building back doors into encryption is not the way we are going to solve those issues," she said.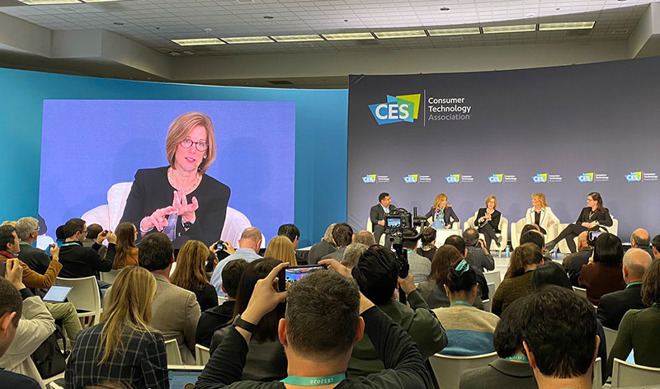 Jane Horvath participates in privacy roundtable at CES 2020. | Source: Parker Ortolani via Twitter
The FBI didn't exactly say "challenge accepted," but on the same day that Horvath said this, the agency put Apple back under precisely the same pressure it had before. This time it was in response to December 2019's shootings in Pensacola, Florida, and the
FBI wrote to Apple
asking it to unlock a gunman's two iPhones.
Apple said that it had given all the help it possibly could, but this time then US Attorney General William Barr
added to the heat
, and
so did President Trump
.
Expectedly, that one was not sorted out by the end of the month. Or the year.
Temporary problems
Whereas the discovery that Apple was using your location data even after you said no, that did get fixed quickly. It was found that the
ultra-wideband chip was periodically checking
location data and Apple added an off switch in the next iOS update.
Similarly, we might have been a bit too enthusiastic about Apple Pay Express Transit since it sped us up racing through London. For New Yorkers found that because of a presumably now fixed bug, they were
getting charged twice
at subway turnstiles.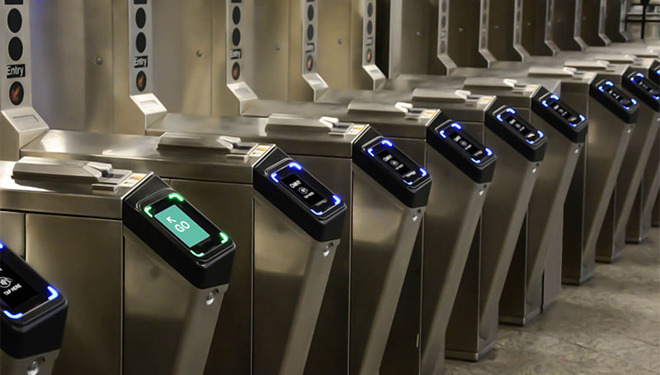 Apple Pay Express Transit is tremendous. Except when it charged people twice.
Apple did at least get some new and perhaps unfamiliar problems this month, and they were all because of
Apple TV+
. The new show "Servant," from M. Night Shyamalan, was sued by the creators of a 2013 movie, "The Truth About Emanuel." You can never rule out what may happen with appeals, but in July 2020 the case was thrown out -- and "Servant" has gone on to a second season, which will air in January 2021.
Speaking of objections and legal cases, surely Apple has also never had a family ask them to not release an iPhone. But a family involved with Apple TV+ movie "The Banker" had done just that late last year and Apple had pondered.
In this month, it decided to go ahead with a
new March release date
, and the
family asked again
.
The harsh spotlight
Apple TV+ has put the company into new areas where it can excel -- or be extremely harshly criticized. This month was the first time, for instance, that
Tim Cook
dressed up nicely for a television awards ceremony, and that necktie may have got a little tight when the speeches started.
For this was the Golden Globes event, and host Ricky Gervais gave an oddly-worded but forceful dressing-down. It was odd because he started it pointing at Apple but midway through you realised he was really
attacking all the Hollywood stars
for working with Apple, Amazon and others.
"Apple rolled into the TV game with a superb drama about the importance of dignity and doing the right thing," began Gervais, "made by a company that runs sweatshops in China."
"So you [the celebrities in the audience] say you're woke, but the companies you work for, unbelievable," he continued. "Apple, Amazon, Disney, if ISIS started a streaming service, you'd call your agent, right?"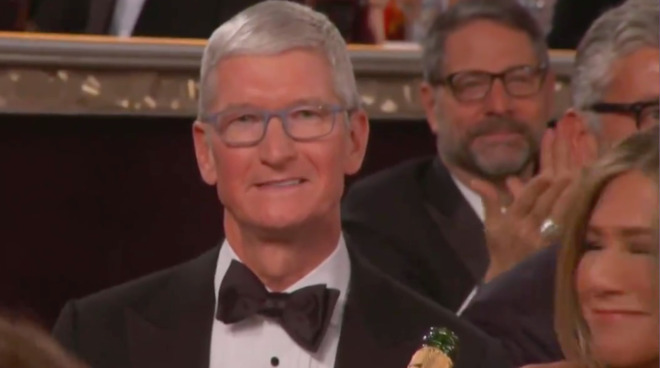 The face of someone being roasted by Ricky Gervais.
The Apple TV+ drama he referred to was "The Morning Show," which was that night up for its first-ever award -- and didn't get it.
However, about a week later, the series did it.
Billy Crudup earned Apple
its first drama award win as he took the best support actor trophy from the Critics' Choice Awards.
Then one week after that, Jennifer Aniston brought home the
best actress
title from the Screen Actors' Guild.
In terms of awards, "The Morning Show" is the most high-profile Apple TV+ series, and it is one of the few that has much buzz around the industry. Apple TV+ has actually a remarkable slate of programming without a single actual dud in the mix, but as
AppleInsider
pointed out in January 2020, there's
no Baby Yoda yet
.
It does take just one breakout hit show to raise the tide for a whole streaming service, though, and Apple is making many, many new shows. From its own announcements, Hollywood's leaks and our own off the record discussions with producers, we knew back in January that Apple TV+ had some seriously promising series to come.
Apple is just finding that television is a peculiar business with unexpected problems -- such as when your most high-profile signing backs out of a show that you've been banking on doing extremely well.
Oprah Winfrey had been executive producing and featuring in a documentary about sexual assault. But in January she announced that she was leaving it -- and the
documentary won't now air
on Apple TV+ as expected.
She will, however, be the subject of one profile in a
series of biographies
on Apple TV+ called "Dear."
Back to hardware
Apple is now this television studio, and it is this financial services company with
Apple Card
, and it is this news organisation with Apple News+. It's also a games company with
Apple Arcade
.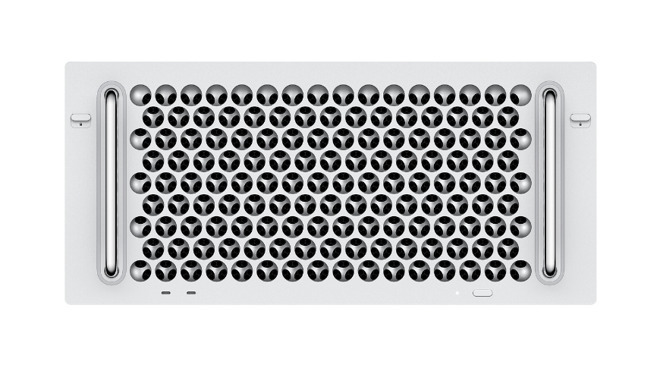 The new most-expensive-Mac ever. In January 2020, users could finally buy the rack-mounted version of the Mac Pro, for $6,499.
However, it does still occasionally make computers and one of them was quietly released this month. We had the basic
Mac Pro
in December, but now Apple
released the rack-mounted version
. If you're going to buy a dozen Mac Pro machines for your company, this is the way to do it. From $6,499 per machine. About the only thing you could say against the Mac Pro, you couldn't back in January: then it was the most powerful Mac ever, now you have to wonder about forthcoming
Apple Silicon
versions.
There were also the usual slew of rumors which say we're getting a new
iPad Pro
soon, and a new "
iPhone SE 2
" any day now.
And when Apple announced its earnings for the last quarter, it was hardware that still brought in the cash. Naturally, the company only shouts about the good figures, but
they were very good
-- and unexpectedly so.
The numbers even included significant improvements for Apple in China. Remember that this time last year, China was a big blow to the company and it was going to take steps to improve its sales there.
You have to give them credit -- by giving customers trade-ins, price discounts and
latterly credit
-- Apple
turned China around
.
It's just that you know where this is going. Apple's fortunes in mainland China
will
be affected by the
Coronavirus outbreak there
. You can't compare the deaths in China to Apple making a little less money. Yet if we ever question just how global our Earth is, it's issues like this that show just how dependent we all are on each other.
Analyst Ming-Chi Kuo has identified
five different ways
this one outbreak could significantly impact Apple, and other companies, as we head into February 2020 with no clear end in sight.
Keep up with AppleInsider by downloading the AppleInsider app for iOS, and follow us on YouTube, Twitter @appleinsider and Facebook for live, late-breaking coverage. You can also check out our official Instagram account for exclusive photos.