Review: The BenQ ScreenBar saves space while brightening up your desk
Whether you've got a small desk setup or you're just tired of giving up space for a desk lamp, BenQ's ScreenBar is here to save the day with its over-the-monitor light.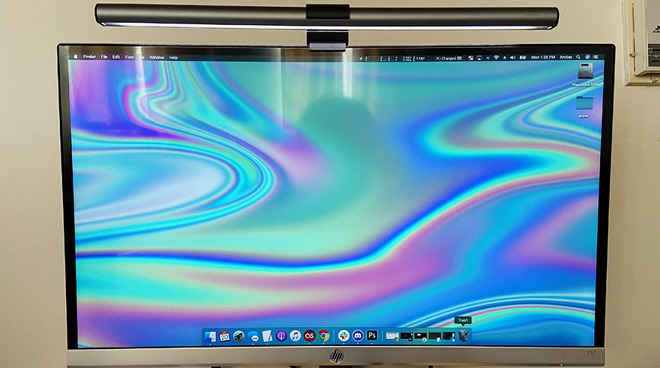 The BenQ ScreenBar goes on top of your monitor, but nstead of physically clipping to your screen, it features an ingenious weighted hanging design. There's enough weight that it feels secure, yet it can easily be adjusted or removed when needed. The weighted hanger fits most monitors as it can accommodate screens that are anywhere between a quarter to a half-inch thick.
The ScreenBar gets its power from a USB port, so if you've got a monitor that can support this, it will free up the three-pronged outlet a traditional lamp would require. Unfortunately, our monitor doesn't feature a USB port, so we still needed to use a AC-to-USB adapter to provide power to our ScreenBar.
The length of the ScreenBar -- which is just about 18 inches -- is adequate to light up most workspaces without casting too much light where you don't need it. We think that this could easily be at home in a dorm room for students who like to study into the wee hours of the morning but may not want to have lighting so bright that they'd disrupt their room mate's sleep.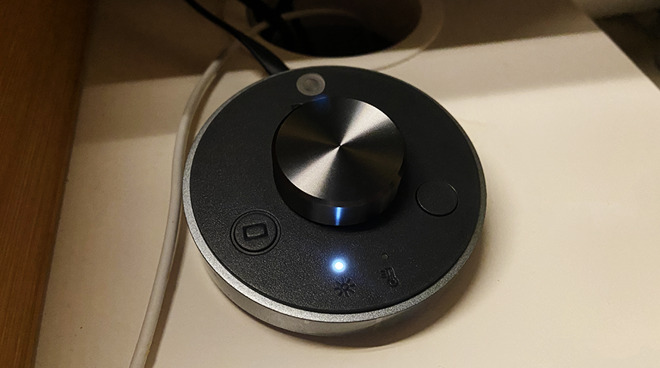 The BenQ ScreenBar also includes a Desktop Dial, a small puck-shaped device that gives you the ability to adjust the settings easily. The dial is similar to the hotkey puck that comes with some
BenQ monitors.
. The small size means it fits into even the smallest workspaces, while the easy to operate knob allows you to turn on the light even in the darkest of rooms.
Features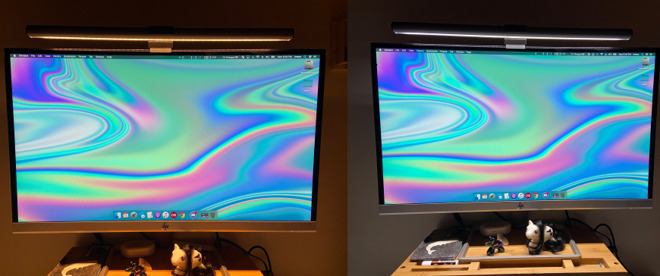 The BenQ ScreenBar allows for both warm and cool toned lighting.
The best feature of the BenQ screen bar is the ability to adjust the temperature and brightness of the light with the Desktop Dial. At maximum brightness, the lamp is about 1000 lumens bright -- a little more than a 60-watt incandescent bulb. According to BenQ, you're able to adjust the light across 14 different brightness levels -- though we found some of them relatively subtle and hard to notice. There are also eight different color temperatures to choose from, ranging from a crisp blue-white to a warmer yellow.
The Desktop Dial features an ambient light sensor that allows the light to adjust to the lighting of your room automatically. We like a warmer light, so while we appreciated this mode, we didn't use it much.
Where it could be improved
While this is a perfectly serviceable lamp -- and a nice one to boot -- we do have a suggestion for future iterations. We would like to see a lower minimum brightness setting. As it stands, the lowest setting still feels rather bright.
Who is this for?
If you're a person who has reads any physical media at your desk, be it printed reports or books, this is a great lamp. The ability to change the temperature of the light is also much appreciated, especially if you tend to be sensitive to eyestrain brought on by certain color temperatures.
It'd also be a boon to anyone who reads on an e-ink display, especially if you've not upgraded to one with a backlight.
Of course, the ScreenBar is a significant space saver, removing the footprint of a lamp entirely from your desk area. Desk space can be a real commodity for some folks, so getting back even a couple square inches could be a great benefit.
And, as BenQ suggests, by putting the light in front of your screen and angled away from it, you reduce any would-be glare that you'd get from many other lamps.
Overall
The BenQ ScreenBar might not be for everyone, but if you're in the market for a desk lamp that offers a minimal footprint, adjustable brightness, and color temperature, or doesn't cause unwanted glare on your screen, it's a great lamp.
Where to buy:
If you want to snag your own BenQ ScreenBar, you can
grab one from Amazon for $129.99
. If you don't need the Desktop Dial, you can get a ScreenBar for just $99.
Rating: 4 out of 5 stars
Pros

Desktop Dial makes selecting color temperature and brightness easy

Secure fit without tapes or damaging hooks

Does not add glare to screen
Cons

Minimum brightness is still a bit too bright