Review: Eve Energy continues a winning HomeKit formula
After being announced at CES 2020, the redesigned Eve Energy is now available. We've spent the last several days testing it out to see how it measures up.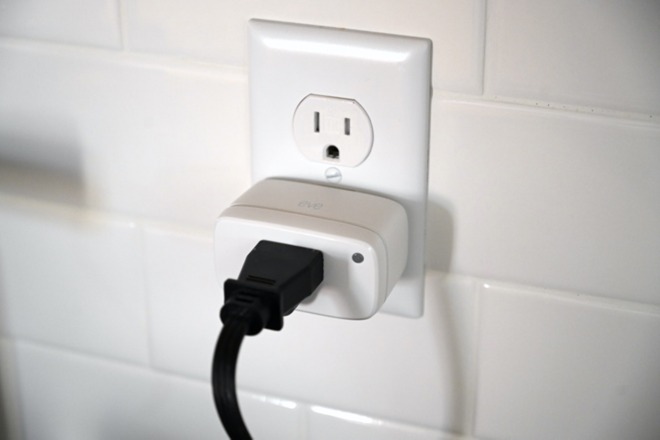 The udpated Eve Energy
Eve Systems has released a second-generation version of its popular Eve Energy
HomeKit
smart plug that aims to address the two biggest issues with the original 2016 design. The Eve Energy has continued to be one of our most recommended HomeKit smart plugs, years after the release.
Now, with the updated model, it retains its position near the top of our list.
Refreshed design
The biggest change regarding the Eve Energy second generation is the design. When the original was released and we reviewed it, our biggest hangup was the height. It was so tall that it blocked access to the second outlet on a standard wall receptacle.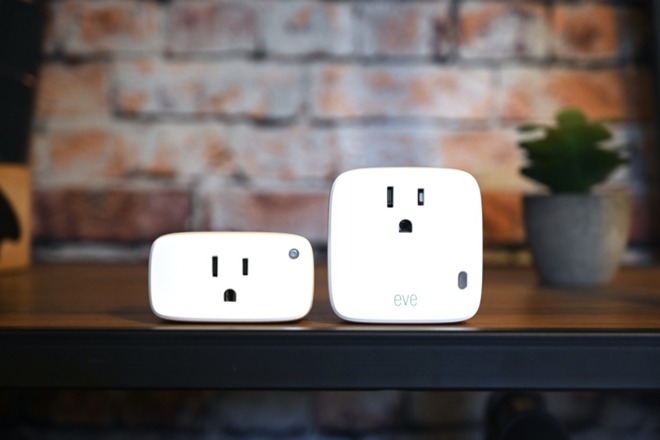 Eve Energy second-gen (left) left and the original Eve Energy (right)
This stops you from being able to plug a second device in -- be it a second Eve Energy or a just a power cord. On a surge protector or power strip, Eve Energy could easily block two outlets, one on either side. This is cured by the slimmer design.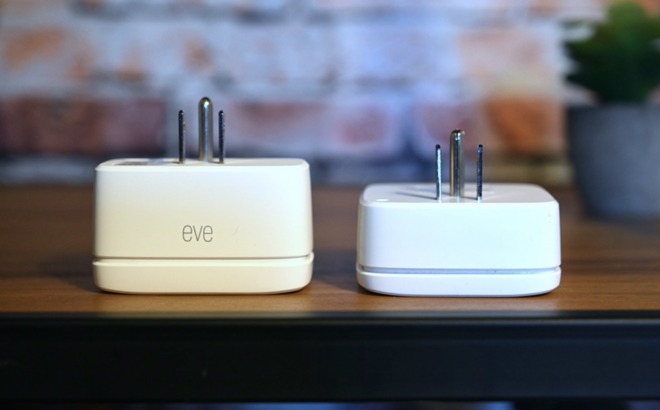 Eve Energy second-gen (left thickness) versus the original Eve Energy (right) thickness
The new design retains the white body, with slight curves and a recessed ring right being the front of the device. Now, it is about half the height of the original, easily allowing a second Eve Energy or a second plug to be plugged in at the same time. It protrudes from the wall just a bit more than the original, but that is generally easier to deal with than the height was.
A simple status light remains on the front, which can be depressed to toggle the plug on and off. It was moved though, from the lower right to top right, and is smaller in size.
The HomeKit code also was updated, from the large sticker with the HomeKit logo to the much smaller QR style. It still fits on the side, which while it isn't as clean, makes it easy to see the code when plugged into the wall.
HomeKit smarts
So why have we held the original in such high regard? Two primary reasons.
The foremost reason is the reliability. Over the years, while we've tested countless smart plugs, the Eve Energy was the first. To this day, we still use it and it has never gone offline, failed to respond, or other given us any issues.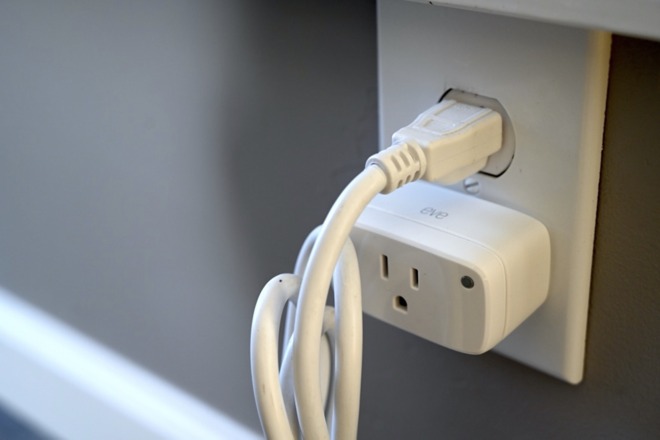 Eve Energy second-gen
In addition, it also has energy monitoring features often omitted with other outlets. This does involve an additional internal component which adds to the costs compared to some others. It doesn't simply allow users to control a home, but monitoring its use lets homeowners see how different devices rack up an energy bill.
Since the original launched, HomeKit has not evolved to make this energy monitor data more apparent. To view it, users must launch the Eve app. From there, the app shows any schedule you've configured, how many watts of power have been consumed, the projected cost for the year, and the total cost and consumption.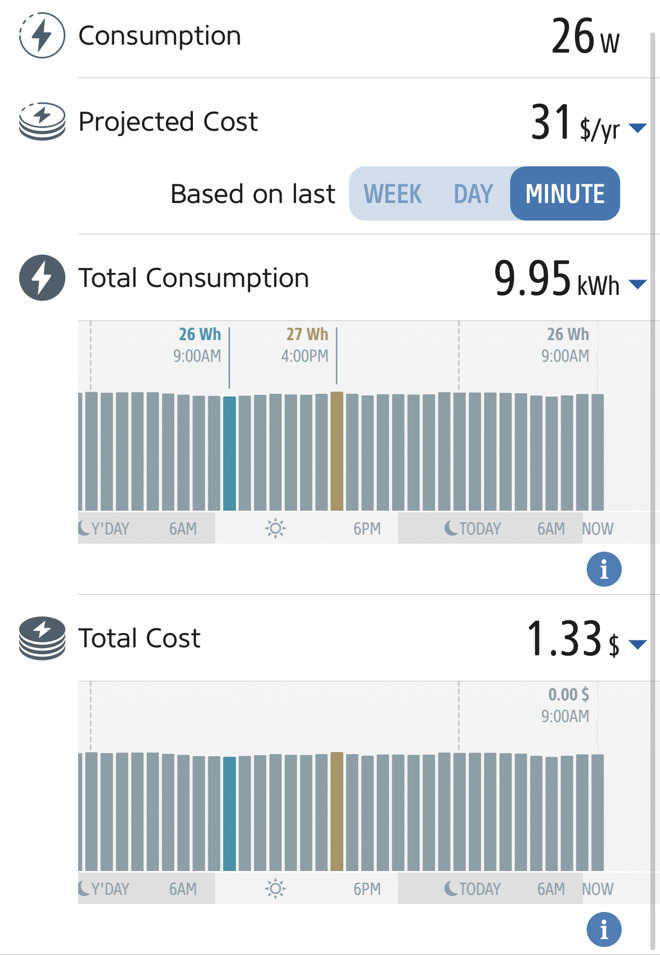 Monitoring energy consumption in the Eve app
For example, I use the Eve Energy with a massive air purifier to help deal with the allergens caused by a house full of animals. Using the Eve app, I see how that impacts my electric bill. Based on these estimates and how high I have the purifier, it will cost me around $31 for an entire year. Think what it could reveal for your washer or television.
Needless to say, all other HomeKit benefits exist here. It connects via Bluetooth directly to your device or Home Hub. Has secure remote access when used with a Home Hub, can be controlled via Siri, and automated based on a schedule or triggered from passive accessories.
Should you buy the second generation Eve Energy?
Truthfully, we don't need more smart plugs. It is one of the most prolific categories of HomeKit accessories. But we will take a new, lower price and improved design on one of the best options out there.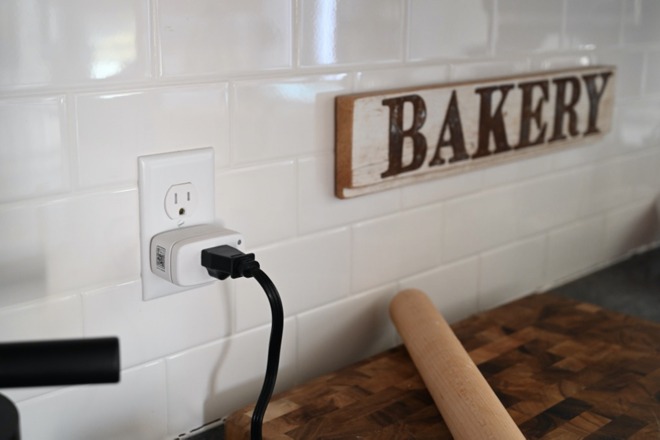 Eve Energy second-gen
Unlike many others, Eve is solely committed to supporting HomeKit. There is no registering, no profiling, no selling of your data, 100% privacy, and no development time spent on Alexa or Google Assistant. Or the security and privacy concerns that go along with those platforms.
If you are looking for a smart plug, you can't do much better than the second-gen Eve Energy.
Pros
Redesigned with a slimmer body for easier use


Only supports Apple HomeKit for secure, private use


simple, clean asthetic


Advanced energy monitoring


Reliable use


New lower price point
Cons
Wide, which can be a problem on certain surge protectors


Higher price tag than others (to cover additional features)


Bluetooth connection means it wont work in remote areas without extender
Rating: 4.5 out of 5
The second-generation Eve Energy is available
to order now on Amazon for $39.95
.