Review: Arlo Video Doorbell excels where it needs to but lacks HomeKit
Arlo, known for its wire-free whole-home cameras, has finally released a video version of its smart doorbell. With the smart doorbell space becoming ever-more crowded, we wanted to see how the Arlo Video Doorbell stacks up.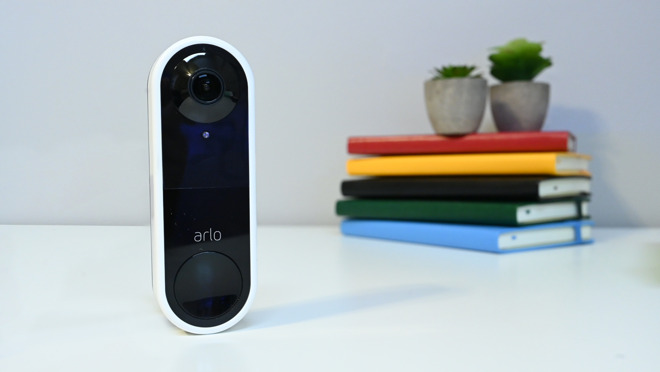 Arlo Video Doorbell
Video doorbells started off as a niche product before Ring blew the category up. In the years past, the smart home space has grown and now even the novice smart homeowners are opting to outfit their doors with a smart doorbell.
A smart doorbell adds a lot to a home. It acts as a security measure for those who approach the home or those who hope to steal packages. It can be helpful for thsoe who can't hear a doorbell throughout the home. It is hugely beneficial if someone stops by and you aren't home.
What can set a smart doorbell apart is one that excels in all of the above, but can add even more unique features. That is what Arlo has done.
Design
Let's rip the bandaid off first -- this is a wired doorbell. That means if you don't have a doorbell or the desire to wire one up, then this doorbell isn't going to work. There is a back mounting plate -- as well as an angled one -- that gets mounted to the wall before the doorbell is attached to it. The doorbell sits very securely in place and there is tamper detection should someone try to rip the doorbell off -- including a siren.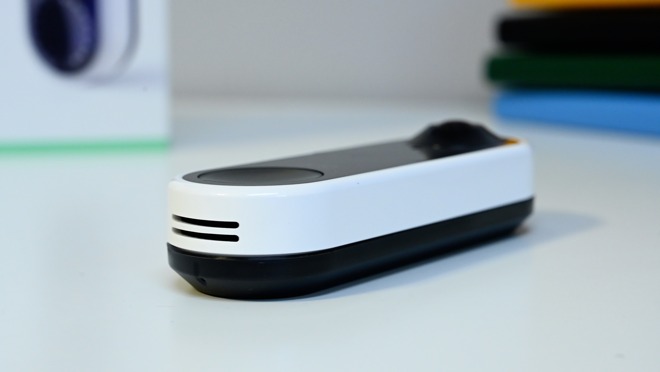 Arlo Video Doorbell
The doorbell looks fairly unassuming with a white rim and a black faceplate. The lens sits near the top while a large button is nestled at the bottom. As someone approaches the door, the button "breathes" a series of LEDs to further highlight the button.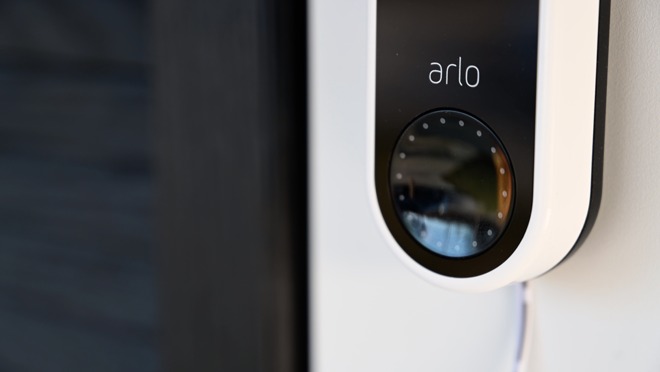 Arlo Video Doorbell ring button illuinates
In practice, the doorbell button does still look a bit subtle and the LEDs could be brighter in sunlight, but after a few weeks, we didn't notice anyone struggling to find it.
It only took us maybe five minutes to do the install, between taking off the old doorbell and screwing the new one into place.
There is a chime connection kit included in the box if you have a traditional home chime for this to integrate with. In our case we didn't use it and instead relied on our iPhone and Apple Watch notifications.
Video doorbell smarts
Once installed, you are ready to monitor the entrance to your home with the Arlo app, as well as native iOS integrations.
As someone approaches the door, you will receive a motion alert. These can show in the form of a rich notification within iOS. That means you don't just get a text alert, but a screenshot of the motion that was detected. The image will even highlight the area of the image that motion was observed.
From there, you can even tap and play live right from within the notification.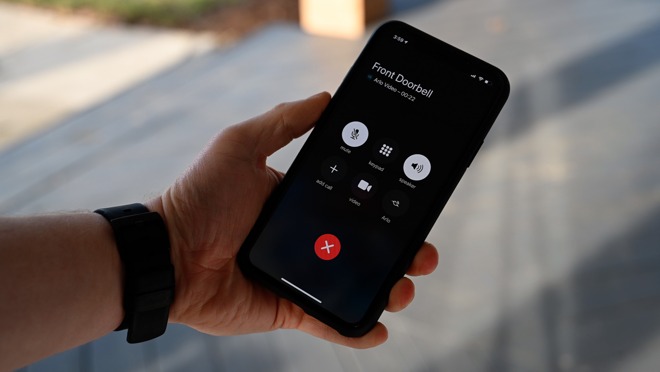 Arlo Video Doorbell can call your phone
If the visitor rings the doorbell, it comes to the doorbell as a phone call. Arlo has integrated right into Apple's PhoneKit API that allows it to show like any other phone call. If you saw the motion alert or are otherwise occupied, jumping into a video live stream isn't possible so a phone call is much more natural.
It will even show within the Phone app in the call log. For us, this came in most handy while we were driving and it appeared right through CarPlay.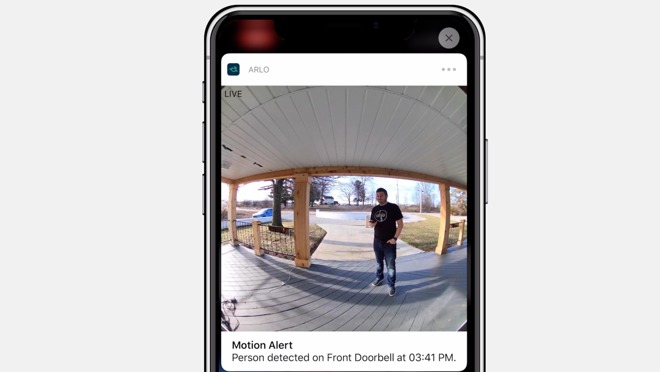 Arlo Video Doorbell sample square video
For the times you don't want to jump into a video, that is also possible from the Arlo app. You can communicate with the visitor in real-time or send pre-recorded messages. A good example of this is when you're in the middle of a meeting and a delivery driver shows up at your porch.
They ring the doorbell at which point you can jump into the live video, see who it is, and send a pre-recorded message that says "please leave the package on the porch" or similar.
Video quality
Video is recorded at a resolution of 1536 by 1536, which is a square aspect ratio rather than 16 by 9. This gives you not only great horizontal scope, but video scope as well. For a video doorbell, this is great because it allows you to see when packages are placed on the porch out of the field of other cameras.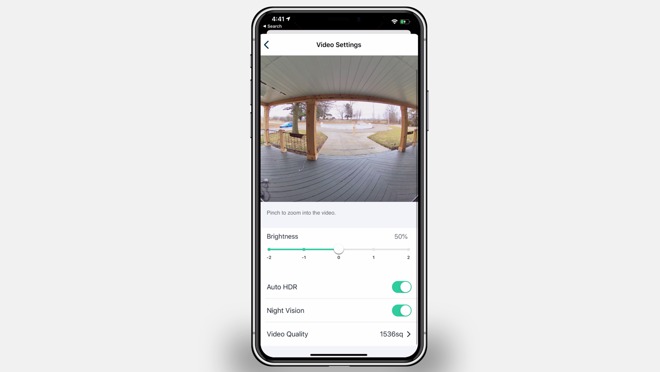 Arlo Video Doorbell video settings
You can choose to downgrade the footage to 1080sq or 720sq as well. Those settings also allow you to adjust the brightness on the video, disable auto HDR, or disable night vision.
Arlo Smart
A large component of the Arlo Video Doorbell is Arlo Smart. This is an optional subscription service that adds a wealth of features to the Video Doorbell -- including the rich notifications outlined above. Arlo Smart allows you 30 days of cloud recording capability, object detection, e911, and activity zones.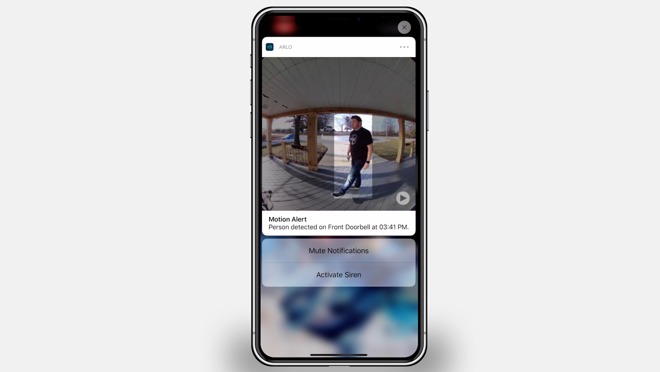 A Rich Notification from the Arlo Video Doorbell
Object detection is very useful. It doesn't just tell you what motion was detected, but it can tailor notifications based on what you want to be notified of. If you don't want to be bothered when a cat or a car passes by your porch, then omit those. It helps prevent notification bloat and makes you much more likely to pay attention when a notification does come in.
To compound that, you can set activity zones. That way specific areas -- like the road or sidewalk -- don't inadvertently trip the motion sensor constantly.
The e911 implementation is novel and helpful security feature too. If you were to call 911 from your phone, it would call emergency services most near your current location. But if you are away on vacation and witness someone trying to break into your house, e911 will call emergency services nearest your house to get first responders there as fast as possible.
Should you buy the Arlo Video Doorbell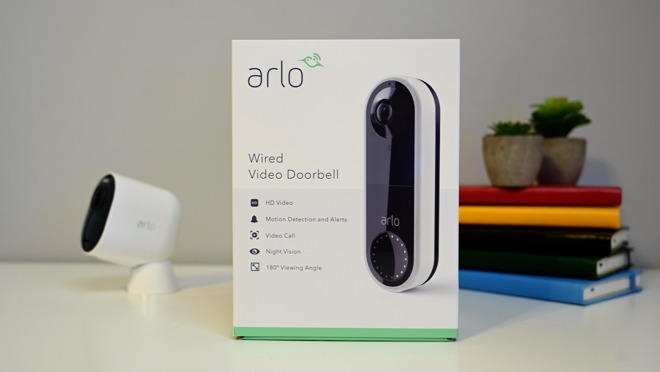 Arlo Video Doorbell box
By all accounts, the Arlo Video Doorbell is one of the most full-featured video doorbells we've tried. Between the security and privacy issues plaguing Ring devices as of late more folk have explored alternatives which makes Arlo's entry quite well-timed.
We love the features that accompany Arlo Smart though it does mean an additional subscription service that needs to be subscribed to. For a security device, we think that is warranted.
Our biggest gripe is that there is no
HomeKit
support. Arlo hasn't promised any but it has been good in the past about adding support to existing products such as the Arlo Pro, Arlo Pro 2, and Arlo Ultra lines.
If you are ok gambling on HomeKit and are ok with a wired installation, we'd very much recommend taking the plunge on an Arlo Video Doorbell.
Pros
Easy installation


Clean design


Send pre-recorded messages to visitors


1536sq video resolution


Additional fetures with Arlo Smart subscription


Ties into native iOS frameworks like Righ Notifications and PhoneKit


Loads of settings to customize camera


Weather resistant


Tamper resistant and built-in siren


NIght vision


HDR video
Cons
No HomeKit support


Only wired option


Best features require another subscription
Rating: 4 out of 5
Where to buy
The Arlo Video Doorbell is available
on Amazon for $149
. The doorbell comes with a three month trial to Arlo Smart which can then be added for $2.99 a month for just the video doorbell or $9.99 a month for up to five cameras.