All the best cases and covers for the AirPods Pro
Everyone loves AirPods Pro and the best way to accessorize and protect the charging case is with an extra enclosure. We've rounded up the best cases available through October 10, 2020, with options that will likely appeal to everyone.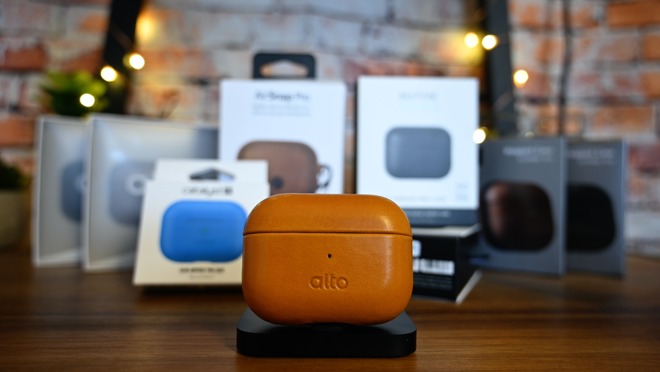 Roundup of the best cases for AirPods Pro
Updated 4/20/22 with new additions from Bullstrap.
Why use a case for AirPods Pro?
We saw plenty of feedback when we rounded up the
best cases for the regular AirPods
. Mainly, feedback focused on why one would put a case on their AirPods.
There are many reasons why someone would do this, starting with protection. AirPods Pro live in a white plastic shell that easily can be distressed as it comes in and out of your pockets. If you are planning to sell or pass down your AirPods Pro when you upgrade or are finished with them, who wants to hand over a scratched up case?
If you drop your AirPods Pro the case can also be easily damaged which is yet another not-so-great look.
Of course, style is a reason as well. Everyone's AirPods Pro look the same and an easy way to make them more "you" is by adding a case to them. Just like with your iPhone.
Some cases offer functionality too. The ability to clip them to bags or secure them to your wrist may be appealing to different users.
Regardless of the reasons why, we know they are popular. So let's take a closer look at our favorite cases so far.
Leather case from Bullstrap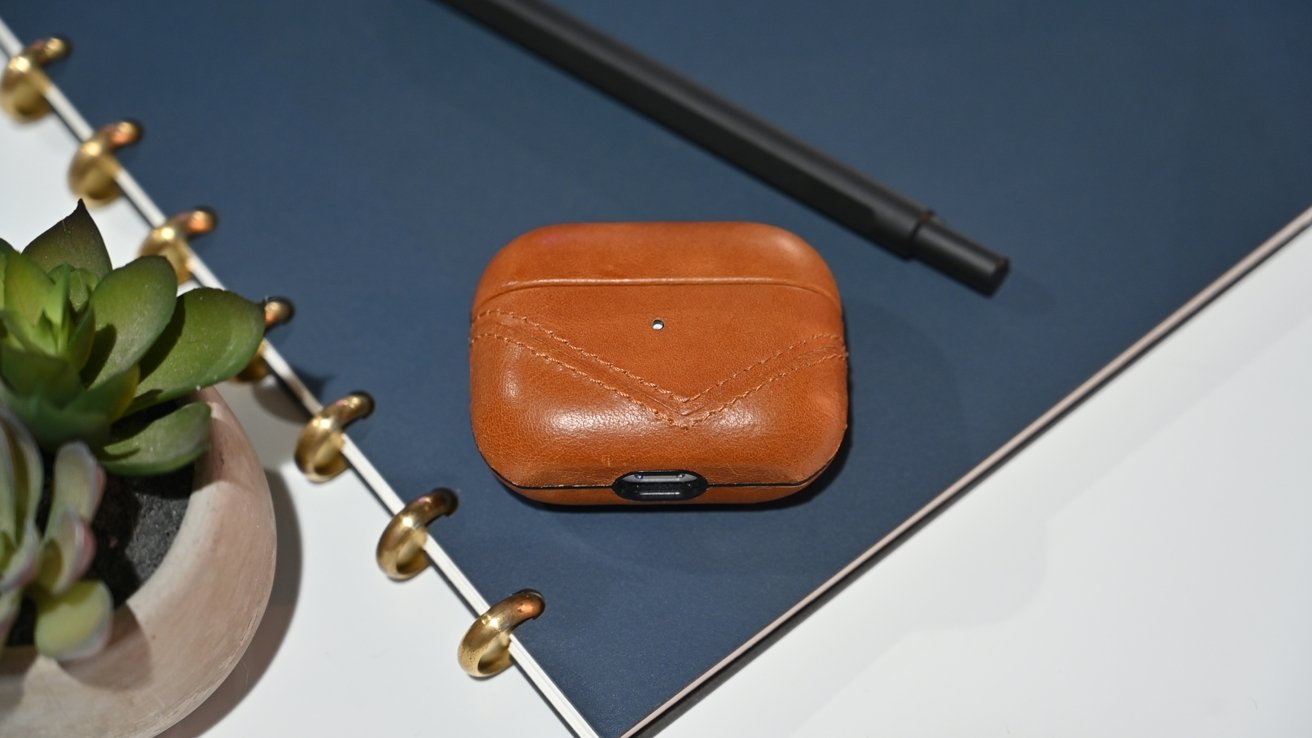 Bullstrap leather AirPods Pro case in Sienna
Bullstrap uses high-quality top-grain leather on all its Apple accessories. Its AirPods Pro case is a two-piece design that will stay in place without any adhesive. There's a hole on the front that allows for the status light to shine through and it supports wireless charging -- though not MagSafe.
Both the top and the bottom of the case are flat which affords it the unique ability to stand on its own, rather than lying flat on its back. Each case has plenty of lovely stitching which gives it more character than other leather cases on our list.
We reviewed the Sienna Brown colorway but Bullstrap also offers them in Bourbon Brown, Black Edition, Ocean, and two-tone Tera.
You can find it
on Amazon for $59
in several different colorways.
Incase Reform Sport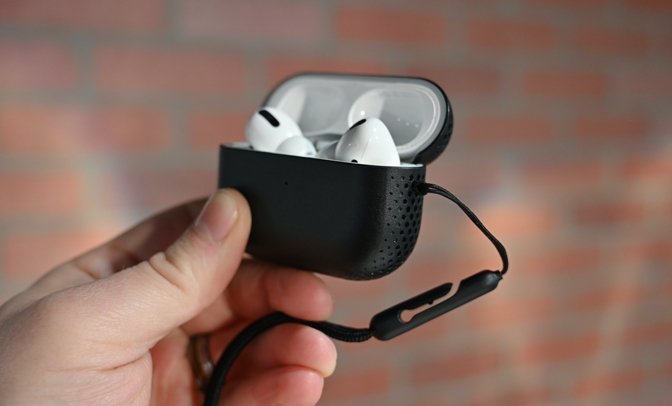 Incase Reform Sport
The Incase Reform Sport case for AirPods Pro has a great active look and feel to it with a few unique features. It has a dual-layer shell with a solid exterior and a soft, impact-resistant interior. The outside is antimicrobial that kills 99.9 percent of surface bacteria.
Along the sides are a series of perforations that remind us a bit of the Nike Apple Watch band. They provide a bit of a two-tone look with the different-colored interior and provide added grip.
Attached is a removable lanyard that you can slide around your wrist, tie to your bag, or use the handy clip to attach to a pocket. On the back of the case is a small Incase logo that denotes where the button lies on the back, which you can still press.
Pick up the Incase Reform sport in blue/grey, black/grey, black/volt, grey/tangerine, or rose coral colors
from Incase directly for $34.99
.
Woolnut
Woolnut's new leather cases for AirPods Pro use full-grain Scandanavian leather for a unique look. The pebbled leather feels great, just as it does on its iPhone cases.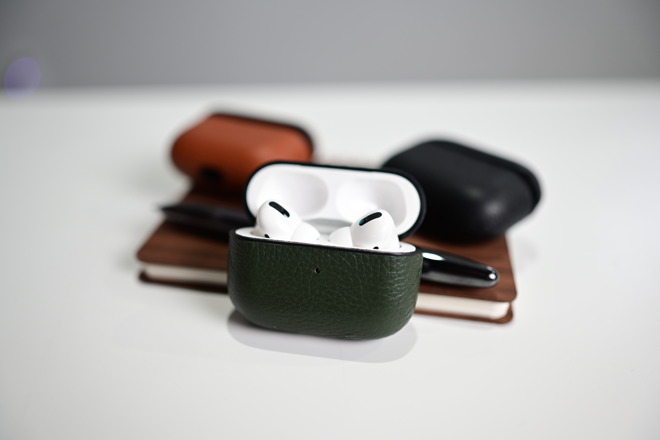 Woolnut leather AirPods Pro cases
The case comes in black, Cognac Brown, and green leather. There is a subtle "Woolnut" wordmark stamped on the back that is barely noticeable through the grain on the leather. While the center of the case is your usual plastic, the leather is wrapped around it and even stitched around the edge which is a nice premium touch.
Inside the case is a ring of microfiber fabric which helps keep your AirPods Pro case in place. For the top half, which is harder to keep put, there are two silicone lines that help hold it tight.
The Woolnut leather case for AirPods Pro is
available on Amazon for $38
.
Mous
In a fantastic blend of durable and stylish, the Mous Protective Airpods Pro Case is a combination of an ultra-rugged shell case with high-quality leather.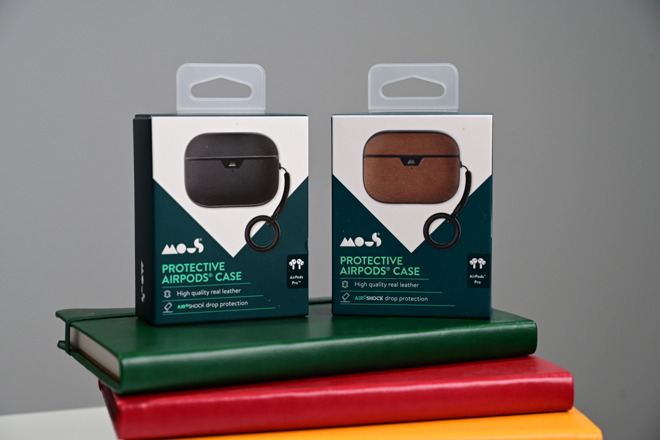 Mous cases for AirPods Pro
The plastic shell is more apparent here than in others, but to act as a stylish differentiator to break up the leather on the front and the back. It gives the case a bit of a squared-off appearance that can almost stand up on its own. The bottom port is spacious, easy for charging, and a small cutout on the back allows access to the single AirPods Pro button.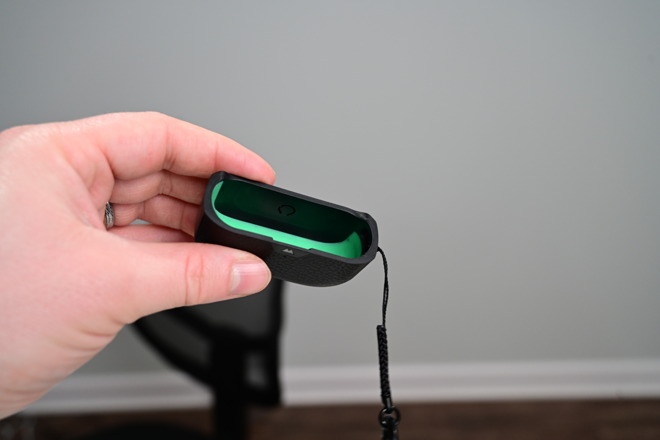 Brown Mous AirPods Pro case
Lining the case is Mous's proprietary AirShock drop protection material that appears in bright vibrant green. That is also seen on the lid half which has two little sticky dots to help keep it attached in case you drop your AirPods Pro.
AirShock material inside Mous AirPods Pro case
Attached to the side of the case is a small clip. A nylon cord affixes it to the case and a braided cord connects to a round carabiner-like clip. This is great to hold onto your pants, purse, or bag to help you keep track. If attached, less chance you'll ever drop it in the first place.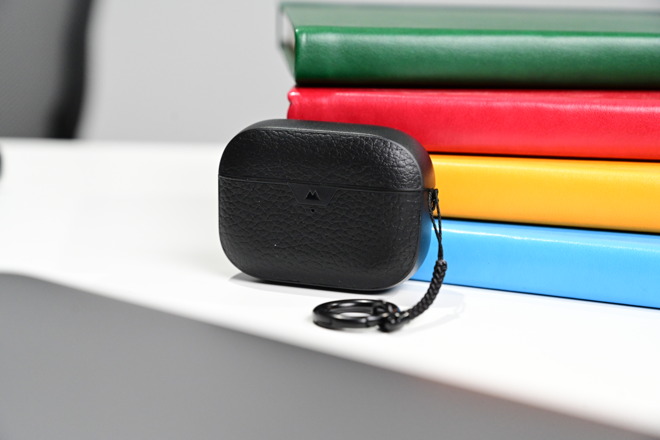 Black leather Mous AirPods Pro case
These cases come in black and brown leather, both of which look equally good. We are a bit more fond of the brown which has a smooth leather texture compared to the pebbled texture of the black.
If you want to pick one up, both colors are
available on Amazon for $39.99
.
Speck
The Presidio ClickFlip case for AirPods Pro is an extremely rugged case for your Apple earbuds that protects against both drops as well as dust. The lid of this case comes down and clips securely to provide IP5X dust resistance. As you toss these in your bag or pocket dust easily can sneak in and cause damage. It holds it secure even if you drop your AirPods Pro so the top doesn't pop open and send your earbuds flying.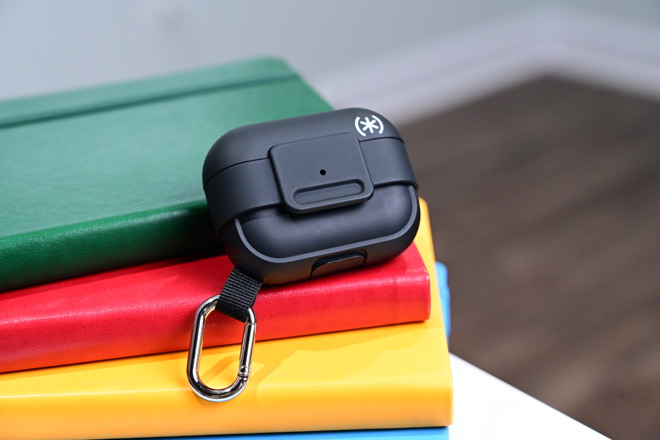 Speck Presidio ClickFlip for AirPods Pro
Speck rates this case for four feet of drop protection which is perfect from your hands, pocket, or bag.
An additional carabiner is connected to the lower side as well for easy attaching and providing bonus security.
The Spec Airpods Pro Presidio ClickFlip case is
available direct from Speck for $39.99
in Varsity Blue, It's a Vibe Pink, and black.
Element Case Black Ops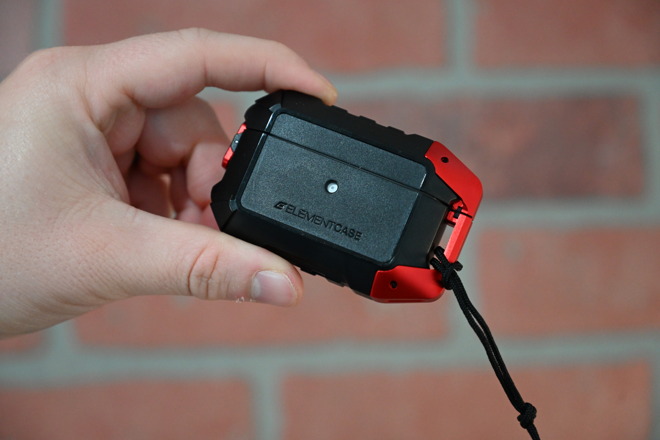 Element Case Black Ops
The Black Ops cover from Element Case is one of the most ruggedly designed we've seen. It features a hard shell body with anodized aluminum accents that give it a bright pop of color. These aluminum pieces also offer additional functionality. They add grip to the sides to ensure you don't drop the AirPods Pro while you have them in-hand, as well as anchor a nylon cord that can be clipped to a bag or keychain.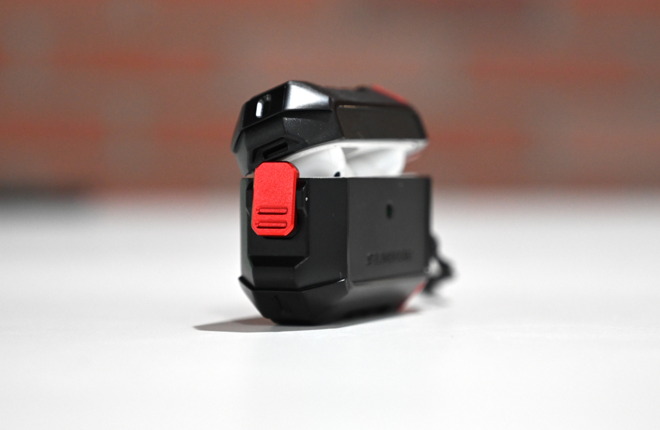 Element Case Black Ops
There is also a clip on the left side of the case which is used to secure the top of the AirPods Pro. This is an entirely unique feature that prevents the case from coming open and your individual earbuds clattering out. This has happened to us many times, so to have a clip on the side that stops this is great.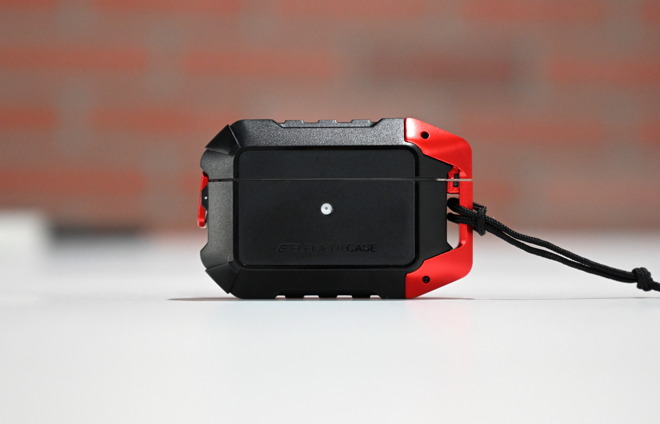 Element Case Black Ops
Find the Element Case Black Ops
on Amazon for $44.95
.
Courant AirPods Pro case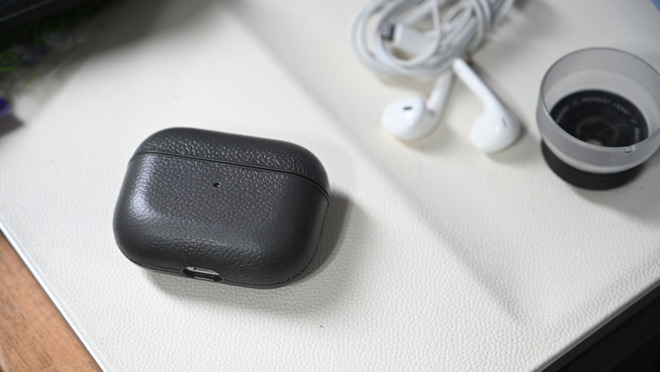 Courant's AirPods Pro case on the Courant wireless charging valet
Courant is known for its excellent wireless charging devices, all of which are encased in high-quality genuine leather. They have a pebbled texture on their surface and come in a few subtle colors, though we picked the ash, which is just a light grey.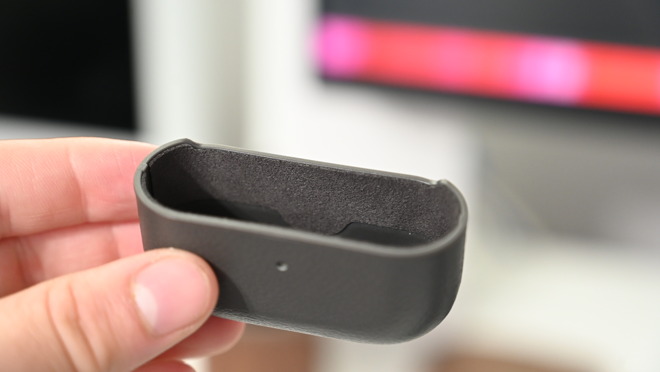 Microfiber lining inside the Courant AirPods Pro case
Inside the case is a soft microfiber lining that will help protect your AirPods Pro's case. Courant will also monogram the front of the case in silver or gold foil. Normally this is $15, but right now it's free.
The case feels great and we love the stitching around the edges that create a great premium touch.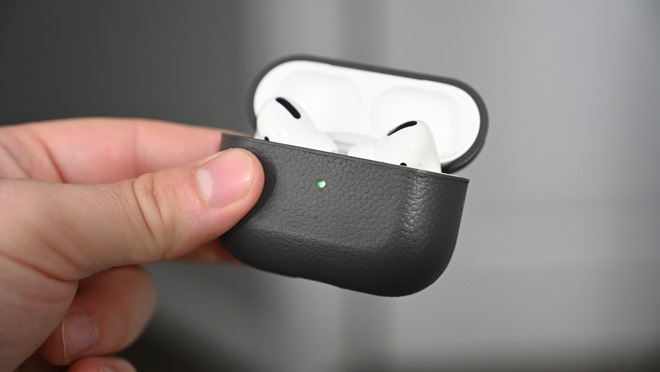 Courant's AirPods Pro leather case
It's available in black, ash, and bone colorways and will run you $45
from Courant's website
.
Nomad
Nomad, per usual, opted for a primarily leather design for its AirPods Pro cases. The company's Rugged AirPods Pro cases are very similar to its second-generation version AirPods cases. That is, they have a soft microfiber lining and a polycarbonate light pipe.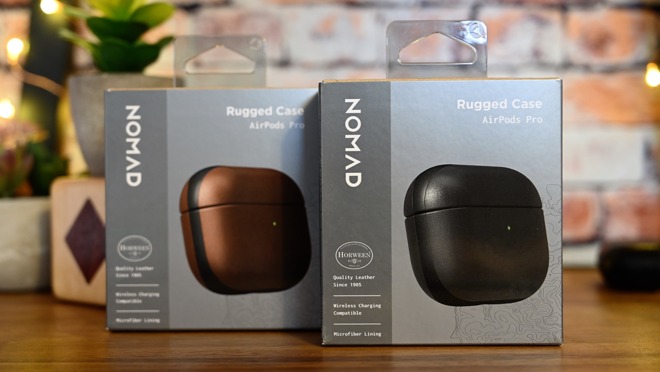 Nomad Rugged Case for AirPods Pro in black and brown
The polycarbonate light pipe is unique. Most cases will cut a hole in the front of the case which allows the light to come through. However, because the cases are thicker, it makes viewing the light from angles difficult as the case itself obfuscates the light.
Nomad's implementation allows the light to shine significantly brighter, making it able to be seen at nearly any angle.
As far as the leather quality goes, it is top-notch. It is the same Chicago-sourced Horween leather used in all of Nomad's other gear. Over time, it develops a stunning patina that truly makes it unique.
Other unique factors include a lanyard anchor point -- yes, Nomad even designed its own lanyard -- and a soft spot around back for easy access to the pairing button.
Nomad's Rugged Case for AirPods Pro is available in both
black as well as brown for $34.95
.
Alto
What makes Alto different is its leather. Many of the higher-end brands source quality leather, but Alto is the only one to do with a genuine Italian aniline-dyed leather.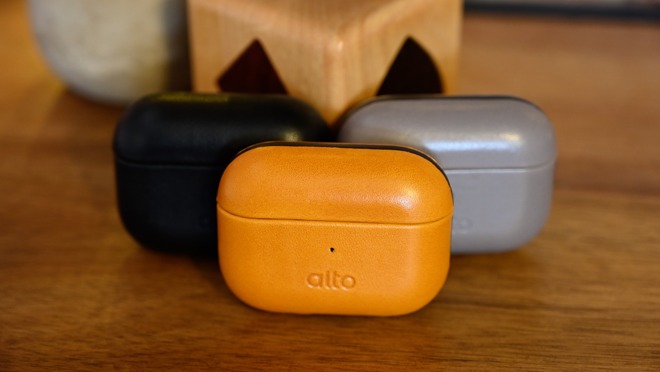 Alto's Italian leather AirPods cases in cement (grey), raven (black), and caramel (brown)
The leather is very soft and comes in really nice colors. The caramel is particularly stunning. It is a bit more vibrant than the standard darker browns we see and garners a lot of compliments when we adorn our own AirPods with it.
Alto's cases are available in Cement (grey), Caramel (brown), and Raven (black)
direct from Alto
for $45.
Twelve South
For AirPods Pro, Twelve South has released the AirSnap Pro leather case.
This case is solely made up of leather, no hardened interior shell like others. It has free access at the bottom for charging over Lightning and of course, supports wireless charging.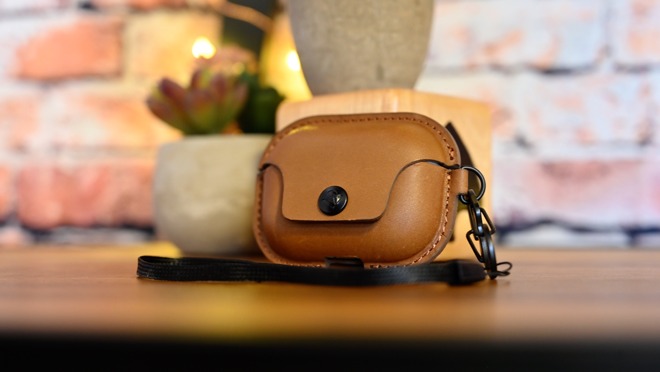 Twelve South AirSnap Pro for AirPods Pro
This is the only case in our list that snaps shut, so if dropped, it doesn't come up and cough up the individual AirPods earbuds as has a tendency to happen.
There is an anchor mount to the right where either the included "s" carabiner clip or the included lanyard may be connected to. That way you can keep your AirPods Pro on your wrist, on your bag, or in your pocket.
AirSnap Pro comes in cognac brown, slate blue, and black for $39.99 either from
Amazon
or
Twelve South
.
Native Union
There are two cases available from Native Union, its leather case and its Curve case.
Native Union Leather AirPods Pro Case
Native Union's case is more similar in style to Nomad's Rugged case or Alto's leather case, but lacks the rigid interior. The case is made up of only leather which keeps it a bit slimmer and sleek.
It doesn't have a fancy polycarbonate light tube, but since it is so thin, seeing the status light isn't an issue. Because it is all leather, it lacks the black molding around the top and the bottom of the case. Instead, the intricate stitching is visible where the leather is connected together.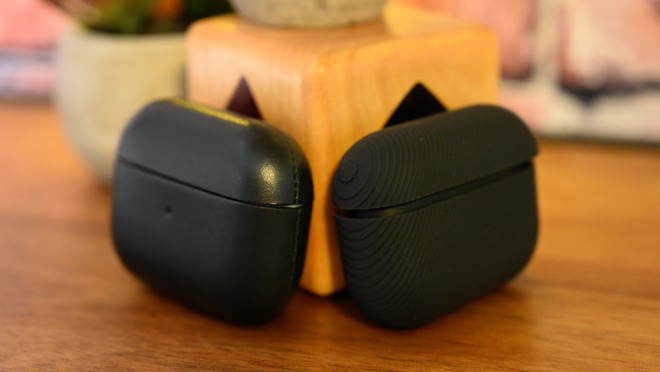 Native Union's handcrafted leather case (left) and Curve silicone case (right) for AirPods Pro
Since it is more flexible, the button the back is still easily depressed with the case on.
The Native Union Leather Case is available in black or brown
direct from Native Union for $49.95
.
Native Union Curve Case
Curve is the second option from Native Union for those who don't want a leather case but what something more elevated than your standard silicone case.
It is made of silicone but has a handsome texture around the outside that adds grip and is a bit more unique.
Nab the Natuve Union Curve case
on Amazon for $19.99
in navy, black, or pink.
Catalyst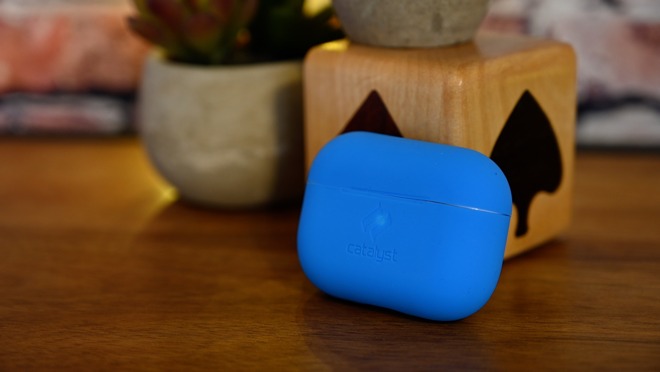 Catalyst Slim case for AirPods Pro
If none of those appeal to you and you want something more fun, or perhaps more cost-effective, there is Catalyst. Catalyst has a dazzling array of AirPod cases, though only a few thus far for AirPods Pro. They come in exciting, vibrant colors to help set your AirPods Pro apart.
Pick up the Catalyst Slim case
for $19.99
.
Just the beginning
While these are our favorite, these are only our favorites
so far
. More cases will be released and perhaps we will even add additional cases to this list as some catch our eyes.
AirPods cases are incredibly popular and it is nice to see manufacturers put time into crafting cases that protect, stylize, and add functionality to Apple's pro wireless earbuds.
Read on AppleInsider