Coronavirus may halve China's first-quarter smartphone sales
Research into both the manufacturing and retail impact of the outbreak claim that closed stores and delayed launches will reduce smartphone sales in China by as much as 50% for the first quarter.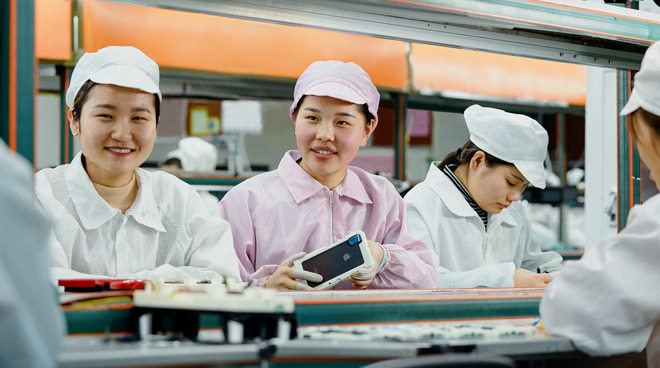 Line operators at an iPhone production facility in China, photographed in 2018. (Source: Apple)
As
Apple and others
continue to keep facilities closed in China because of the coronavirus, new research says that the cumulative effect may halve smartphone sales in the region.
Analysis from research firm Canalys, seen by
Reuters
, says that this is partly because of the current manufacturing issues and the closure of retail stores in China. However, the outbreak is also going to impact the
product launches
that would have been taking place in the first quarter of 2020.
"Vendors' planned product launches will be canceled or delayed, given that large public events are not allowed in China," Canalys said. "It will take time for vendors to change their product launch roadmaps in China, which is likely to dampen 5G shipments."
While Apple will not have a 5G smartphone until September's "
iPhone 12
," Canalys says that vendors such as Huawei had hoped to see a boost from China's rolling out of a 5G service.
Apple's iPhone is being affected by Foxconn keeping certain plants closed, but reportedly the supplier is
moving some limited production
to India and Taiwan.