How Apple is being affected by the coronavirus so far
The coronavirus continues to spread through China, leaving many businesses and factories closed throughout affected areas. Here's how Apple and Foxconn have been impacted so far.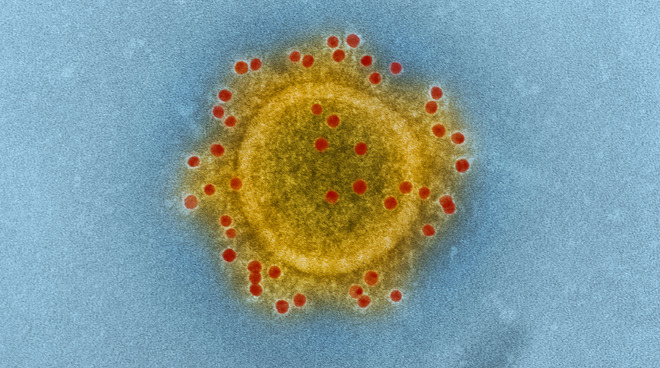 The 2019 Novel Coronavirus
The number of people infected by the coronavirus has continued to climb, and has left many locations in China closed long after the Lunar New Year holiday.
AppleInsider
previously
detailed the potential risks
that we were starting to see manifest. At the time, the full impact of the virus was on the horizon, but not fully known.
As we roll into the third month of the outbreak, we appear to be just short of peak of its spread. The
WHO has confirmed
at least 45,171 cases with over 1,115 deaths, with a recent slowdown. Stores lay barren across popular locals in China, including the usually packed Apple Stores, due to the continued quarantine.
Workers have returned to some businesses in China. We'll see how that impacts infection rates in the coming weeks.
What is the coronavirus?
The 2019 Novel Coronavirus, termed "2019-nCoV" for short, is a type of coronavirus responsible for causing respiratory distress in the infected. Symptoms are typically flu-like, with a fever, cough, and shortness of breath. Those infected usually go on to develop pneumonia.
As with most respiratory illnesses, those at greatest risk are children under three and adults over 65. Many of the deaths in the 2019-nCoV outbreak have been those who already had pre-existing conditions that would have made fighting the virus much more difficult, including diabetes, high blood pressure, and heart disease.
With the death toll over 1,100 already, and around 8,200 people reported in critical condition, the 2019 coronavirus will certainly be damaging, one way or another.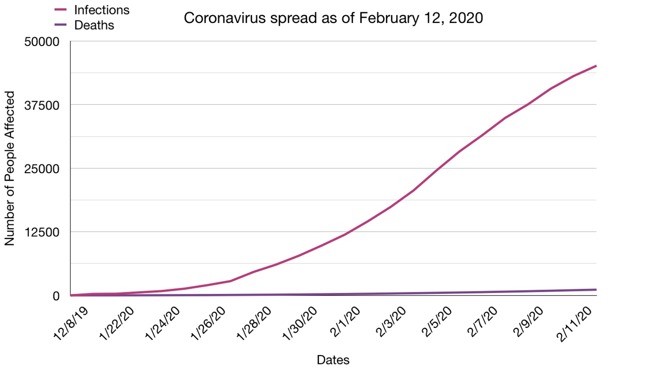 Coronavirus infection vs death toll so far; data provided by WHO
A similar coronavirus called Severe Acute Respiratory Syndrome, aka SARS, was first reported in Asia in 2003. The outbreak became global and was mostly contained by July of that year. 8,098 cases were reported with 774 recorded deaths from the outbreak, which has been quickly passed by the current 2019 strain of coronavirus.
It is predicted that smartphone sales will see as much as a
50% decline
in China during this fiscal quarter. Apple was a fraction of its current size in 2003, and was able to handle the reduction in production during the SARS outbreak.
On February 11, World Health Organization chief Tedros Adhanom Ghebreyesus said that the world needs to "wake up and consider this enemy virus as public enemy number one."
How has the coronavirus affected Foxconn?
In an
earlier report
, Foxconn had said it has taken measures to lessen the impact against the coronavirus. As of January 28th, the manufacturer expected to reach all obligations without much issue. They would not reveal the details of their plans, but were confident that their contingency measures would be sufficient in preventing any delay in shipments.
Quarantine and mandatory government shutdowns of factories since January 28 have made things difficult for Foxconn, as the outbreak continued. The company had
petitioned authorities
to allow its factories to reopen on February 3rd, but was blocked for fear of spreading the virus.
As of February 10th, the Zhenghzou plant has only been able to get
10% of the workforce
to return. It is likely more will return to the factory soon, as they have to travel back from their extended holiday first.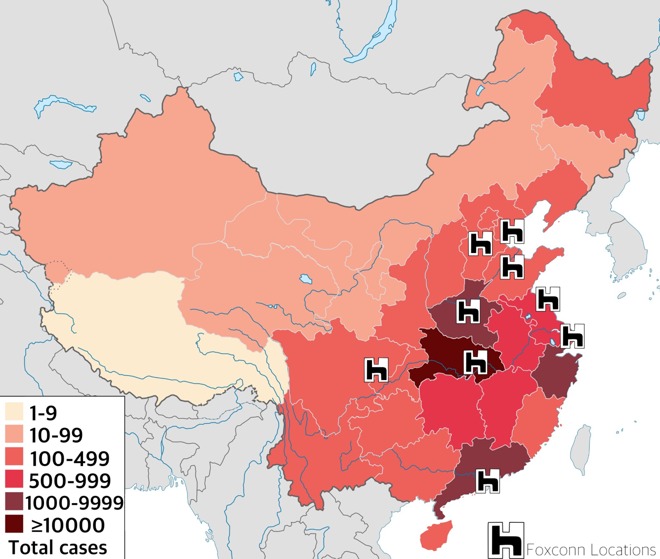 Foxconn vs coronavirus; infection map provided by Wikipedia
Foxconn hopes to have at least 50% of employees return by the end of February, which is much later than previously expected. Company chairman Liu Young-Way
aims to have 80%
of Foxonn's production in China back online sometime in March.
How has coronavirus already affected Apple?
Apple's CEO Tim Cook detailed,
in response
to a query from
CNBC
, that they were already seeking ways to work around the coronavirus. Alternative sources for parts had already been tapped to fill in where Chinese manufactures would certainly fall behind.
Apple supplied a
wide-swinging guidance
for the second fiscal quarter earnings. Apple is predicting between $63 billion to $67 billion to account for uncertainty around the outbreak, which is much wider than the company's usual range in this quarter. Tim Cook was positive that if any impact was seen on the bottom line, that the guidance had more than covered it.
AirPods
continue to remain backordered, even as they are built as quickly as possible. Apple placed a
huge order of 45 million additional Airpods
to try and cover any lapse in manufacturing in the future.
Apple has also began manufacture of "
iPhone 12
" in Shenzhen, at least
according to Ming Chi Kuo
, and that factory has remained staffed to some capacity since the outbreak began. Even with Foxconn struggling to find its footing, Apple has alternative sources, although with smaller output capacities, in Taiwan and India.
Another critical manufacturer, Pegatron, has seen issues with its facilities. Reports from the supply chain suggest that Pegatron's Shanghai factory has returned to nearly full operation, at about 90% of employees returned, but may see a slide in workforce by the first of March to as low as 60% of the required employees. The Kunshan facility was expected to begin "
iPhone SE 2
" production on February 10th, but has been delayed as the labor return rate is around 40% to 60%.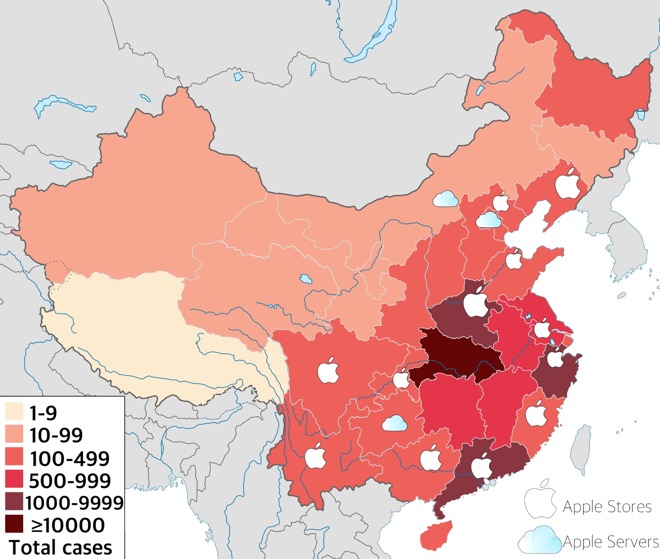 Apple vs coronavirus; infection map provided by Wikipedia
As the outbreak continues to spread globally, many manufacturers are seeking alternative options for their product sourcing. This can create even more constrained parts availability, thus limiting shipments further. For example, other phone manufacturers likely require similar modems and parts to the iPhone, and will be competing for continued support with the reduced workforce.
As of February 11th,
Apple's offices and 42 retail locations remain closed
in China. It was expected that these closed locations would reopen on February 10th, but has since been pushed to a later undisclosed date.
The Apple supply chain can endure
While China is responsible for much of the manufacture and shipment of Apple products, parts are sourced from around the world. Only those part suppliers in the region predict any impact, like TSMC. Even so, such Chinese based part manufacturers predict only a
5% to 10%
drop in chipset demand overall. That small drop can easily be covered by non-China sourced manufacturers in Apple's diverse part supplier lineup.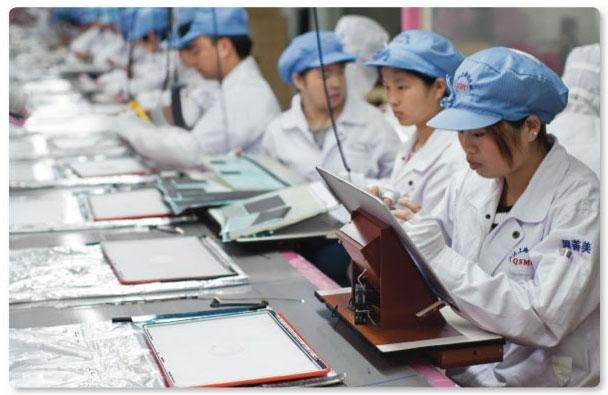 Apple's diverse supply chain will help it combat coronavirus constraints
Concerns over Apple's reliance on China continue to grow, for economic, political, and now pandemic related issues. Tim Cook has done a lot of work in his tenure as CEO
to strengthen Apple supply chains
, and ensure redundancy and scalability remain intact.
Events like the coronavirus outbreak just put those precautions into practice. The second quarter results and how the outbreak progresses will tell us just how much damage has been done, and maybe prove Apple isn't so reliant on China that it is crippled by such events.
Industry impact
The spread of the coronavirus has remained mostly contained in China, but with global events and travel continuing despite the outbreak, concerns of a global pandemic have escalated. The Mobile World Congress in Barcelona, Spain has seen many large manufacturers back out of the event already, including Amazon, Sony, and Samsung. Assuming the event happens, temperature checks at the door and other precautions will be made to attempt to curb any further spread of the virus -- but it isn't clear yet if it will take place at all.
Other manufacturers such as Huawei wanted to get their newest 5G handsets on the market soon, citing that the iPhone launching this fall will likely have 5G. By pushing the launch of such products, these competitors are losing the critical time available to penetrate markets before Apple's own push into 5G.
Looking outside of the smartphone industry, we can see that most of China is at a standstill. Ford and Tesla manufacturing has come to a grinding halt. Busy markets and streets lie nearly empty as people remain in their homes. One thing to consider too, even if the virus isn't affecting a specific area or town, most schools remain closed until the beginning of March, making it difficult for workers to leave home.
This is only the beginning of what could be a months long issue. Larger businesses like Apple seem to have contingencies, but those can only help for so long. Unless China can get past the coronavirus soon, we may see big financial loss across multiple industries. The full economic impact of coronavirus is yet to be seen, but it will be far-reaching.