How to pair your AirPods or AirPods Pro with a PlayStation 4
While the PlayStation 4 doesn't support Bluetooth audio, there is a way to use your AirPods, AirPods Pro, or any other Bluetooth headphones with your Playstation 4.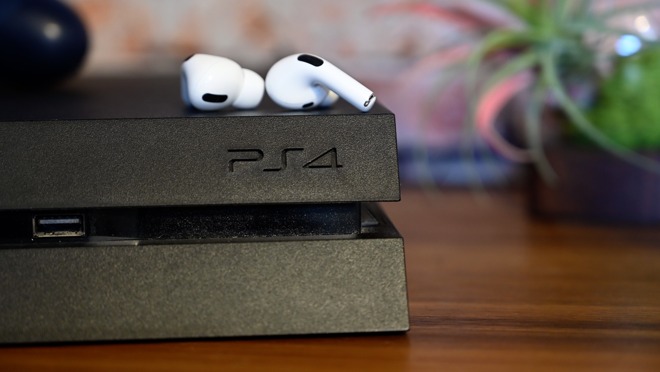 AirPods Pro on top of a PS4
AirPods are hands-down the most popular true wireless earbuds to be released yet with supply constraints still prevalent months after launch. They are great for mobile with their ease of use, small size, and effortless pairing. We use AirPods so much, it is a disappointment that if we want to use headphones with our PS4, AirPods aren't an option.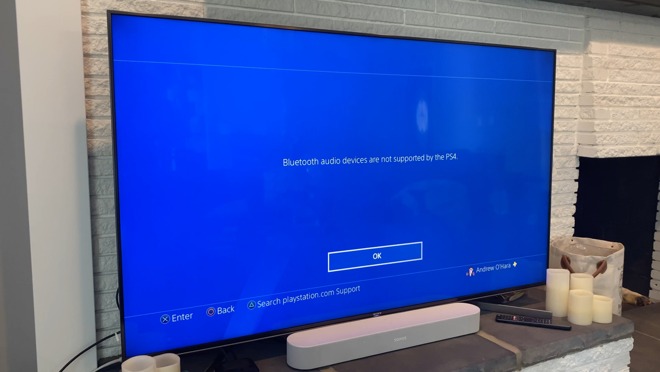 PS4 doesn't allow Bluetooth audio
Like we said, the Playstation 4 by itself doesn't support Bluetooth audio. Try it for yourself by putting your AirPods -- or other headphones -- into pairing mode, then heading to
Settings
>
Devices
>
Bluetooth Devices
and scrolling down until you see your AirPods. When you try to pair them, the PS4 recognizes them as an audio device, asks if you'd like to pair them before finally alerting you that Bluetooth audio is not supported.
That leaves users to pick up PS4-specific headphones.
Fortunately, there is a relatively simple way to use your AirPods or AirPods Pro with the PS4.
Use AirPods with PS4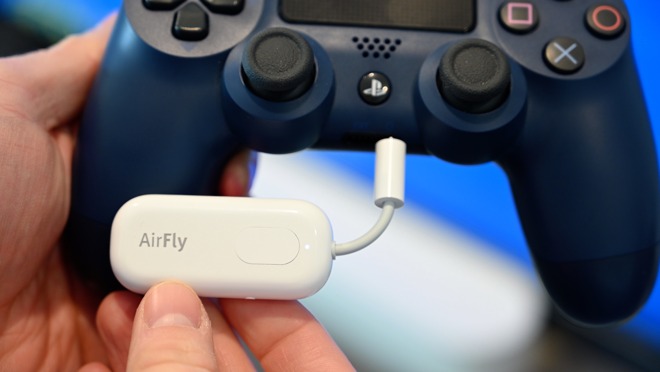 AirFly Pro connected to the PS4's Dualshock 4 controller
AirFly is a Bluetooth adapter from Twelve South that allows you to connect your AirPods to various devices -- exercise equipment, airplanes in-flight TVs, and any other aux port around.
That includes the auxiliary port located on the underside of the PS4 Dualshock 4 controller.
This trick works with both the AirFlu Duo as well as the AirFly Pro. Both operate the same, though the pro can also act as a receiver when used with your car's stereo or other audio equipment. For the purposes of a PS4, both are equal.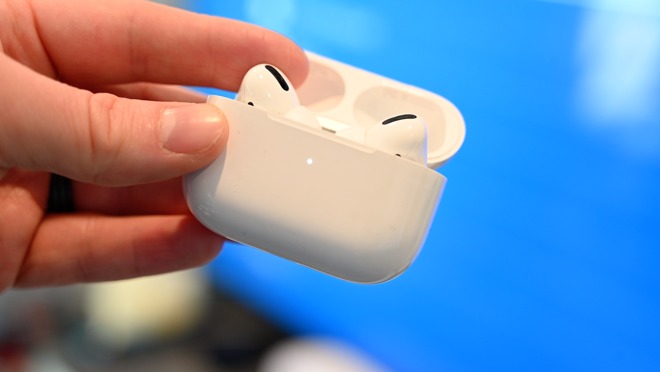 Hold the button on the back of a set of AirPods to put them into pairing mode
Here's how to use your AirPods, AirPods 2, or AirPods Pro with the PlayStation 4
Connect your AirFly Pro or AirFly Duo to the headphone jack on your Dualshock 4.


If using AirFly Pro, ensure it is in transmit mode (TX) and hold the button for four seconds until the light flashes.


Then, with the AirPods in the case and the lid open, press and hold the pairing button on the back of your AirPods charging case until the light on the front flashes white.


Wait for them to pair. When they've connected, your AirPods status light will show green -- or amber depending on battery life in the case -- and the AirFly will light up white.
This does dangle a bit, but it is so light that we don't even notice it while playing and if you want to clean it up, you can adhere it to the bottom of the PS4 with a simple piece of Velcro.
Try it yourself
Now your PlayStation 4 audio will come through your AirPods, AirPods Pro, or other Bluetooth headphones. Press and hold the PS button on the center of the Dualshock 4 to adjust the volume and make sure all audio is coming through the headphones versus just chat.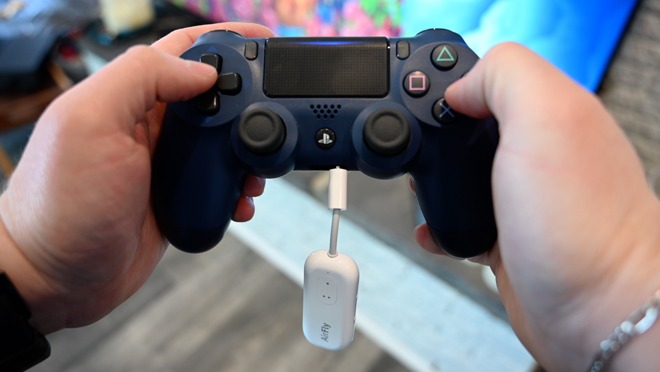 AirFly is an easy way to use AirPods with a PS4
There is one limitation -- you can hear chat, but you can't participate. AirFly and other like adapters only can transmit audio to the headphones and can't receive your voice chat audio. At least the PS4 audio can come through allowing you to play your PS4, turn up the volume, and not disturb anyone else around.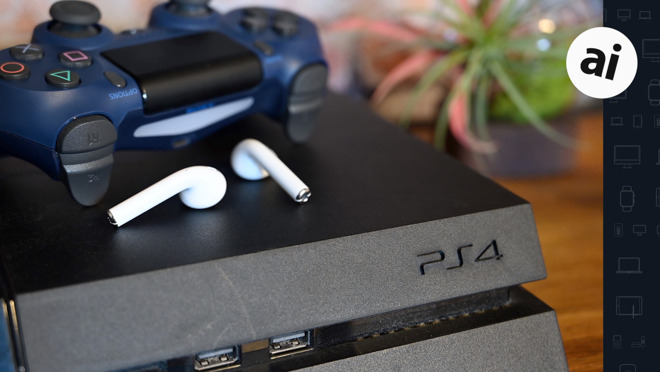 AirPods on top of a PS4
Don't have a PS4? Be sure to check out the
similar -- but different -- method
of pairing your AirPods with a Nintendo Switch.
Grab yours
Ready to connect your AirPods or AirPods Pro to a variety of devices?
If you want to grab an AirFly, AirFly Duo, or AirFly Pro you can
head to Twelve South
where
AppleInsider
readers can use the exclusive discount code
AppleInsider15
for 15% off any AirFly model through the end of March 2020.
Also check out the Twelve South AirFly Pro Bluetooth Receiver and Transmitter, which is
$10 off
at B&H Photo for one week only.
To activate the special $44.99 price, you must shop through this
special pricing link
from a laptop, desktop or iPad. We apologize, but the offer cannot be redeemed in mobile apps at this time.
Need help?
Send us a note at
[email protected]
and we will do our best to assist.
For the
best deals
and lowest prices on Apple AirPods and AirPods Pro, be sure to visit the
AppleInsider
AirPods Price Guide
.