Streaming now accounts for 79% of US music industry revenue, RIAA says
Streaming services like Apple Music, Spotify and Pandora generated $8.8 billion to account for 79% of all U.S. music industry revenue in 2019, according to new data from the Recording Industry Association of America.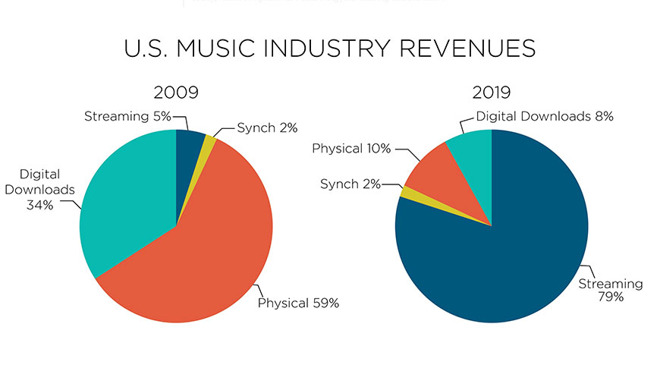 Source: RIAA
In its full-year 2019
revenue report
for U.S. recorded music, the RIAA says streaming revenues were up 20% from 2018, a marked rise largely attributed to growth in paid streaming services. The overall industry grew 13% to hit $11.1 billion in retail value.
According to the report, revenues derived from subscriptions hit $6.8 billion last year, up 25% year-over-year. That sum equates to 61% of total recorded music revenues in the U.S., the group notes. Impressively, subscriptions accounted for 93% of streaming sector growth, with for-pay services adding an average of one million new accounts per month to top 60 million subscriptions in 2019.
RIAA Chairman and CEO Mitch Glazier in a blog post on Tuesday said, "Music isn't transitioning to digital' - it is leading a digital-first business."
"Today's report reflects the prospect of a future in which creators have a path forward," Glazier said. "But it also reveals how much farther we must go to assure a healthy music community in which all music is valued and creators are fairly compensated. We still have not realized the full value of music on all digital services."
Over the past ten years, streaming revenue has grown from a minuscule 5% slice of the overall pie to overtake both traditional physical media and digital downloads initially popularized by iTunes. In 2009, physical media accounted for 59% of all industry revenue followed by digital's 34% share, figures that slid to a respective 10% and 8% of the whole in 2019.
Downloads have dropped precipitously as streaming usurps per-track and per-album purchases. According to the RIAA, digital fell 18% between 2018 and 2019, with last year
being the first
since 2006 in which downloads brought in less than a billion dollars, reports
Variety
. For reference, streaming revenues first surpassed sales of digital downloads
in 2015
.
After revolutionizing the music distribution industry with iTunes and iPod, Apple debuted its own streaming service,
Apple Music
,
in 2015
. The product challenges market incumbent Spotify, which boasted 124 million paid subscribers as of February. Apple last released public Apple Music statistics in June 2019, when the service accumulated
60 million
subscribers.