Ex-Apple tech support staffer stole billionaires' identities and more on the Apple crime b...
Posted:
in iPhone
edited March 2020
Houston Rockets owner Tilma Fertitta's identity stolen by an Apple support tech, 55 stolen iPhones found in a car, the Citizen app's video reporting returns, and more from the Apple crime blotter.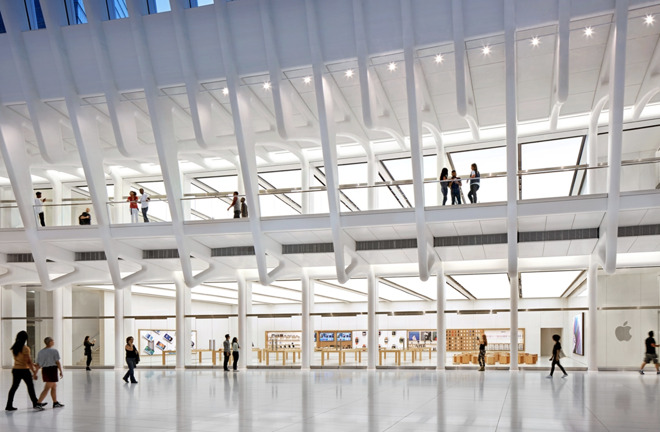 The Apple Store at the World Trade Center
The latest in an occasional
AppleInsider
series, looking at the world of Apple-related crime.
Former Apple tech support employee arrested for stealing NBA owner's identity
A Texas woman was arrested in late February and charged with stealing the identities of several people, including Houston Rockets owner Tilman Fertitta and Walmart heiress Alice Walton. According to
a Facebook post by the Harris County Constable's Office
, the 27-year-old woman has been charged with fraudulent use or possession of identifying information and making a false statement to obtain credit.
Click2Houston
reported
additional details
, including that the accused woman bought Fertitta's personal information on the dark web for $10, that she formerly worked as an Apple tech support staffer, and that she stole an iPad and multiple computers as part of the scheme.
Four arrested with 55 stolen iPhones in car
Police in Illinois
arrested four people with 55 stolen iPhones
, valued at $80,000, after a traffic stop in late February. According to the
PJ Star
, the Knox County Sheriff's Office pulled over the car because it was going 104 mph in a posted 65 mph zone when they found the items, which included 53 iPhone 11s and two iPhone X Max.
Of the four arrested, two were from New York and the other two were from Pennsylvania, and police believe the products were "obtained through identity theft and purchased fraudulently from around the U.S."
Controversial Citizen app restoring video-reporting feature
A notorious mobile app that allows users to report crimes directly to the police is planning to
re-introduce a controversial feature
that enables live streaming video. According to
The Intercept
the Citizen app, which was formerly known as Vigilante, was introduced four years ago but drew backlash from both activists and police departments. It was re-branded in early 2017 as Citizen, without that feature. But now, with little fanfare, it was restored the controversial capability.
This has the potential for controversy because, per the story, "user-powered crime reporting has been rife with racism, panic, and concerns users might bring about personal harm."
Credit cards stolen from gym used at Apple Store
A woman in New York City left items in an unlocked gym locker, at which point
her credit cards were stolen
and used for $2,170 in charges at the Apple Store near the World Trade Center. According to
The Tribeca Tribune
, the illegal charges took place at the Greenwich Street Apple Store.
Man dressed as woman to steal iPhones and iPads, police say
An Ohio man reportedly dressed as a woman
while carrying out a sizable theft of iPads and iPhones
from a Walmart in Wisconsin. According to
Kenosha News
, the 27-year-old man was joined by a crew that acted as lookouts when he used bolt cutters to open a cage with the items, and then placed the $24,000 in merchandise in a toaster box, paying for the "toaster" at self-checkout.
Police say similar thefts took place throughout the Midwest in recent months. This specific theft took place in December, and the suspect has now been charged with felony retail theft.
Student thought he was buying Mac Pro, but got lemonade instead
An English college student
spent the equivalent of $1,338
on what he thought was a Mac Pro and some iPhones in a person-to-person sale, but when he opened the box at home, he found two lemonade bottles and cardboard instead. According to
Express and Star
the student believes that the scammers, who approached him in West Bromwich, must have switched bags on him.
Man arrested for stealing iPads from school faced similar charges in 2015
A man from California
was arrested in February
and charged with stealing $37,000 worth of iPads from a local elementary school. According to
KMPH
, the 37-year-old man was charged with burglary and probation violation, while his wife was also arrested, for harboring him.
The same man had been arrested in 2015 on charges that he had broken into 15 different locations -- seven schools, seven churches and one commercial warehouse -- in order to steal electronics. He served two years on those charges.
Bar looking for owner of lost iPhone
Often, people lose their iPhone and take great pains to look for it. In one town in England, the iPhone has been found, and the place from which it was taken is looking for the owner. According to
Birmingham Mail
,
an iPhone was stolen from the Pitcher and Piano bar
on Feb. 29, which led to the arrest of the suspected thief and the recovery of the phone. However the owners of the bar are looking to reunite the iPhone with its rightful owner, and have posted a picture of the phone's lock screen to social media:
#APPEAL | Do you recognise these women? We recovered this iPhone which we're hoping to reunite with its owner. It was stolen during the early hours of this morning from the Pitcher and Piano in #BrindleyPlace and so far we've not received a report of it being stolen. pic.twitter.com/Z3foeE1jTl
iPad theft and subsequent child porn extortion scheme leads to charges for two
Two residents of Regina, Saskatchewan, were arrested in late February
following a bizarre sequence of events
in which police say a woman stole an iPad from a man, discovered child pornography on it, and attempted to use that to extort the man for money. According to
CKOM
, the 36-year-old man went to police and told them that the device had been stolen, and that someone was demanding money because of the illegal images.
The woman was arrested when she attempted to collect the ransom and was charged with several crimes, including theft, extortion, possession of child pornography and accessing child pornography. Meanwhile the man, following a raid of his home, was charged with possession of child pornography and accessing child pornography.
Couple accused of using dating site for iPhone and iPad theft
A Florida couple has been arrested after police say
they used a dating website to commit a robbery
. According to
The Naples News
, the man and woman arranged a date for the woman with a man, which entailed going to the mark's apartment and taking a tour of it. At one point, she called her male accomplice, who held the "date" at gunpoint. The couple took the man's iPhone and iPad, and they were caught once police recognized the woman's car.
Both were arrested for armed robbery and grand theft, while the woman was hit with additional charges of driving without a driver's license and having no motor insurance.
Have an Apple crime story for us? Email
AppleInsider
and tell us about it.