Apple formalizes ban on non-official coronavirus apps in App Store
Apple's App Store guidelines for developers have been updated to explicitly state that only apps from official health organization accounts may develop coronavirus resources for distribution.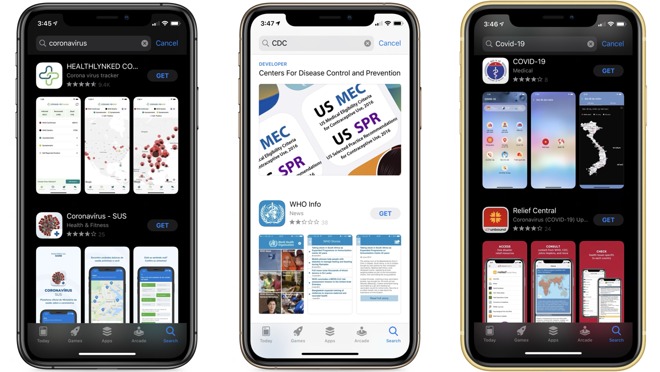 The App Store has many apps about public health, and Apple only wants official sources
After multiple
developers complained
about their apps being rejected for being related to coronavirus, Apple has released an update regarding the ban. The update issued by Apple on Saturday afternoon is clear about what it will allow to be distributed.
The App Store should always be a safe and trusted place for users to download apps. Now more than ever that commitment takes on special significance as the world fights the COVID-19 pandemic. Communities around the world are depending on apps to be credible news sources -- helping users understand the latest health innovations, find out where they can get help if needed or provide assistance to their neighbors.

To help fulfill these expectations, we're evaluating apps critically to ensure data sources are reputable and that developers presenting these apps are from recognized entities such as government organizations, health-focused NGOs, companies deeply credentialed in health issues, and medical or educational institutions. Only developers from one of these recognized entities should submit an app related to COVID-19.
Apple also re-emphasized the fact that non-profit organizations can get their
annual developer fee waived
. If the organization is nonprofit, and plans on a free app, Apple will waive the fee if they are in an eligible country.
Also noted is the ability for these specific developers to flag their app as "Time-Sensitive Event" to expedite their app review. This is done in case of emergencies like this where timely distribution of accurate information is critical to the people involved.
The new guideline bans any use of "COVID-19" or "coronavirus" in titles of entertainment apps. Only apps released by an official entity under the health and information category may release coronavirus related content on the App Store.
Apple has taken a strong public stance with aid and information surrounding coronavirus this past weeks from a dedicated
Apple News
special coverage
section
, to
public donations
.
AppleInsider
has continuous coverage of the coronavirus outbreak as it develops, and will update as
Apple continues to deal
with it.