Apple Retail stores now closed 'until further notice'
A new banner on the top of Apple's website has been posted saying that Apple Stores are closed until further notice, signifying an escalation in the company's plans to fight the coronavirus.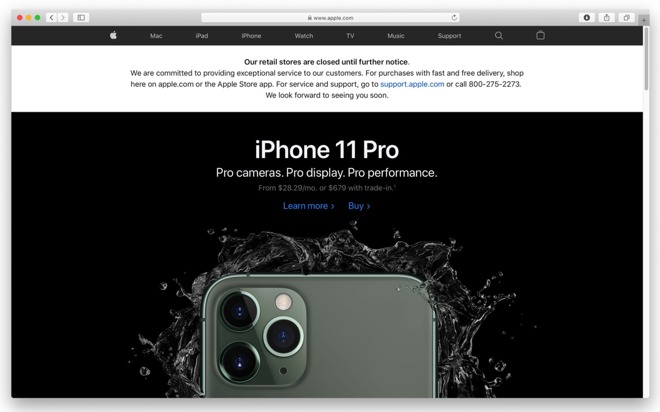 Apple's homepage how it appeared early March 17, 2020
Apple's message online regarding store re-openings isn't consistent. The
frequently asked questions
page about Apple Retail closures still has the original date of reopening as March 27, and suggests users check for specific store opening dates online.
AppleInsider
has confirmed on Tuesday morning that a banner that appeared overnight on Apple.com is a change in Apple's plans, and is being disseminated at least partially through internal messaging. However, not everyone we were able to contact early on Tuesday morning had received notification of the change, so Apple may be considering retaining the March 27 date for some locations, depending on how the coronavirus pandemic progresses.
The banner appears across Apple's homepage in many countries, and is not limited to just the United States.
While Apple's offices and other facilities appear to be open, the company has taken steps to encourage employees to
work from home
when possible. Apple's retail locations in China will remain open, though with reduced operating hours.
Other impacts to the closures include Apple extending its return period to 14 days after its Apple retail locations ultimately reopen. The company notes that users can still
start a repair online.
Apple's window for device pickup for repairs has closed, and it remains to be seen how devices still not repaired and in Apple's hands will be handled.