UK's Carphone Warehouse closing 531 stores on April 3
Carphone Warehouse, the UK's largest independent chain of mobile phone stores, is closing all of its standalone outlets, cutting down the number of options consumers will have for buying an iPhone on the high street.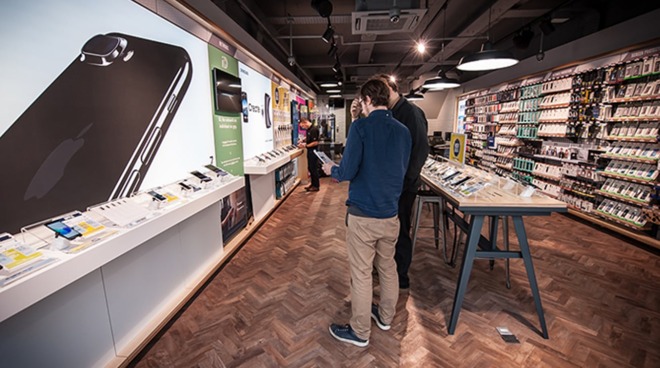 The
closures
by Dixons Carphone, the parent company controlling Carphone Warehouse stores as well as the major Currys PC World electronics chain, will be shuttering 531 standalone stores on April 3. Another 305 store-in-store locations within Currys PC World outlets will continue to operate as normal, with its online sales segment also unaffected by the change.
Carphone Warehouse stores in the Republic of Ireland and other international locations are not impacted.
As part of the closures, approximately 1,800 affected staff are anticipated to take new roles within the Dixons Carphone organization. Another 2,900 workers are expected to be made redundant from job losses, with the company claiming it will "go well beyond legal obligations in financial and other support for all affected colleagues."
Representing 8% of Dixons Carphone's total UK selling space, the closures are being made in a major restructuring of its mobile business. Currently it is anticipating losses of 90 million GBP ($108 million), along with a restructuring cost of around 220 million GBP ($265 million), with the aim of generating positive cashflow of around 200 million GBP ($241 million) per year.
The move will see a long-standing high street chain disappear, with Carphone Warehouse being the biggest independent seller of smartphones in the country by a considerable margin. Despite this, consumers will still have ample choices for buying iPhones in the future, such as from the hundreds of stores each of the major carriers operate, as well as the plethora of online stores.
For comparison, there are in excess of 700 EE stores in the United Kingdom, with more than 400 Vodafone and O2 stores, and over 300 Three outlets. There are 38 Apple Stores in the UK, excluding authorized resellers.
Despite the presence of the
coronavirus
epidemic affecting businesses around the world, Dixons Carphone's closures are not thought to be caused by the virus directly, but may have accelerated the timing. Dixons Carphone advises it has yet to see a material impact, "though we are preparing for one."
Group chief executive Alex Baldock lays some of the blame on changes in consumer behavior. "Customers are increasingly heading, not just to our large and growing online business, but into our big stores, where they can find all the experts and tech - mobiles, computers, TVs, smart tech, appliances, gaming and all the rest - they need," said Baldock. "But they can't find all this in the small mobile-only stores that are one twentieth of the size; they're visiting these less and these stores are losing more money as a result."